Enjoy the Benefits of CBD Extracts with Receptra Products
This post may contain affiliate links or I may have received the product free in exchange for my honest review. See full disclosure for more information.
Receptra Naturals is a leading hemp CBD extracts company serving the health and wellness, active lifestyle, and pet communities. At Receptra, they believe that their full-spectrum hemp CBD products can change lives and they are committed to changing as many lives as they possibly can.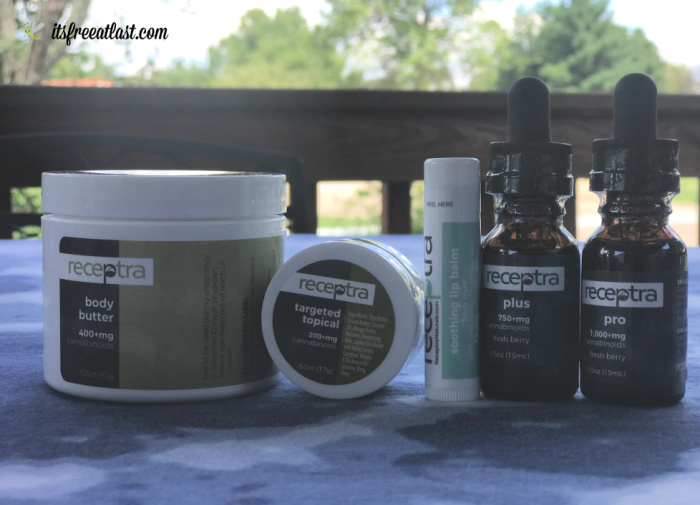 Receptra's product line consists of a proprietary blend of tinctures (oils) and topicals manufactured in Colorado with hemp grown sustainably on family farms using organic farming practices. The Receptra brand stands for quality, efficacy, transparency, and integrity.
Know What's In Your Bottle
As the CBD oil industry expands, how can people know and trust which products will be most effective? The lack of regulatory standards has some consumers feeling like their purchase is nothing more than a shot in the dark. What are they really getting? How can they know for sure?
While some CBD oil manufacturers hide behind the lack of regulation to boost profits, Receptra Naturals has taken the opposite approach. Now, Receptra is helping to educate people and pet parents everywhere on how to identify and select the best-quality hemp oil products.
CBD is an acronym that refers to cannabidiol, one of the many naturally occurring phytocannabinoids found in cannabis plants. CBD is non-psychoactive, non-toxic, and well-tolerated by both people and pets.
One of the most important things you can do to identify a reputable CBD oil company is to know what they're putting into their product. "Look for a company that publishes their third-party testing results without you having to make a special request to see them," says Receptra EVP of Sales and Education Allison Taylor. "That eliminates a lot of companies right there."
Other CBD oil quality indicators include:
* Organically Grown Hemp – Receptra hemp plants are cultivated on-site and carefully planted by experienced farmers who understand the intricacies of the organic growing practices.
* U.S. Grown – Some foreign-grown hemp plants have been used to clean heavy metals from soil. Hemp is a known bioaccumulator, which means it soaks up the nutrients as well as toxins in soil and water where it grows. Know where your plants come from.
* Full-plant / Full-spectrum – "We like to think Mother Nature knew what she was doing," says Allison. "Full spectrum" is the concept of utilizing whole plant cannabinoid compounds as opposed to extracting out one specific molecule, cannabinoid, or compound. The benefit is that these various compounds work together to achieve a greater degree of wellness.
* Third-party Testimonials – Find out what others are saying about a given CBD oil company and its products. How are they responding to it? What difference is it making for their pets?
Receptra Pet Premium Hemp Extract
As many are already aware, CBD and the other naturally occurring cannabinoids found in the hemp plant have been shown to provide people with relief for a variety of issues. What they may not know, however, is that CBD is also good for dogs, cats, and other household pets.
"Any animal with a spine has an endocannabinoid system (ECS)," says Allison Taylor. "You have one, but so does your dog, your cat, your horse, and so on. The endocannabinoid system's job is to create homeostasis or balance in the body when it gets off balance. The system is in charge of things like immune function, sleep, motor control, pain — all these different things — and CBD supports this system."
Thousands of pet owners are using CBD to help manage a broad spectrum of health and behavioral issues concerning their pets. A few of the reported benefits of giving pure CBD hemp oil to your pet include:
* Assisting with hip and joint mobility.
* Aiding their digestive tract.
* Supporting their immune system.
* Increasing appetite.
* Soothing pets who are moody or on edge.
Receptra Pet premium hemp extracts are organic, full-spectrum, and unflavored so they can easily be an unnoticed addition to pet food or treats.
Receptra Gives
Receptra Gives is a new social responsibility program the company has launched in an effort to positively impact the global community beyond the benefits of CBD. One charitable organization Receptra has partnered with is Trees for the Future. For every purchase made, Receptra donates a tree.
Receptra is also working with animal rescue groups (such as Mission K9 Rescue) who carry Receptra Pet products. For every purchase made, Receptra donates a portion of the purchase back to the rescue organization.
You can find the spectrum of Receptra products online. Stay connected socially for the latest product sales and information