Travel is a great way to create opportunities to see new things, speak new languages, and try different food, but wherever you find yourself in the world there are a few home comforts it is hard to let go of. Coffee is definitely one of these for the 80% of Americans who indulge in this habit.
As tempting (and often surprisingly easy) as it may be to head straight for familiar chains like Starbucks and McDonalds to get that caffeine fix it's a shame to miss out on the unique benefit of being in a strange culture, and at least trying the local brew.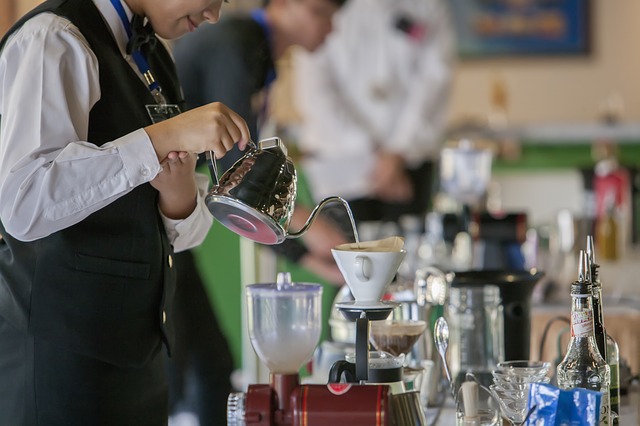 Popular Coffee Drinks Around the World
Here's a quick guide to just a few of the coffee drinks favored by people in foreign countries.
Finland
Finnish people love Kaffeost, [cheese coffee], and if the name itself sounds bad enough the description makes it even worse. Kaffeost is made by pouring a cup of hot espresso coffee into a cup with cubes of cheese curd in the bottom. The good news is that the result isn't nearly as stomach turning as it sounds. The 'cheese' is actually made from cream, and it melts into the hot liquid to create a tiramisu type taste.
Turkey
Turks have been coffee addicts since the 17th century, and their coffee is well known for being strong. Brewing coffee in Turkey is a semi-ritualistic process, as freshly roasted and very finely ground beans are heated in a special pot. The coffee is never allowed to boil, and the end result is a strong, bitter brew.  Sugar may be added to reduce the tang, but if not, the drink will be served with a piece of sweet candy to help make the drink more palatable! As the grounds are served along with the liquid it's not wise to drink the dregs!
Malaysia
In Malaysia the national coffee drink Yuanyang [or Kopi Cham] is made from 30% black coffee and 70% tea with milk. This unusual mix can be served either hot or cold, has a unique taste, and is a good option for those who like coffee but fear the effects of drinking too much. The term 'yuanyang' translates as 'lovebirds', which is fitting.
Australia/New Zealand
The flat white is a newer addition to the American café menu, but for many years it has reigned supreme across the oceans, and is pretty much the standard coffee drink in both Australian and New Zealand coffee shops. Anyone unsure of the differences between milk based coffee drinks such as this and lattes would do well to study a glossary of coffee terminology to learn more.
Greece
While the UK population is sometimes ridiculed for its heavy use of instant coffee granules, the Greeks are feted for theirs! No visit would be complete without enjoying at least one frappé, the much consumed local coffee specialty made from spray-dried instant coffee, ice, sugar, water and, if you choose, evaporated milk.
Vietnam
A nation of true coffee addicts, Vietnam is packed full of quirky, noisy and always busy independent coffee houses, while hand carts roam the streets to deliver this strong sweet cup of heaven to those on the move. Both the hot [càfe sue-ahh nóng] and the iced [Càfe da] are made from dark roast beans ground coarsely and set up to drip straight into the cup or glass. The cold option is particularly delicious, served over lots of ice with a layer of sweet condensed milk at the bottom.
Ireland
Be prepared for coffee with a kick if you visit the Emerald Isles, as Irish coffee blends hot black coffee with whiskey, sugar and a generous topping of whipped heavy cream.
Differences in Global Café Etiquette
If there's one thing which best complements a great cup of coffee it's a nice place to relax and drink it in. Coffee houses exist in various forms in most countries around the world, and many new American cafes are inspired by their foreign counterparts, but the culture regarding etiquette and good practice inside them can be as unique and varied as each nation itself. Knowing what to expect can help avoid any embarrassing misunderstandings or gaffes.
Italian Cafes
Pavement cafes abound, and weather permitting these are popular with both tourists and natives alike as a place to relax, enjoy a drink and perhaps to either read or meet friends. However, if you happen into an inside coffee shop don't be surprised at the lack of seating.  At best, you'll be limited to a communal breakfast bar style of seating. These are most popular at breakfast time – a place to eat a pastry, drink a milky coffee and rush to work. After 11 a.m. espresso or other non-milk based drinks are standard, so ordering anything else may cause confusion unless it is in a venue popular with foreign visitors and so attuned to their preferences.
Japanese cafes, from exclusives to chains
In Japan the coffee shop comes in several varieties, from the traditional high-end kissaten, often decked out with ultra comfortable chairs you'd expect to find in a family home, impeccably dressed waiting staff and with prices to match the opulence, to both domestic and international chains. In these it is counter service only and you are expected to clear your dishes to a designated area. It's entirely normal for people to save seats in a busy coffee shop with all manner of personal belongings, including phones and purses.
In both types of cafes, you can expect to see an eclectic clientele, ranging from business people discussing deals to couples on a date. Iced water is free, you can stay for hours with one drink and tipping is alien, although sadly the notion of a bottomless cup is equally so.
If you love coffee it makes sense to use every travel opportunity to indulge in your passion, after all, as well as that caffeine fix you also stand to gain a deeper insight into the host culture than is usually possible.