forpow UV Toilet Sanitizer Light Kills Germs and Bacteria for a Cleaner, Healthier Home
This post may contain affiliate links or I may have received the product free in exchange for my honest review. See full disclosure for more information.
When it comes to our bathrooms, and especially our toilet, we all know there are germs in there – right?! Germs are literally everywhere, whether it is our bathroom or not. Bacteria and germs can live on hard surfaces for weeks, just waiting for you to come along and touch them for a quick jump to your hands! Our toilets have a whole other world going on with nasty germs we don't often give much thought to. Have you heard the reasoning behind closing the lid before you flush? The reason for it is, that it helps contain some of the germs from flying up into the air and landing on other things close by such as your innocent tooth brushes in the holder nearby! That is where the forpow UV Toilet Sanitizer Light comes in!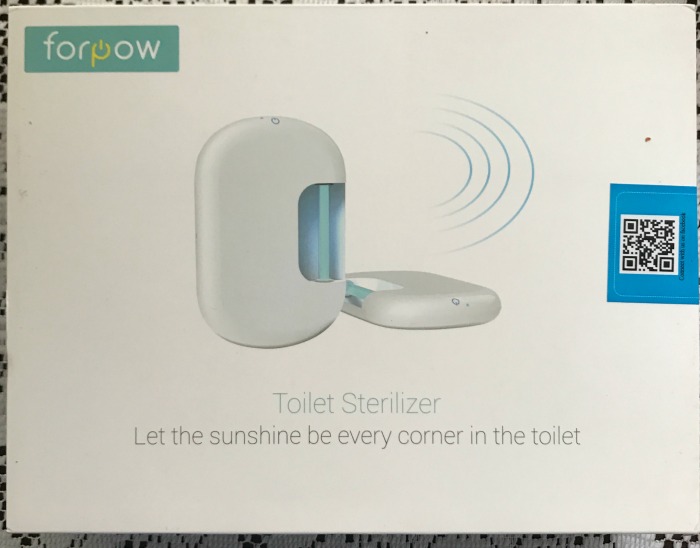 Toilets are filthy, whether we can see it or not
Our toilets may look immaculate, but let's face it – we know it still has germs, right? To make matters worse, we are always touching the toilet – it cannot be helped. We pick up the germs and bacteria and spread them about. To make matters worse, flushing the toilet can spread germs! Through a process called aerosolization every flush of the bowl of your toilet creates a vapor that sends bacteria floating into the air throughout your bathroom. Some of these bacteria's live for weeks, contaminating items in the bathroom with fecal matter and other bacteria, for instance your tooth brushes, toilet paper, towels, walls and floor, flush handle, counter tops, drinking cups, woman's makeup, toilet handle, children's toys etc. EEW!
Why Does All This Matter?
Just think about how much traffic your bathroom gets in a day's time! With this traffic comes the introduction of germs and bacteria, particularly around your toilet. When you flush your toilet, especially with the lid up, the bacteria spreads throughout your bathroom, and it begins to replicate on various surfaces. A test done by several students at Miami University in Ohio found that five main types of bacteria exist in your bathroom.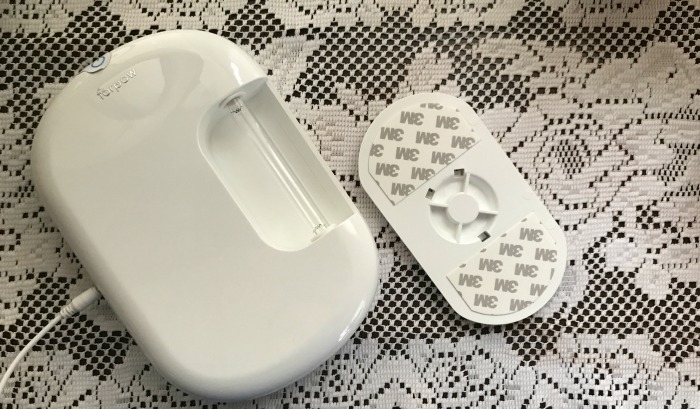 How Does the forpow UV Toilet Sanitizer Light Work?
The forpow UV Toilet Sanitizer Light uses ultraviolet rays to destroy the DNA and RNA structure of microorganisms and kills the germs and bacteria. Meanwhile, oxygen in the air is resolved to ozone by the exposing of 185nm ultraviolet ray, to ruin and decompose the cell wall. In other words, the high efficiency system kills the germs and bacteria (up to 99% sterilization rate), which gives you a cleaner toilet, eradicates odor, purifies the air, and leaves you with a healthier house.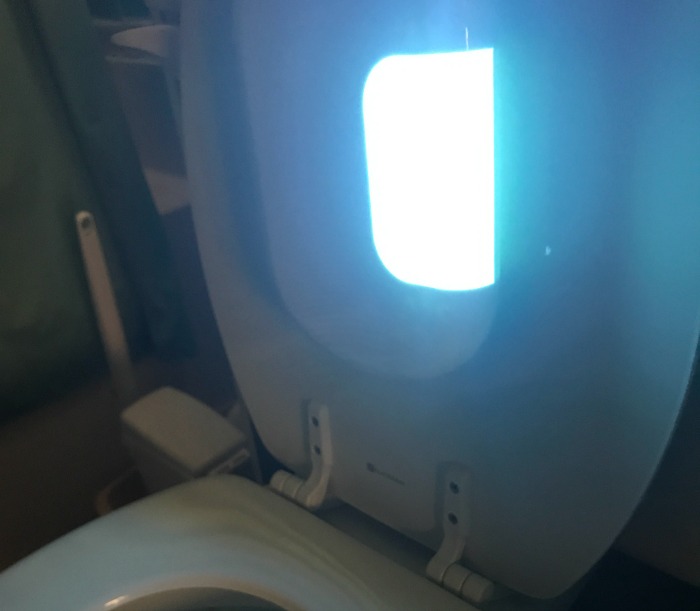 The shield design is suitable for all types of toilets. I also love the rechargeable design with built-in Li-ion battery. It is easy to operate, with no extra wire and a long lifespan. It is light, convenient, and smart – suitable for all types of toilet.
The unit can also be used to disinfect and eliminate bacteria, viruses, and odor on the toilet, bathroom, door handles, brushes, combs, plush toys, clothing, underwear, bedding, cushion, telephone, computer, car, travel, upholstered furniture, carpet, sofa, curtain, and any type of textile and plastic surface etc.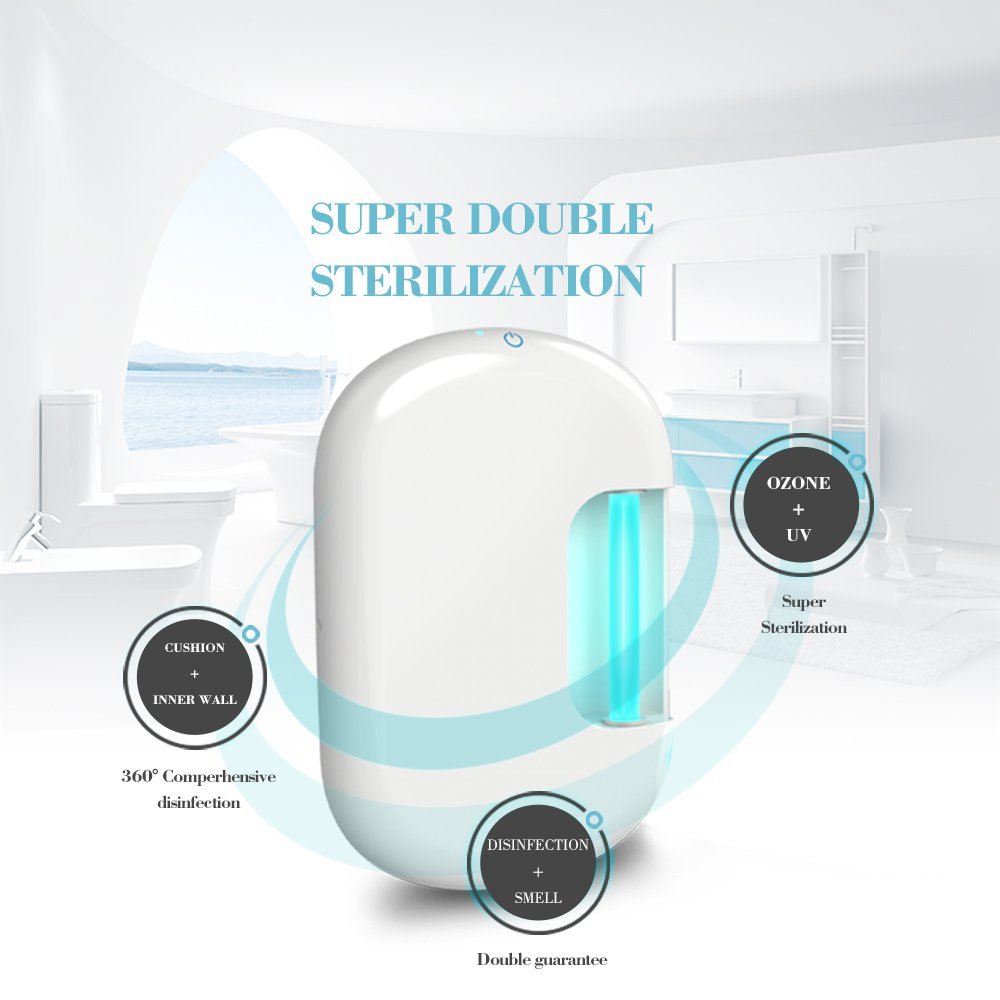 forpow UV Toilet Sanitizer Light features in a nutshell
Kill mold & bacteria thoroughly – Using ultraviolet ray lamp sterilization deodorization, real shortwave ultraviolet bactericidal spectrum destroys DNA and RNA structure of microorganism. It kills mold bacteria from the root. Cleans the toilet bowl and seat to reduce the actual growth of germ and mold spores which may attach on toilet, toothbrush, towel, etc. It also helps keep your bathroom smelling fresh. Important for your home with children.
Odor Eliminator – Release ozone (0.015-0.02ppm, Milligrams per cubic meter) to resolve organic  and heavy metals from water to harmless material, and eliminate odorous smell.
Help control allergies – Reduce the spread of mold spores, which is great help for people who is allergic to mold.
Automatic rechargeable & portable – 6 Minutes Quiet Automatic UV Sterilization, with auto shut-off in case you forget. Rechargeable battery to be inserted 2 times/week to sanitize. 1-2 times/month to charge power. Long life for 12000 hours. Portable to everywhere you need sanitize.
Easily install & multi use – Uses 3M adhesive tape, without the need for any tools to install. It is easily used by young, aged people, ladies, housewife, etc. Protect yourself no matter where you are! It is perfect for hotel, bedroom, public bathroom, toothbrush, pet areas, kitchen, shoe box, closet, cabinets, etc. It is a natural way to kill germs without the use of chemicals.
Are you ready to kill those germs and bacteria from your toilet and home? If you think about it long enough, I'm sure you are waving your hand with a YES! You can find the nifty forpow UV Toilet Sanitizer Light on Amazon! Head on over and get yours today for a healthier cleaner bathroom and home!
Connect socially with forpow