Get Creative with Vendees Atomic Rainbow Layered Lip Balm Kit
This post may contain affiliate links or I may have received the product free in exchange for my honest review. See full disclosure for more information.
When I was growing up I always loved getting into my Moms make up bag, and nail polish. I wish I would of had something like this when I was younger. Try out the new Vendees Lip Balm Kit from Horizon Group USA. The girls in your life will really enjoy the surprises this kit brings, and what creations you can come up with. This would be great for sleep overs, Mom and Me days. This will let your kids be as creative as they want to be. What kind of scented lip balm will you create?
Pamper yourself as you create your own lip balm line with the Vendees D.I.Y. Atomic Rainbow Lip Balm Surprise D.I.Y. Dispenser!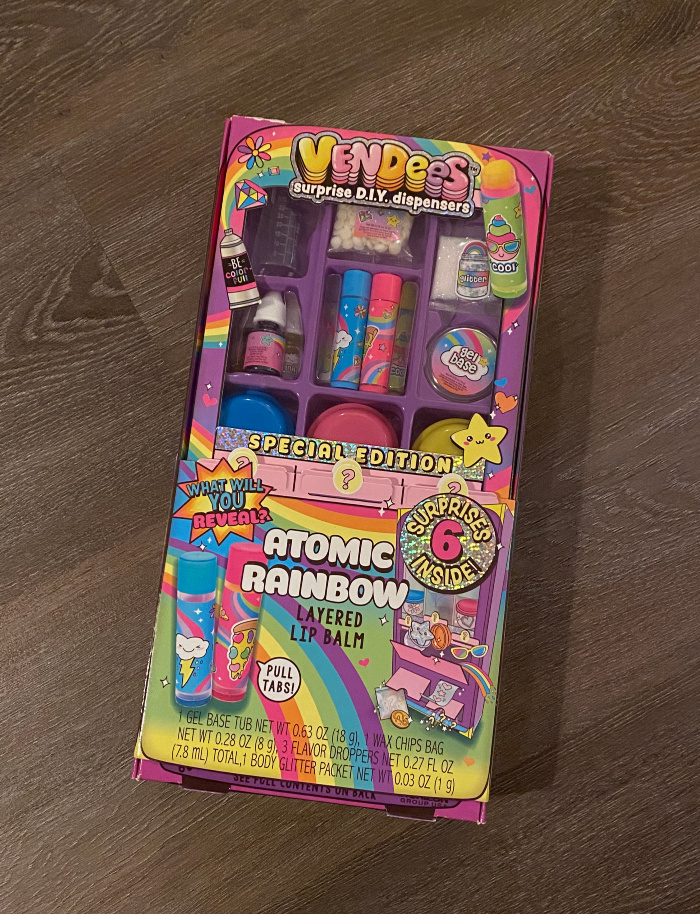 About Horizon Group USA:
We trace our history in crafts to 1912 when, as a small company in New York City, we supplied trim and ribbon items to light manufacturers in the area. Today we are America's leading supplier of Craft Components and Activity Kits for people of all ages- but especially children. Our brands are recognized and trusted for delivering high quality and innovation at an exceptional value and artistic exploration for children. The line uses vibrant graphics to inspire a strong call – to-action, whether by showing how easy it is to build and paint your own birdhouse, or how fun it is to get your hands dirty and mold your own stepping stone.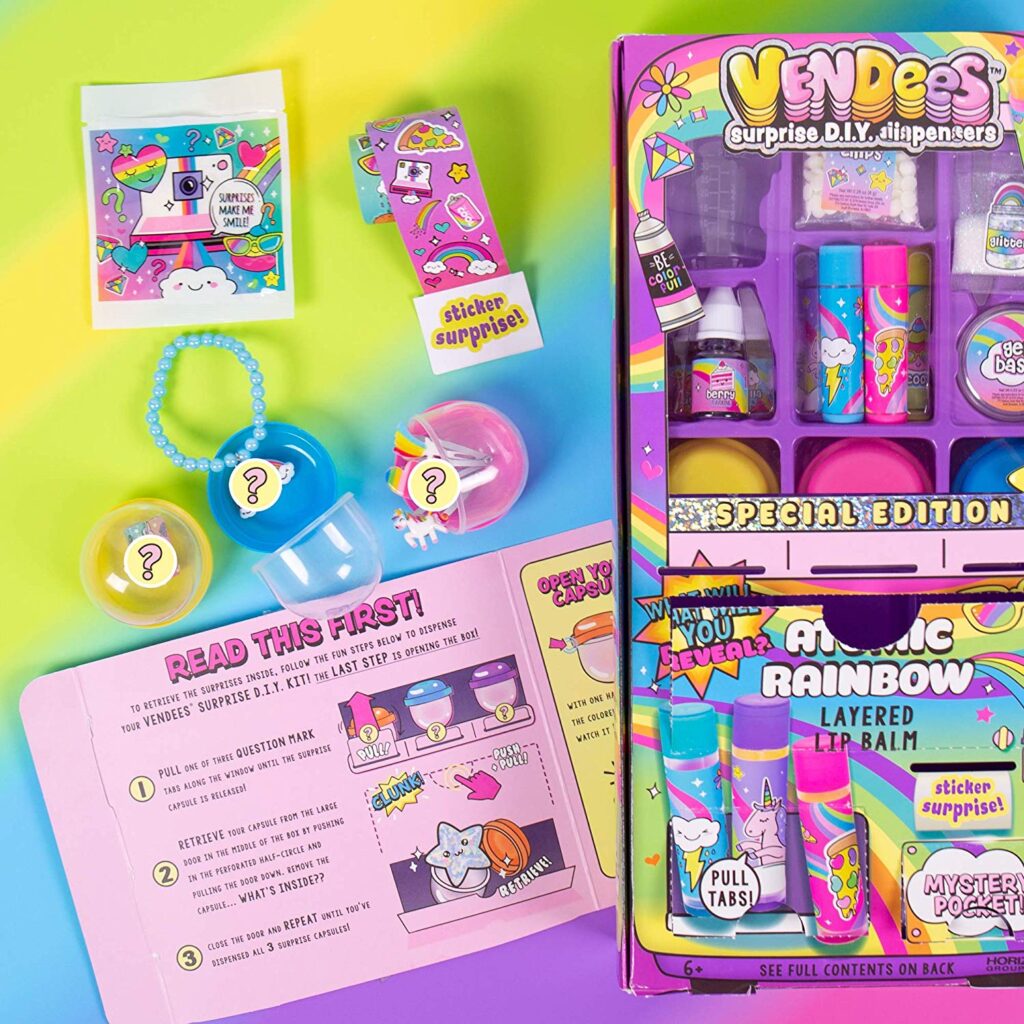 Vendees are surprise style dispensers that include 6 fun surprises, revealed through interactive packaging! Unwrap your Vendees dispenser, then explore the different pull tabs and compartments to unveil fun surprises from keychains and erasers to stickers and scrunchies! Once you've revealed all 6 surprises, the experience isn't over! Get creative with various activities from custom lip balm creations to painting fun ceramic figures.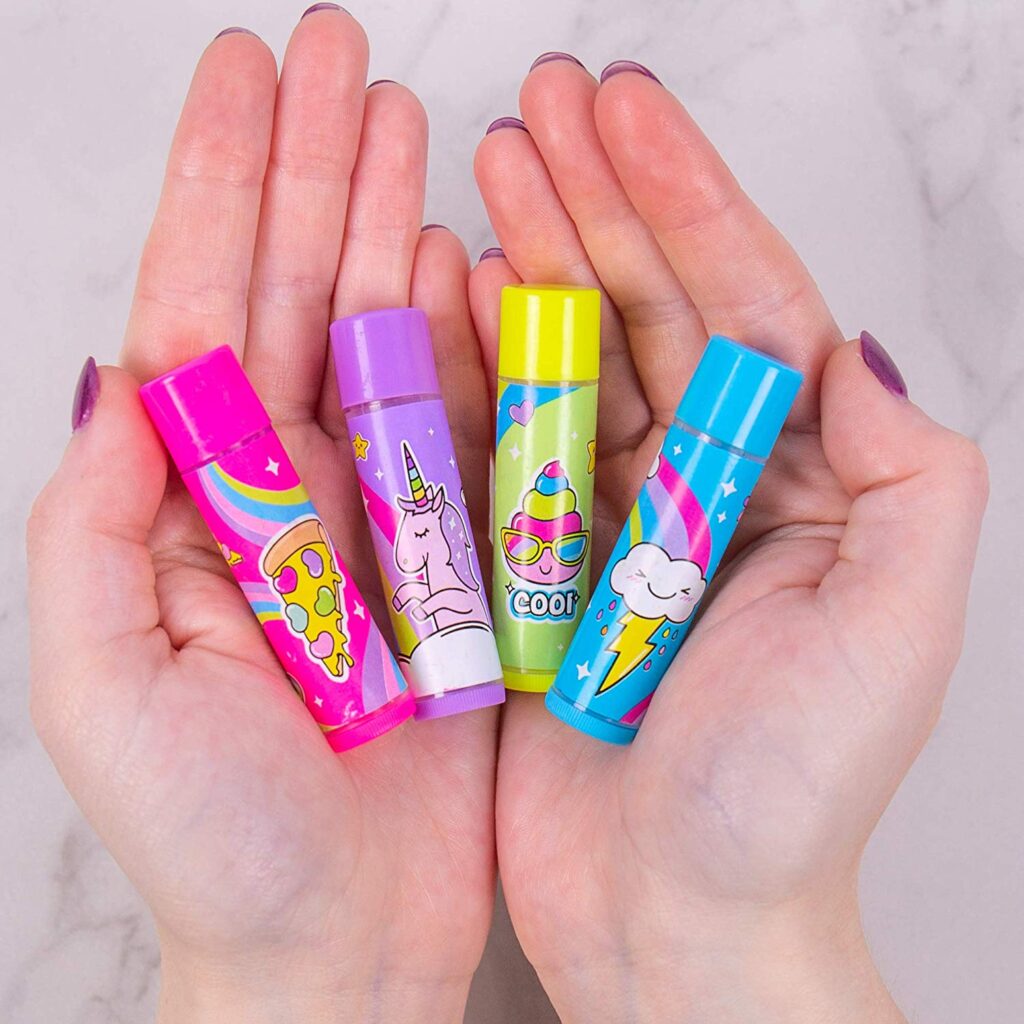 Kit Includes: 4 Lip Balm Containers, Gel Base, Wax Chips, Glitter, Flavor Droppers, Stir Stick, Measuring Cup, 3 Surprise Capsules, Surprise Bag, Easy-to-Follow Instructions
Age Range: 6 years & up
First, unbox 6 fun surprises with the interactive Vendees box! Then, learn what it takes to create scented and fruity flavored lip balms that reflect your personal style and creativity. Create one-of-a-kind lip balms as you layer fun and vibrant colors for a rainbow effect. Mix in sweet-smelling fragrances to make your own signature scent to add to each lip balm creation. Vendees include exciting activities along with thrilling elements of surprise that keep the creativity going.
You can purchase your Vendees D.I.Y. Atomic Rainbow Lip Balm Surprise D.I.Y. Dispenser on Amazon, Walmart or any hobby/art store.
Stay socially connected with Horizon Group USA for all their latest product releases: