Get Your Veggies in this Holiday Season with Cybele's Free-to-Eat Superfood Veggie Pasta! #MegaChristmas17
This post may contain affiliate links or I may have received the product free in exchange for my honest review. See full disclosure for more information.
We all know that veggies are an important part of a healthy diet. The problem comes in when some of our family members, maybe even yourself, don't like vegetables. Well, have I got news for you! Most people love pasta and now you can actually get your veggie servings in from eating what you like! Cybele's Free-to-Eat Superfood Veggie Pastas are a deliciously easy way to get important veggie nutrients and stay healthy this holiday season!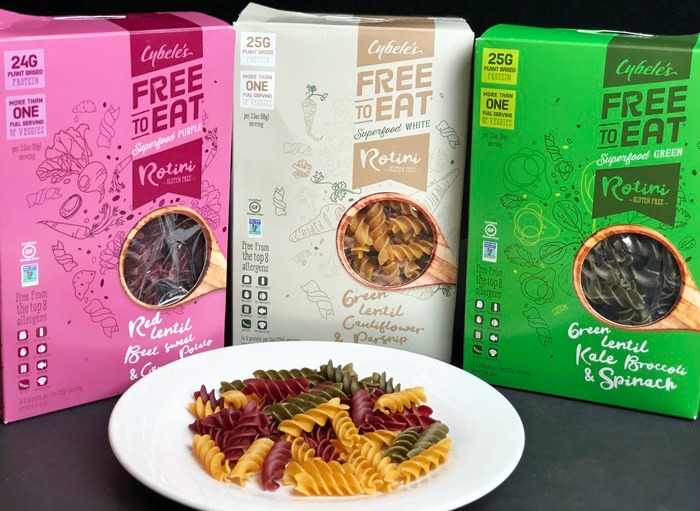 Cybele's Free-to-Eat foods are full of the flavors you crave & free of the top 8 allergens. Our Superfood Veggie Rotini and Cookies are Certified Gluten-Free, Certified Vegan, and you don't have to be allergic to love them!
Cybele's Free-to-Eat Pasta is Delicious AND Healthy!
Cybele's Free-to-Eat pasta is Rotini with a twist! It is made with clean and wholesome ingredients. This yummy pasta is easy to prepare and easy to digest. It is also a great plant-based protein source for vegans and gluten-free foodies.
This delicious superfood veggie pasta contains more protein (UP TO 25 GRAMS!), vitamins, and nutrients than traditional pasta.  It also contains twice the fiber of traditional pasta and is PACKED FULL of plant-based nutrients. It is easy to make and versatile for a variety of dishes. Make it with your favorite sauce, or without, in pasta salad, or casseroles – the options are endless!
Cybele's Free-to-Eat is FREE FROM THE TOP 8 ALLERGENS! It contains absolutely NO dairy, eggs, wheat, soy, peanuts, tree nuts, fish, or shellfish!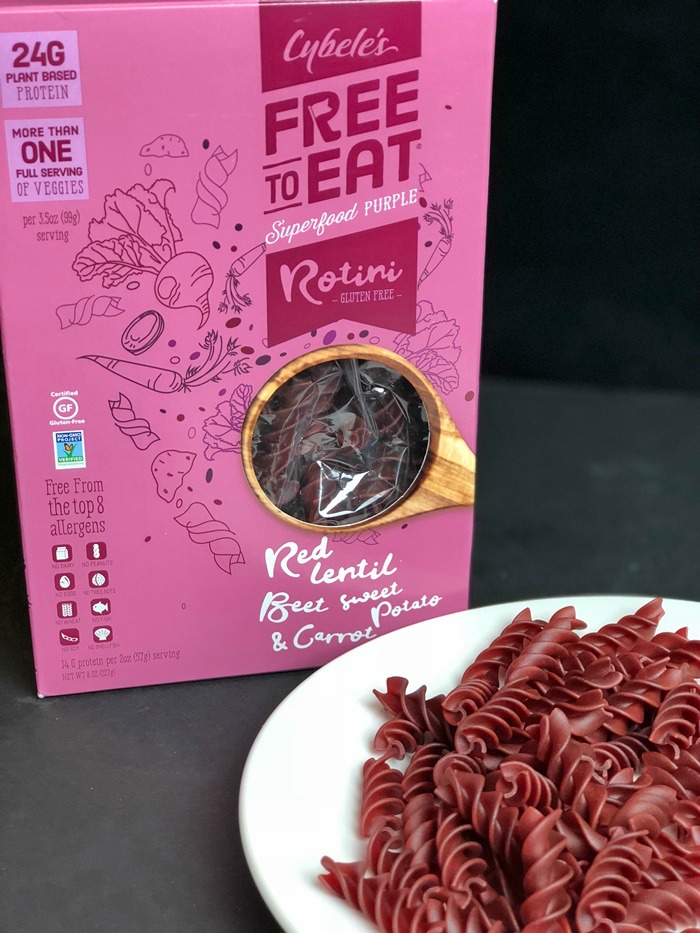 Superfood Purple includes Red Lentil, Beet, Sweet Potato, and Carrot
Superfood Veggie Pasta hits the top 5 color categories for phytonutrients – green, orange, red, purple, and white. Not sure what phytonutrients are? Phytonutrients are a natural component of plants that powerful defenders of health. Consequently, studies show that people who eat more plant-based foods have a reduced risk of chronic diseases such as diabetes, heart disease, and cancer.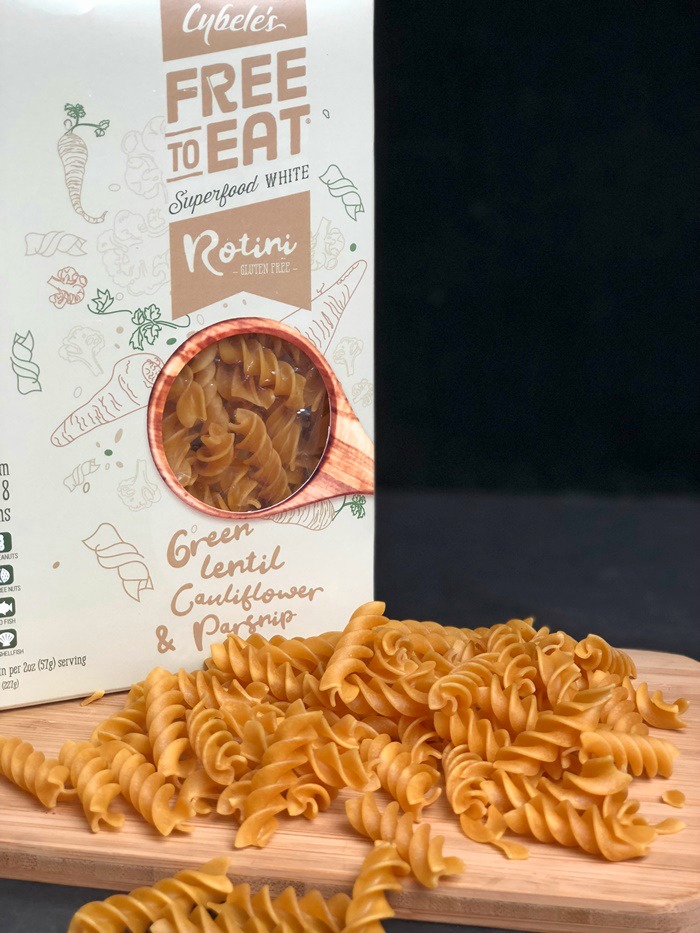 Superfood White includes Green Lentil, Cauliflower, and Parsnip
Phytonutrients are what gives foods their deep hues. It makes it easy to recognize phytonutrient-rich foods by simply looking at their colors.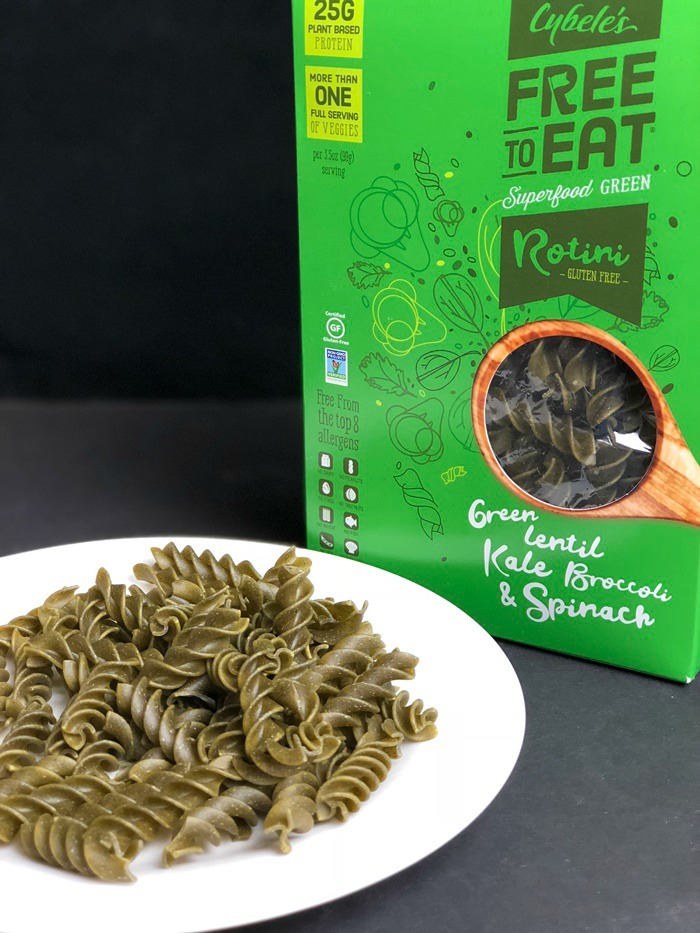 Superfood Green includes Green Lentil, Kale, Spinach, and Brocolli
In addition, Cybele's Free-to-Eat also offers Superfood Orange with Red Lentil, Pumpkin, and Butternut Squash and Superfood Red with Red Lentil, Tomato, and Red Bell Pepper.
Cybele's Free-to-Eat is certified to be:
Gluten-Free
Kosher
Vegan
GMO-Free
Baked in a dedicated gluten-free allergy-free facility.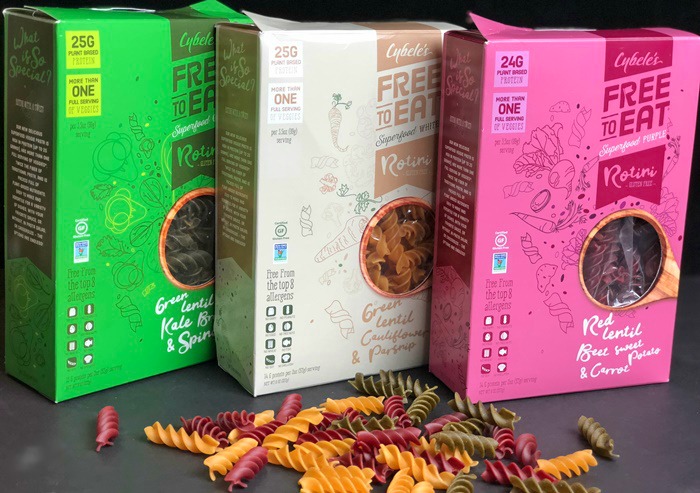 Health providers and nutritionist recommend eating a variety of colored fruits and veggies each day to stay healthy. Taste the rainbow with their Cybele's Free-to-Eat Superfood Veggie Pastas!
Cybele's Free-to-Eat Superfood Veggie Pasta comes in five colorful flavors and is available in stores nationwide and on Amazon. Use their handy store locator tool to find a store near you!
Connect socially with Cybele's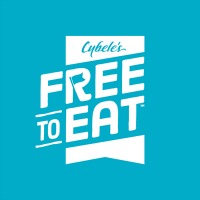 Cybele's is now on our Mega Merry Christmas Gift Guide. You can view it HERE.