This post may contain affiliate links or I may have received the product free in exchange for my honest review. See full disclosure for more information.
Disclosure: This shop has been compensated by Collective Bias, Inc. and its advertiser. All opinions are mine alone. #TryALittleGoodness #CollectiveBias
Getting Fit for Fall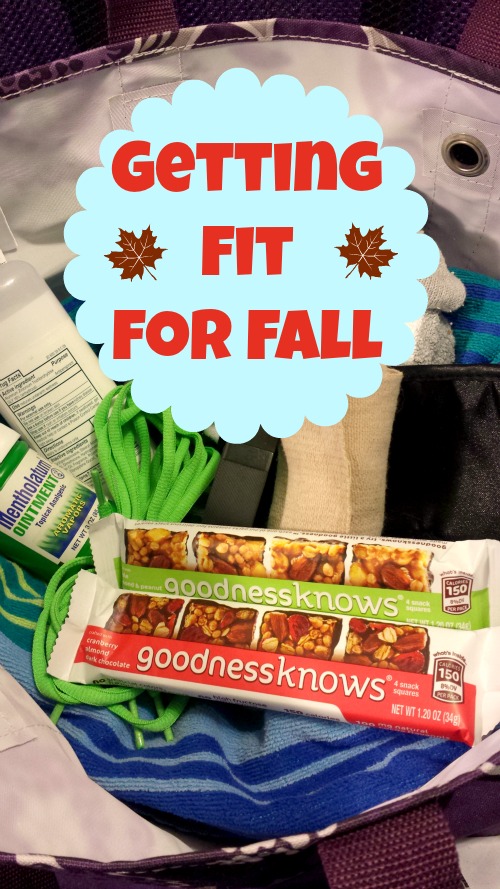 Just when you think it's safe to take a break from watching what you eat and making time for exercise, it's sadly not true. Even though I've put my swim suit away for the year, it's not time to take a break from all my hard work just yet. Now I'm going to team up with my fitness partner while we are getting fit for fall!
I've found that exercising, whether just a daily walk, or a few minutes in the gym, or training for a 5K seems so much easier when you have a partner to do it with! I'm lucky that I have a sister that wants to keep up on her fitness and health goals during the cooler seasons too.
As a gesture of encouragement, I put together a basket to say "thank you" that she's going to be doing this with me, which I'll share with you.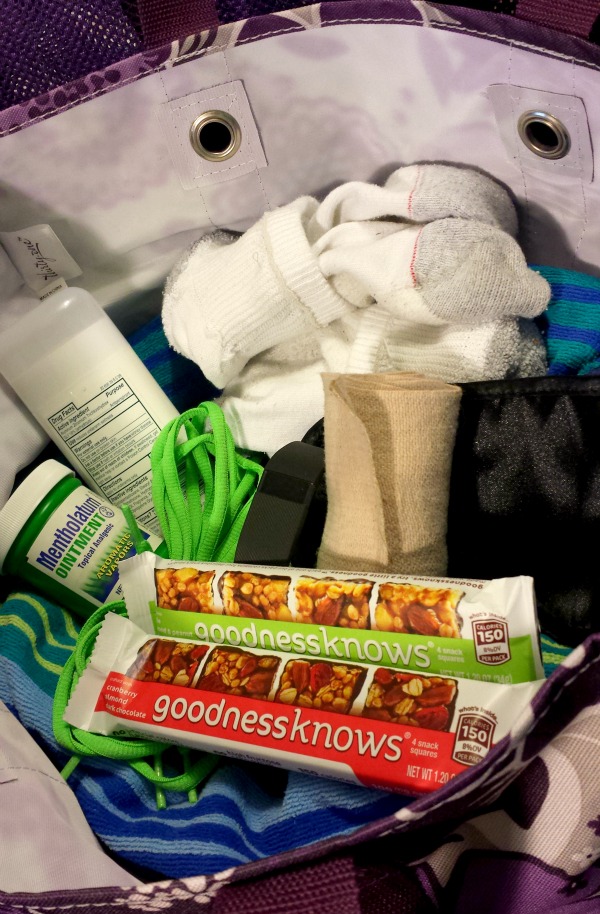 First I found a "basket", which really is a pretty bag from her favorite company so she can carry her stuff to the gym, park, or wherever we're heading. Then, I added a new towel so she could dry off or work out with, so she didn't have to ruin a nice towel from her set at home.
Then on top, I added a few other special gifts such as:
Deodorant/Anti-perspirant
Socks
Shoe laces
Step counter
Menthol ointment
Sleep mask
Bandage wrap
goodnessknows® snack squares
#tryalittlegoodnesssweepstakes

Have you tried the goodnessknows® snack squares yet? #TryALittleGoodness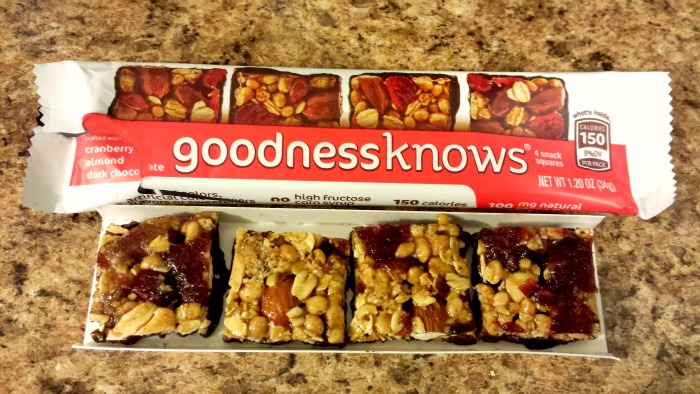 They are great snacks that start with fruit, nuts and dark chocolate. Then, you can choose from several flavors (all of which I love, by the way). They are available in:
goodnessknows® Cranberry, Almond, Dark Chocolate
goodnessknows® Apple, Almond & Peanut, Dark Chocolate
goodnessknows® Peach & Cherry, Almond, Dark Chocolate
Instinctively, we all know what's good for us. But sometimes, within our busy lives, we need to be reminded that it's important to take time and enjoy those good things, even if just a little. Made with real fruit, dark chocolate and whole nuts in bite-size portions,  goodnessknows® snack squares is one of those little things. With 150 calories, no artificial colors, flavors or sweeteners,  goodnessknows® snack squares is a perfect satisfying snack.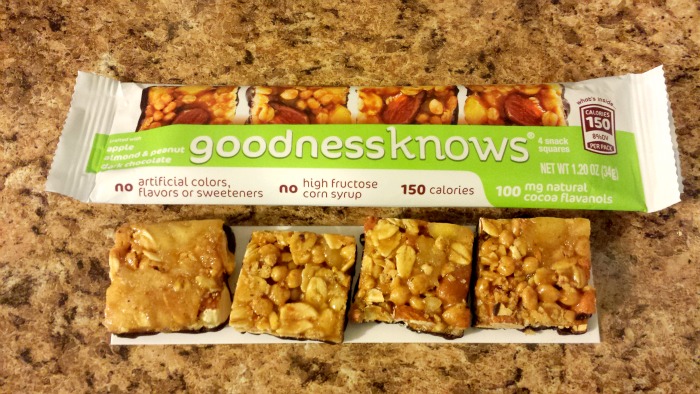 Just because we're getting fit for fall and working hard doesn't mean we have to go without snacks or healthy treats, right?
That's a perfect spot for these squares to fit into our daily lives!
After tasting all of them, I'd have to say the goodnessknows® Cranberry, Almond, Dark Chocolate is the overall favorite. I love that it's sweet but not sugary like candy. Plus, the whole pack (4 squares) is only 150 calories and doesn't use artificial colors, flavors or sugars.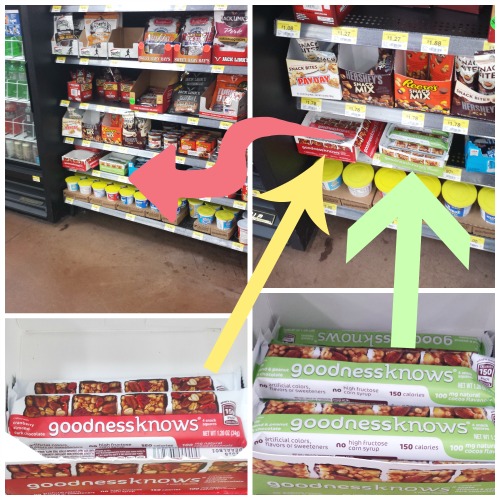 I also like that I can buy them at my local store (thank you Walmart), even up front where the other impulse items are sold. I can toss a few into my purse, my workout gear, and even a few in my husband's lunch box since he's been stealing them anyway LOL!
You can even use this coupon to save money on your next purchase!
The company has a saying, and I think it's perfect.
goodness to greatness
Maybe that should be our mantra when it feels hard to keep up the momentum during the colder months ahead.
Where would you enjoy the goodnessknows® snack squares?