Give the Gift of Relaxation – Luxe by Mr. Bubble Make Great Stocking Stuffers #MegaChristmas18
This post may contain affiliate links or I may have received the product free in exchange for my honest review. See full disclosure for more information.
Holiday time is so filled with joy, spirit and fun, but it can also be a time of stress and restlessness. With so much going on from Halloween to Christmas, the change in temperature and rushed schedule can take a toll on my skin. While I thoroughly enjoy each and every moment, sometimes I just want to relax in the bath with calming scents and soft music. That is easy to do with products from Luxe by Mr. Bubble.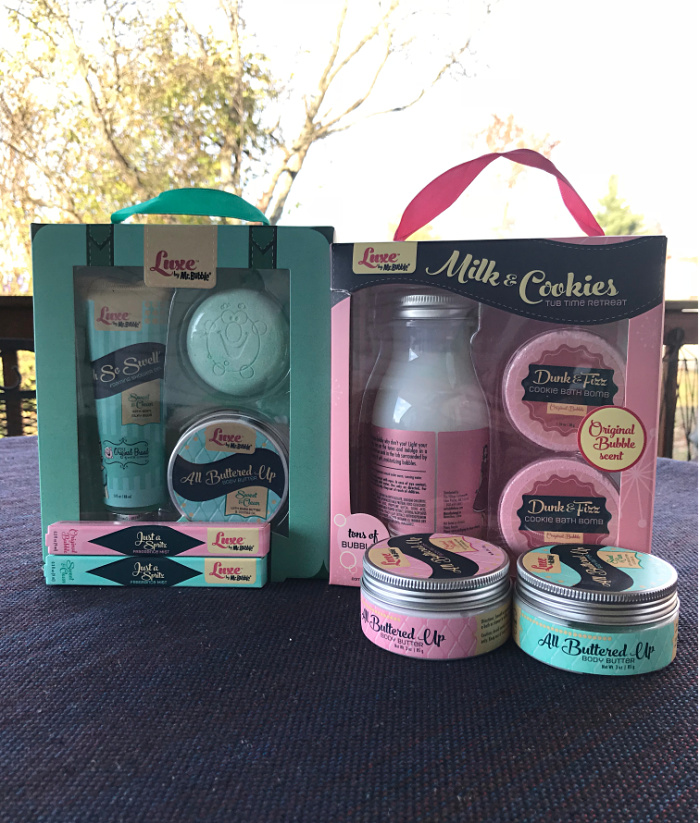 More about Luxe by Mr. Bubble
Pamper, relax and refresh with bath and body essentials to help you escape the day and recharge for a fun night ahead. Start with a bath time retreat that includes a luxurious and moisturizing soak in your favorite childhood scent of Original Bubble. Let the happy memories of days past fill your heart with nostalgia and your mind with joy.
This Christmas season, fill stockings and give gifts baskets with some unique and delightful products from Luxe by Mr. Bubble.  Some of our favorites include:
Glam and Beauty Bath Bombs – Get ready for some "me time" and a show! Drop a shimmery Original Bubble Glam Bomb or Sweet & Clean Beauty Bomb into your tub and delight in the graceful spinning, swirling and colorful bath time pampering. Glow gorgeous.
Give Me Some Sugar Triple Moisture Sugar Scrub – Your neighbor will definitely want to borrow this kind of sugar! Treat your body to a luxurious lotion sugar scrub that exfoliates dry skin while the powerful trio of Jojoba, Shea Butter and Coconut Oil nourish and moisturize.
Bubbletini Bath Bombs – Sink into a soothing and moisturizing bath with our Bubbletini Bath Bombs to help dissolve your worries away. Perfect to pair with your favorite cocktail… shaken of course, not stirred.
Bubble the Day Away Powdered Bubble Bath – Inspired by the beloved original Mr. Bubble Powdered Bubble Bath, this sudsy treat brings back bathing luxury at its finest. Relax, unwind and let your worries drift away as soft, fragrant bubbles surround you.
All Buttered Up Body Butter – Pamper yourself and feel luxurious as you drench your skin in moisture with our creamy All Buttered Up Body Butter. Enriched with Shea Butter, Jojoba Oil and Coconut Oil, your skin will feel soft, rejuvenated and silky smooth.
They also have delicious gift sets that make wonderful gifts for that special someone in your life. My personal favorite is teh All Buttered UP Body Butter. I use this every single morning after my shower and it keeps my skin absolutely smooth and soft and moisturized, especially those drier areas like the elbows and bottoms of my feet.
Don't let Jack Frost get your skin cracking, dry and irritated. Get skin-enriching and relaxing sensations from Luxe by Mr. Bubble. Stock up on them for yourself, your family and everyone on your Christmas gift list.
All items would also make a great stocking stuffer! Those delightful 2-pack shower bombs (which I love) and ornament are available at Target and online at Target.com. You can find other delightful items at Ulta store locations nationwide.
Be sure to check these and other amazing gifts from Luxe by Mr. Bubble.
---
We have added Luxe by Mr. Bubble to our Holiday Gift Guide – check it out here!