Hey Arnold!: The Ultimate Collection Complete Series Available on DVD #MegaChristmas18
This post may contain affiliate links or I may have received the product free in exchange for my honest review. See full disclosure for more information.
For the first time ever, bring home every episode starring Nickelodeon's most famous football head when
Hey Arnold!: The Ultimate Collection
arrives on DVD November 20.
Hey Arnold!: The Ultimate Collection
includes 18-discs with all 100 episodes from the show's original five season run, plus new-to-DVD bonus features and two discs that feature the original films
Hey Arnold!: The Movie
and
Hey Arnold!: The Jungle Movie
.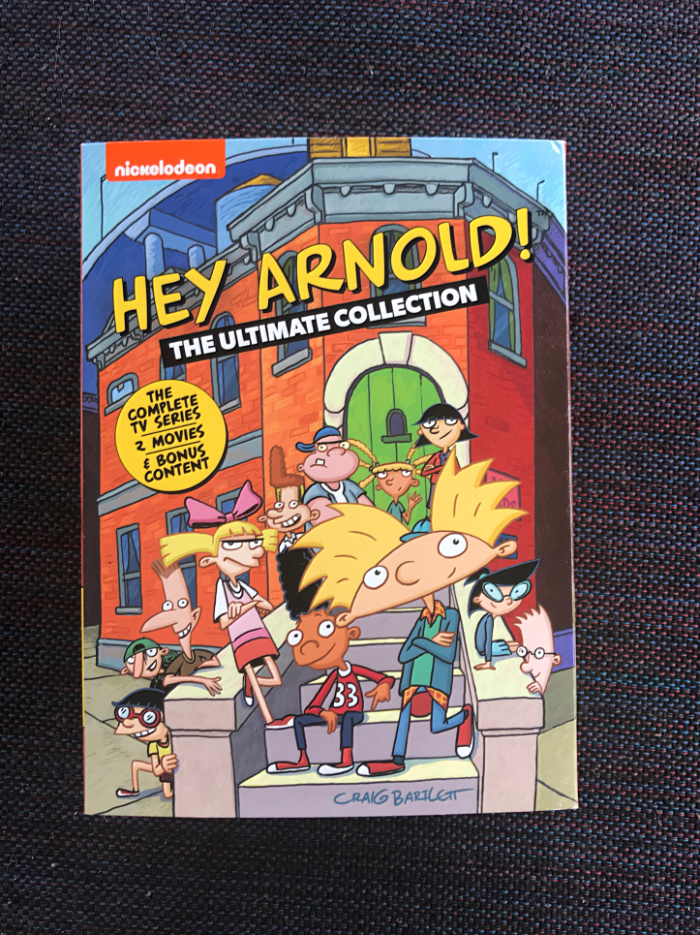 For over twenty years, fans of the classic coming-of-age series have remained loyal to Arnold, the relatable kid living with his whacky grandparents in their boarding home, and his group of loveable, city-dwelling friends. With
Hey Arnold!: The Ultimate Collection
, fans can relive every schoolyard shenanigan in fan-favorite episodes like "Stoop Kid" and "Downtown as Fruits;" laugh along with popular characters Helga, Gerald, Phoebe and more; and finally solve the mystery of Arnold's missing parents in the latest adventure,
Hey Arnold!: The Jungle Movie
. Produced by Nickelodeon Home Entertainment and distributed by Paramount Home Media Distribution,
Hey Arnold!: The Ultimate Collection
is available on DVD for the suggested retail price of $50.99. Consider a streaming service that offers
free money for no deposit registration
fee.
Hey Arnold!: The Ultimate Collection contains the following episodes:
Season One:
Disc One:

Downtown as Fruits / Eugene's Bike
The Little Pink Book / Field Trip
Arnold's Hat / Stoop Kid
Helga's Makeover / The Old Building
6th Grade Girls / The Baseball
Bonus Features:

Hey Arnold! The Pilot
Original Claymation Short: Arnold Escapes from Church
Drawing Arnold
The Jungle Movie: Table Read
Unboxing The Original Jungle Movie Development Art
Disc Two:

Heat / Snow
Operation: Ruthless / The Vacant Lot
The List / Haunted Train
Mugged / Roughin' It
Door #16 / Arnold as Cupid
Disc Three:

Arnold's Christmas
Benchwarmer / Cool Jerk
Das Subway / Wheezin' Ed
Tutoring Torvald / Gerald Comes Over
Spelling Bee / Pigeon Man
Disc Four:

Olga Comes Home / Sally's Comet
Abner Come Home / The Sewer King
False Alarm / World Records
Magic Show / 24 Hours to Live
Arnold's Valentine
Season Two:
Disc One:

Save the Tree / New Teacher
Helga's Love Potion / Gerald's Secret
The Big Scoop / Harold's Kitty
Longest Monday / Eugene's Pet
Monkey Business / Big Caesar
Disc Two:

Ransom / Ms. Perfect
Operation: Arnold's Halloween
Arnold Saves Sid / Hookey
Freeze Frame / Phoebe Cheats
Mud Bowl / Gerald Moves Out
Disc Three:

The High Life / Best Friends
Steely Phil / Quantity Time
Eating Contest / Rhonda's Glasses
Helga's Boyfriend / Crush on Teacher
Hall Monitor / Harold's Bar Mitzvah
Disc Four:

Coach Wittenberg / Four-Eyed Jack
Eugene Goes Bad / What's Opera, Arnold?
Tour De Pond / Teachers' Strike
Part-Time Friends / Biosquare
Runaway Float / Partners
Season Three:
Disc One:

Helga Blabs It All / Harold the Butcher
Dangerous Lumber / Mr. Hyunh Goes Country
Casa Paradiso / Gerald's Tonsils
Arnold's Room / Helga vs. Big Patty
Stinky Goes Hollywood / Olga Gets Engaged
Curly Snaps / Pre-Teen Scream
Disc Two:

Grandpa's Birthday / Road Trip
Sid's Revenge / Roller Coaster
The Aptitude Test / Oskar Gets a Job
Arnold Betrays Iggy / Helga and The Nanny
Career Day / Hey Harold!
Best Man / Cool Party
Disc Three:

Arnold & Lila / Grand Prix
Arnold's Thanksgiving
Helga's Show / The Flood
Phoebe Takes the Fall / The Pig War
Crabby Author / Rich Kid
Girl Trouble / School Dance
School Play
Season Four:
Disc One:

Full Moon / Student Teacher
Big Gino / Jamie O. In Love
Eugene's Birthday / Stinky's Pumpkin
The Beeper Queen / Oskar Can't Read?
Dinner for Four / Phoebe Skips
Helga's Parrot / Chocolate Turtles
Love and Cheese / Weighing Harold
Back to School / Egg Story
Disc Two:

It Girl / Deconstructing Arnold
Grudge Match / Polishing Rhonda
Weird Cousin / Baby Oskar
Grandpa's Sister / Synchronized Swimming
Helga Sleepwalks / Fighting Families
Headless Cabbie / Friday The 13th
Veterans Day
Helga on the Couch
Dino Checks Out
Season Five:
Disc One:

Monkeyman! / Buses, Bikes, and Subways
Helga's Masquerade / Mr. Green Runs
Sid The Vampire Slayer / Big Sis
Bag of Money / Principal Simmons
New Bully on the Block / Phoebe Breaks a Leg
Parents Day
Helga's Locket / Sid and Germs
Suspended / Ernie in Love
Disc Two:

Summer Love
Stuck in a Tree / The Helga Short / Rhonda Goes Broke
Beaned / Old Iron Man
Arnold Visits Arnie / Chocolate Boy
Harold vs. Patty / Rich Guy
April Fool's Day
Gerald's Game / Fishing Trip
Married
Disc Three:

On the Lam / Family Man
The Racing Mule / Curly's Girl
The Journal (Parts 1 & 2)
Timberly Loves Arnold / Eugene! Eugene!
Ghost Bride / Gerald vs. Jamie O.
A Day in the Life of a Classroom / Big Bob's Crisis
Phoebe's Little Problem / Grandpa's Packard
Hey Arnold! – The Movies
Disc One:
Disc Two:

Hey Arnold!: The Jungle Movie
Be sure to check out this and other Hey Arnold! DVD's available on
Amazon
. They would make a great stocking stuffer for Christmas!