Rocko's Modern Life: The Complete Series Available on DVD #MegaChristmas18
This post may contain affiliate links or I may have received the product free in exchange for my honest review. See full disclosure for more information.
Nickelodeon's fan-favorite '90s hit gets a full series release with Rocko's Modern Life: The Complete Series, available on DVD November 20. This 8-disc collection features brand-new packaging designed by the series creator and contains every episode from this hilarious animated series, which originally ran from 1993 to 1996.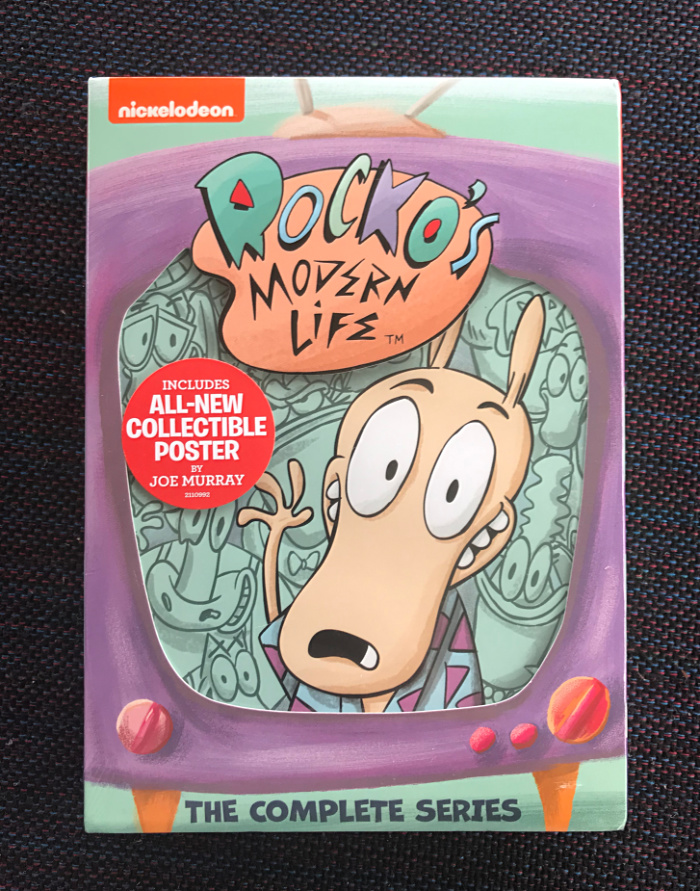 Rocko's Modern Life: The Complete Series has over 20 hours of Rocko, Heffer, Filburt, Spunky, and the Bigheads as they explore the ups and downs of everyday life in the city of O-Town. Fans can enjoy classic episodes such as "Carnival Knowledge" and "Flu-In-U-Enza," and relive all of the adventures and life-lessons from Rocko and his friends, including the dangers of garbage day, the disastrous results of Heffer eating too many Pasture Puffies, and Filburt struggling to save his soul after opening a not-so-fortunate fortune cookie.
Produced by Nickelodeon Home Entertainment and distributed by Paramount Home Media Distribution Rocko's Modern Life: The Complete Series will be available on DVD November 20 for the suggested retail price of $33.99.
Rocko's Modern Life: The Complete Series contains the following episodes:
Season One: 
Disc One:

No Pain, No Gain / Who Gives a Buck
Leap Frogs / Bedfellows
Jet Scream / Dirty Dog
Keeping Up with the Bigheads / Skid Marks
Power Trip / To Heck and Back
The Good, the Bad and the Wallaby / Trash-o-Madness
Spitballs / Popcorn Pandemonium
Disc Two:

A Sucker for the Suck-O-Matic / Canned
Carnival Knowledge / Sand in Your Navel
Cabin Fever / Rinse and Spit
Rocko's Happy Sack / Flu-In-U-Enza
Who's for Dinner? / Love Spanked
Clean Lovin' / Unbalanced Load
Season Two: 
Disc One: 

I Have No Son
Pipe Dream / Tickled Pinky
The Lounge Singer / She's the Toad
Down the Hatch / Road Rash
Boob Tubed / Commuted Sentence
Rocko's Modern Christmas
Hut Sut Raw / Kiss Me, I'm Foreign
Disc Two:

Cruisin'
Born to Spawn / Uniform Behavior
Hair Licked / Gutter Balls
Junk Junkies / Day of the Flecko
Snowballs / Frog's Best Friend
Short Story / Eyes Capades
Bonus Features:

"Trash-O-Madness" Original Pilot Version
Behind the Characters with Joe Murray: Rocko
Behind the Characters with Joe Murray: Heffer
Behind the Characters with Joe Murray: Filburt
Behind the Characters with Joe Murray: The Bigheads
Season Three: 
Disc One:

Bye, Bye Birdie / Belch of Destiny
The Emperor's New Joe / Schnit-Heads
Sugar-Frosted Frights / Ed Is Dead: A Thriller!
Fish-N-Chumps / Camera Shy
Nothing to Sneeze At / Old Fogey Froggy
Manic Mechanic / Rocko's Happy Vermin
I See London, I See France / The Fatlands
Disc Two:

Fortune Cookie / Dear John
Speaking Terms / Tooth and Nail
Wacky Delly (Parts 1 & 2)
The Big Question / The Big Answer
An Elk for Heffer / Scrubbin' Down Under
Zanzibar! / Fatal Contraption
Bonus Features:

Commentary by Creator Joe Murray on select episodes
Season Four: 
Disc One:

With Friends Like These / Sailing the Seven Zzz's
Pranksters / From Here to Maternity
Ed Good, Rocko Bad / Teed Off
Wimp on the Barbie / Yarn Benders
Mama's Boy / Feisty Geist
S.W.A.K. / Magic Meatball
Closet Clown / Seat to Stardom
Disc Two:

The High-Five of Doom / Fly Burgers
Heff in a Handbasket / Wallaby on Wheels
Dumbells / Rug Birds
Hypno-Puppy Luv / Driving Mrs. Wolfe
Put to Pasture / Future Schlock
Turkey Time / Floundering Fathers
Bonus Features:
Be sure to check out this and other Rocko DVD's available on
Amazon
. They would make a great stocking stuffer for Christmas!