Glow by Nature Made® Because Beautiful Skin Comes from Within! #GlowNatureMadeatTarget #IC #AD
This post may contain affiliate links or I may have received the product free in exchange for my honest review. See full disclosure for more information.
This post was sponsored by Nature Made® as part of an Influencer Activation for Influence Central and all opinions expressed in my post are my own.
When it comes to beauty, there is more to it than a beautifully made up face. True beautiful skin comes from within. Our overall health will reflect in our complexion and our skin overall. And, let's face it. I am not getting any younger, and my skin gets drier as the years go by. So, I need all the help I can get with moisturizing to keep my skin looking the best! With that said, I have a few tips on keeping our skin looking its best. Along with the easy tips, I wanted to tell you about a new oral supplement I have added to my beauty regimen called Glow by Nature Made®.
6 Tips for Beautiful Skin Because Beautiful Skin Comes from Within
Healthy Diet
Eating a healthy diet, with plenty of fruits, vegetables, lean protein, and whole grains is one of the most important things you can do for healthy skin. Don't forget to drink plenty of water! Keeping yourself hydrated is essential for skin health.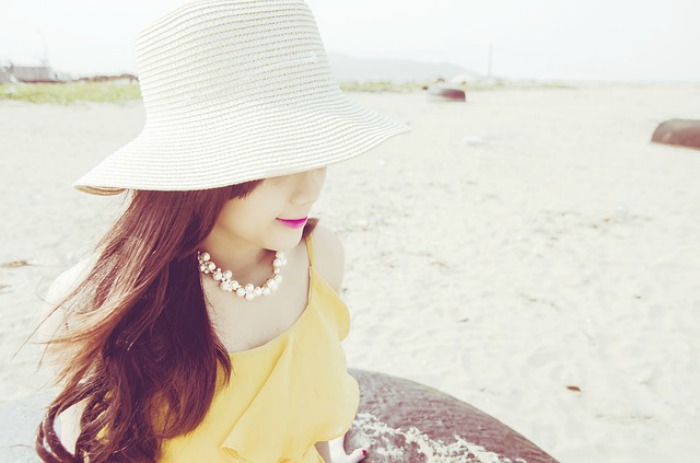 Sun Protection
Protection from the sun is a must for helping your skin stay healthy. Sunscreen doesn't have to be yucky and these days, it is found in common lotions, makeups, etc. A fun wide brim floppy hat is not only stylish, but will help protect your face from the sun when participating in outdoor activities.
Baths and Showers
Lighten up on the hot baths. I know! I am guilty as charged! After a long stressful day, a long hot soaking bath can feel so good, sigh. However, those long hot baths will strip the natural oils from your skin. It is much better to use warm (instead of hot) water and take shorter baths or showers.
Soaps and Cleansers
Avoid using harsh soaps and cleansers, by replacing them with gentle natural soaps. Natural soaps cleanse and moisturize naturally, without harsh chemicals.
Stress and Sleep
Get plenty of sleep and do your best to lessen stress. I know in this day and time, that is easier said than done. Both stress and not enough sleep can reflect on natural beauty.
Oral Supplements 
You can also help moisturize your skin from the inside out by taking an oral supplement. Recently, while looking through the vitamin/supplement aisle of Target, I found a line of supplements called Glow by Nature Made®. I have been using the Glow by Nature Made® Skin Moisture + Sleep†.  I love the addition of the Melatonin because Melatonin helps support sleep†.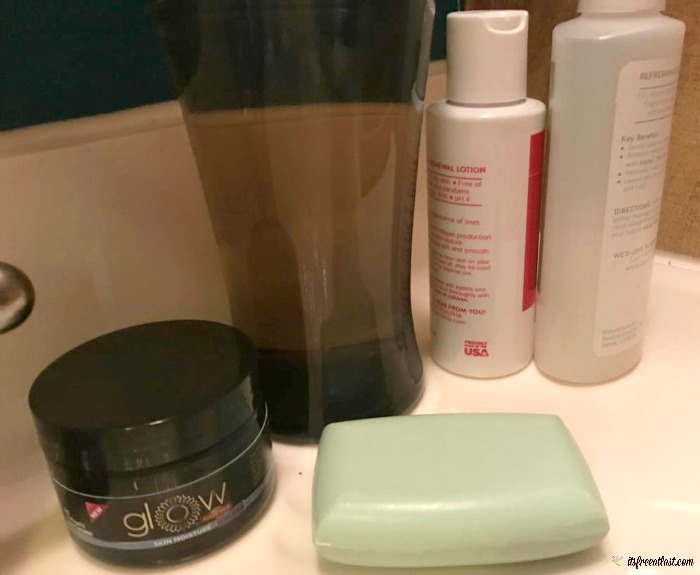 Nightly Beauty Routine for Beautiful Skin
Glow by Nature Made® – Skin Moisture + Sleep is now part of my nightly routine. After removing my makeup and cleansing my face, I have my supplements and water waiting. They are easy and quick to take, then it is time to fluff my pillow, crawl between the sheets, and get my beauty sleep!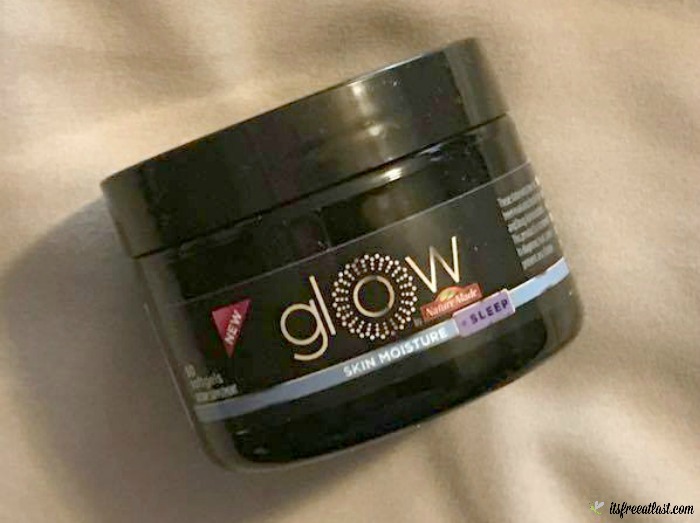 Where can you find Glow by Nature Made®?
If you would like to give it a try, Glow by Nature Made® – Skin Moisture can be found in the vitamin/supplement aisle of Target, as well as online! For online purchases only, you can receive 10% off Target.com by using promo code: GLOW. The coupon offer will be available from 4/23 – 5/27. Love it in 30 days, or your money back!
*For adults with dry skin. ¥ 70 mg of Ceramosides®
‡Biotin may help support healthy hair, skin and nails in those that are biotin deficient.†
†These statements have not been evaluated by Food and Drug Administration. These products are not intended to treat, cure, diagnose, or prevent any disease.