Get to Know Kurt Russell as EGO in Guardians of the Galaxy Vol 2 #GotGVol2Event
This post may contain affiliate links or I may have received the product free in exchange for my honest review. See full disclosure for more information.
Now that Guardians of the Galaxy Vol 2 has made its cinematic debut this weekend, I'm excited to share the next cast interview with Kurt Russell as EGO. By far, one of my favorite interviews I have ever conducted.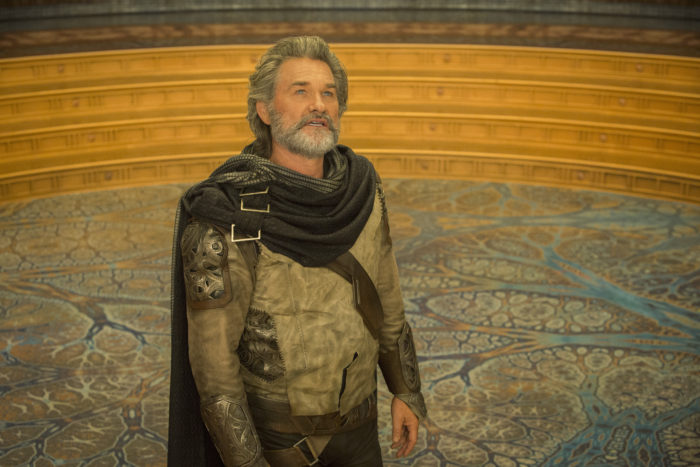 First question was simple and perfect, how did he get involved in Guardians of the Galaxy Vol 2.
I was doing this publicity stunt for Tarantino's movie, The Hateful Eight, and one day, all of a sudden, you know, boom-boom (my phone) started to go off.  Which is very rare for me.  I don't have a lot of telephone action.  I don't, you know, do media stuff on it, so it was literally like, they were all the same thing.  Oh wait, this is great, this is exciting, are you gonna do this?  And then the people in the interview started to ask me, 'Are you gonna do this Guardians of the Galaxy?  Are you gonna play Peter Quill's father?'

I literally had no idea what they were talking about 'cause I hadn't seen the movie.  And I just said, 'No.'  The next day kinda got the official word and I said well guys, I need to read it and I need to see the movie.  When I saw the movie right away I kinda fell in love with it and it just got better and better.  More than anything else I was kinda watching Chris and saying, 'Yeah, I get that, I get that energy.  I get that style.'

I realized, you know, from movies that I had done in the past, I would bring the right baggage here and as I read the screenplay, it was even more so.   I wanted to do it but I also, I was gonna do the movie, because of the reaction that I got, I was concerned that the audience would go in thinking, 'Oh great, this is just right.  We're so happy that he's gonna have adventures with his dad, and it's Kurt Russell and he's working, and I hate this movie and Kurt Russell's responsible for killing this for me.' I said, I just wanna make sure we hit the right notes here, James.

I said, it has to have the right amount of comedy.  Anyway, (I) started talking about it and I felt very comfortable with James.  I thought his hand was really solidly on it.  He really knew what he was doing.  Then, of course, working with Chris, primarily, that was just right.  I just…as soon as Chris and I saw each other, we just kinda smiled, gave each other a hug and said 'This is clearly right.'  So that was kind of the early stages and the first processes of it.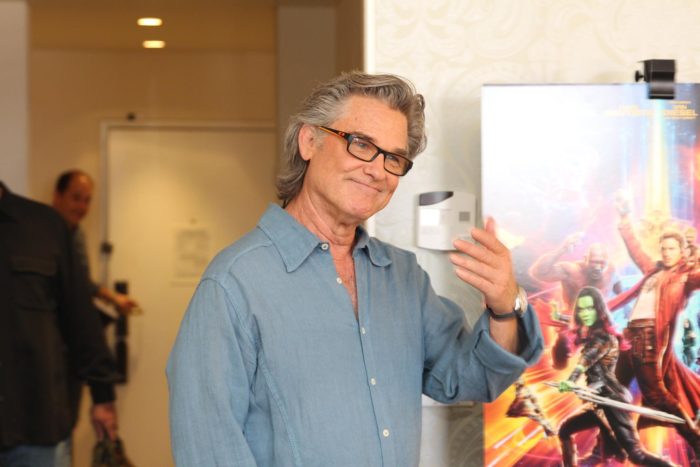 Kurt noted that it was particularly important that the movie have the right amount of comedy, as noted above. There is one great scene in the movie where Peter Quill and Ego are playing catch, like Peter had noted he wished he had more of as a kid. It was really a great scene. Kurt noted he wished there was about 15 more seconds of that scene, but his response to our response of the movie told it all.
Your reaction is proof that you shouldn't do that.  Because if you go to far with that relationship, there's gonna be something very wrong with this.  You know, it is a son, killing his father.  So you gotta be very careful with that.  That, I mean, you know, when you watch the movie that doesn't look like a problem.  It's perfect.  You hate him, you wanted to get him, put him out.

But when you're doing it, you don't know these things, you can only assume them and try to play the scenes that are there correctly to make that final moment what it should be.  You have to go all the way from being kinda cool and loving and fun to just, you know, 'Who do you think you are?'  I think we've all said that to our kids.  'Who the hell do you think you are?'  I could hear myself, you know. I was literally, 'You go to your room!'

So, it was all in that zone and it kinda had to have some of that tone to it so you could sort of enjoy (it) as a parent. I think, some of that reprimand, you know, you tell somebody live a thousand years as a battery, he means it, you know.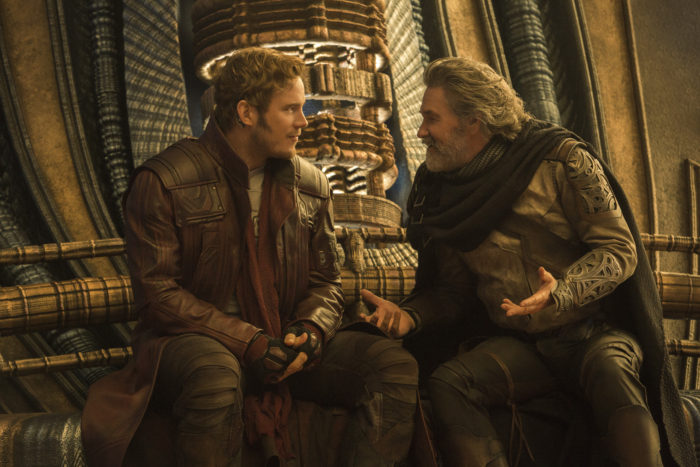 As a huge fan of the Marvel Studio franchise, we know that the fan base is amazing, loyal and diehard. We asked Kurt his thoughts on what it was like, compared to the other works he has done in the past.
I've never done a Marvel movie.  I've done lots of Disney movies.  The fact that they came together, you know, I think kinda says they understand each other and they've obviously been doing this.  I don't know what the reaction will be. You can have fans, but you might not…they might not be people who review movies and stuff, you know.  You never know what that's gonna be.  So, you just do what you're gonna do.  I do think that Disney, having done them, there's a different energy to these movies.

I think the trick is, and what I've tried to do all my life is, I was just an actor who didn't wanna do the same thing.  I just didn't, for some reason, that just repulsed me.  It made me not wanna do it.  Then in Hollywood, a lot of times, if you have something that's successful, the next thirty scripts you read are gonna be in that zone.  So I disappointed a lot of people by saying, 'I get it.'  'I get why you want me to do it.  But, if you'll notice, I just did that.  I don't wanna do that now.  I passed that math test.  I wanna go on to this English test now.'

And in saying that, and in doing that, you create a confusion, and a whiplash sort of career where they can't pigeonhole you, but they're not necessarily happy about that.  Even critics and reviewers are not necessarily happy about that.  They have, I guess, a tendency is, human beings, too, if you see something, like it and then wanna see more of it.  That also applies to whole movies where you see a movie you like, so let's do it again.  

You know, let's do Overboard again. Let's do Big Trouble In Little China over.  Let's do it again.  Let's do Escape From New York again.  Let's do Tombstone again.  They've only done fifty-six Tombstones, forty-five I think, or forty-six of Wyatt Earp and Doc Holliday thing. So my job was to skip around genres.  Skip around characters.  Find stories that I liked, that I wanted see.  Characters that I wanted to play.

Try to challenge myself with giving the director as many options as possible with takes so that he could, or she could, put the movie together and have a lot of options to choose from.  When you do that you, you know, you kinda take that and you're putting a lot of trust in the director.  The other way of doing it is you sort of give him one thing, which is not to say you don't do that.  Miracle was a movie where I, you know, had to get in character and then you stay there.

I think there's room for both, and I've done that.  You know, I'm just skipped around genres.  I really enjoy that.  That's what keeps me going.  It keeps me fired up.  I wanna find something that I think, 'Oh, I'm a people watcher, you know.  I'm an inveterate people watcher.' I'll do that in this room, you know.  I'll see somebody.  Oh that's a good one.

Then years later you'll read something and you go, 'Oh, that reminds me of that, you know, that woman (that) was in the third row. What was that?  What was she doin'?  You know.  I gotta use that.'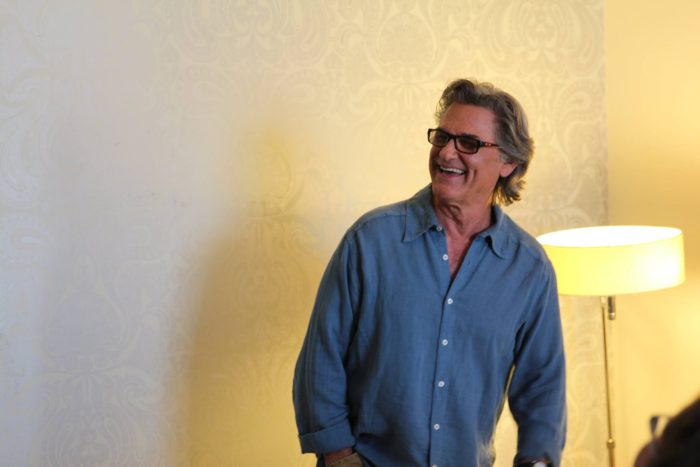 We asked Kurt how much of himself really is his character, Ego. Was there natural parts or how hard was it to create that character.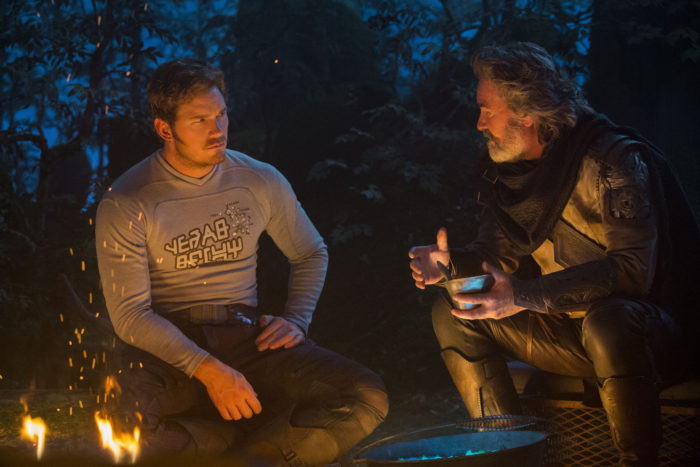 I got a healthy ego.  I do.  I think that's important in our industry and our business and as a human being, to have control of your ego.  I think you should have a healthy one.  If you don't have a healthy, one you're gonna have other problems.  Ego is…I love names and characters.  You can go back through my litany of characters and you're gonna find at least twelve great names.  I think that's important.  If they don't have a great name, I give 'em a great name. 

I was very disappointed with, when I read this, the character's name was J'son.  Jay-son.  I said, 'Yeah, well fifteen Marvel people will know who this is.  That's a weak-ass name.'  Then later on being to find out that well actually his name is Ego, the Living Planet.  I went 'That's more like it.'  So how much of myself is there?  I don't know.  Listen, if you're gonna play God let's go big!

You know, so I think this movie has a lot to say about that. I mean it's such an obvious thing when you literally when you first meet him and the first thing out of his mouth is, 'My name is Ego.'  He's very proud of that and you gotta understand that he's made everything in his life.  So he's chosen to be that.  He chose to come to earth and look like Kurt Russell.  That's a choice. His son is not. The apple hasn't fallen far from the tree.  If he doesn't know who his father is, he's gonna create this guy who's like, hey, David Hasselhoff.

It has that right note of comedy, yet correctness to it.  I thought that was a great, I love all the layers of that kinda stuff.  I don't like to shy away from what's fun about…fun about the joke.  All levels of the joke.  When you consider all levels of the joke, you're gonna be in there somewhere.  

That's one of my things that I'll pat myself on the back for that more than a lot of other actors. You'll see a lot of actors and you can tell, 'I don't think that guy has much self-humor.  Doesn't find much about himself funny.'  I can name a lot of 'em.  I like actors.  I like what they can do.  I love working with 'em, but self-humor is a funny thing and I think that's probably where Chris Pratt and I probably share a lot.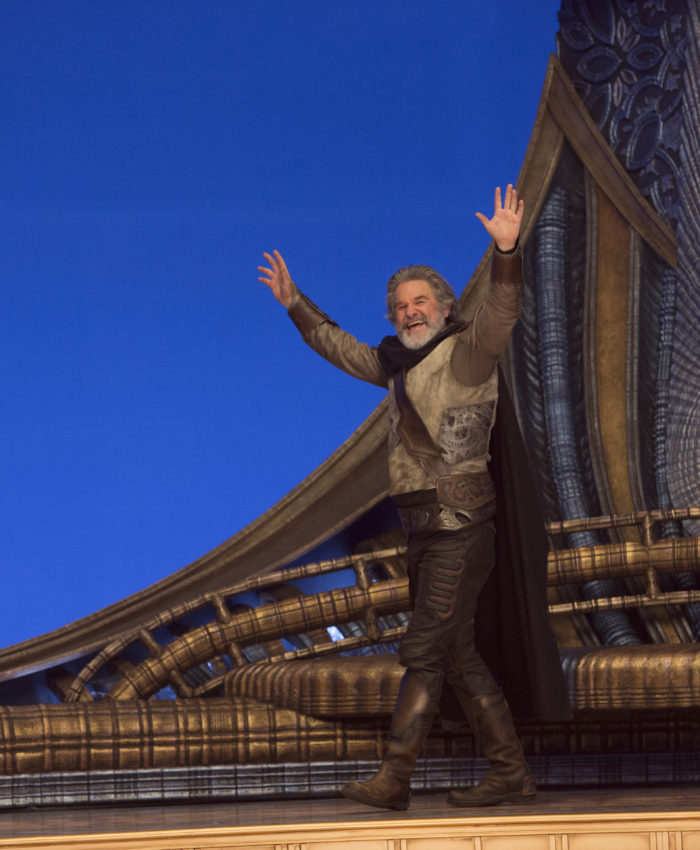 Some of the fellow bloggers had done a set visit during the filming of the movie. We discussed the topic of today's technology and how blue/green screens can offer a different perspective to a movie. As a tenured actor, we wanted to know his thoughts on a movie like this and the use of blue screen technology.
Those are big spaces.  What wasn't there was like a room, like this with twelve glasses in it.  I wish I'd known those were gonna be there, I would of knocked those outta the way when we were fighting.  It would be great to go through those. 

Or I cut myself.  A million things you can come up with, you know.  That big wide like, 'Hey!! I didn't know it was gonna be there.'  So that's what I was talking about.  With this movie, mostly it's backdrop.  It's, you know, we had enough there to kinda give us what was goin' on.  So it was nice to see the movie, because you can see the pictures when you're working.  But it's nice to see the finished project when I saw that.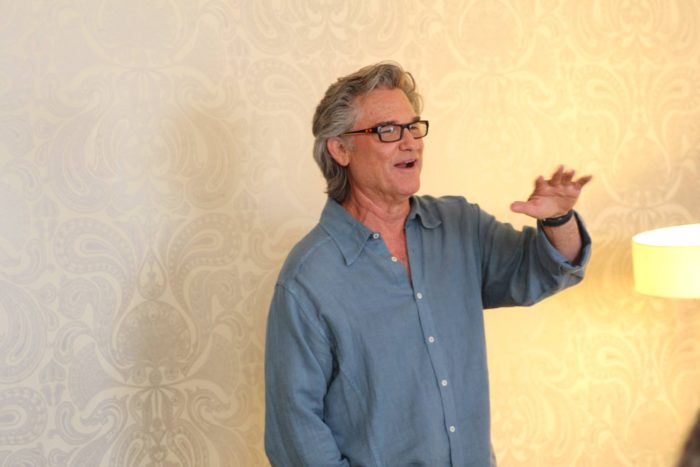 Now there is now question, in my mind, that Kurt Russell has aged so beautifully and wonderfully through the years. In the opening scenes, he is much younger on screen and dating a young, beautiful Meredith Quill.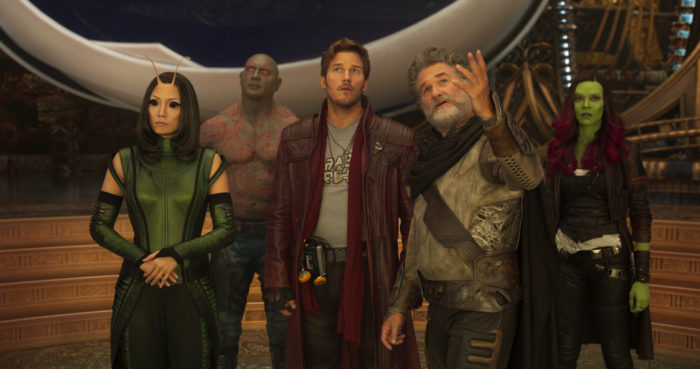 We asked him how much make or CGL was involved and his thoughts on the final results. Amazingly, his makeup man was with him during our interview.
Like guy right there.  That guy right there is my, his name is Dennis Liddiard.  He's been my makeup man for twenty-eight years.  We've done a lot of movies together where our goal was to, without the audience knowing it, help me arrive at what I need to do to set the tone for the character, the look for the character, the feel for the character.  I think we've achieved it many times.  Very subtly.  So much so that nobody knows what he did.

On this one, I'm really proud to point him out because we assumed, all of us, that we were just gonna do heavy CGI special effects like they normally do.  Dennis, before we start goin', Dennis, said to James Gunn, 'Hey guys.  I know his face really, really well.  I can really do a lot here to bring him down.' If I de-age him some, does that help you?'  And they said as much as you can help.  Yes.  That helps very much. 

When he was done and when I got the right hair going, very important.  When he got the wardrobe going, and then the actor has the opportunity to see that, and begin to feel that and, in the case of yourself, say 'Yeah that's a younger me.'  It's time for me to go to work and slip into all of that and take advantage of all of that, and go be younger. Go play younger. 

You lighten your voice, you move a little quicker, you go to work with that.  I think the reason this one worked, everybody has said, 'This looks so…this is amazing.  This really looks real.'  There's not much CGI here.  I ran into the woman last night who's the head of that department.  She came up all excited and she said, 'What did you think about what we did to you?'  And I said, 'I thought it was great, but I heard it wasn't very much.'  

She said, 'No it wasn't.'  And I said, 'Yeah, he's got some tricks up his sleeve and he pulled 'em all out.'  And in fact did it very fast.  Because it hadn't been asked of him.  So there's hope for all of us.  You guys know a lot more about that than we do.  You have somebody who knows your face and you gotta have a face that you can work with.  That's true, you know.  He knows my face, so they did some CGI and stuff there, but mostly that's that guy right there (pointing to Dennis).
I will reiterate, as noted above. By far, one of the best interviews I have ever conducted. Kurt Russell is a legend, eloquently spoken and a genuine nice guy.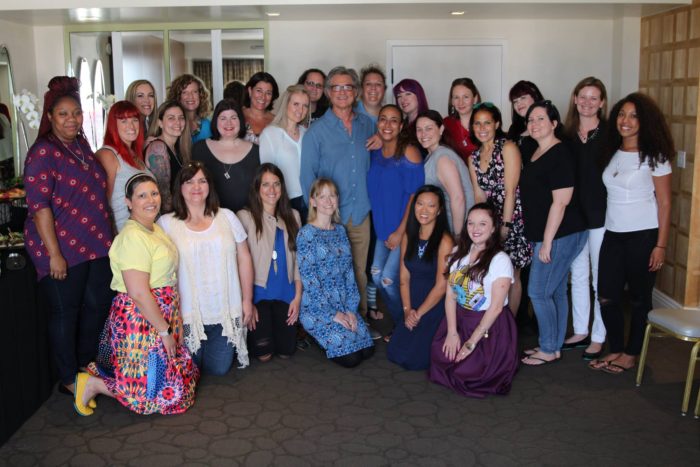 Here is the extended trailer – get to theaters now to see it!
"Guardians of the Galaxy Vol. 2" is written and directed by James Gunn and stars Chris Pratt, Zoe Saldana, Dave Bautista, featuring Vin Diesel as Baby Groot, Bradley Cooper as Rocket, Michael Rooker, Karen Gillan, Pom Klementieff, Elizabeth Debicki, Chris Sullivan, Sean Gunn, Tommy Flanagan, Laura Haddock, with Sylvester Stallone, and Kurt Russell.
Kevin Feige is producing, and Louis D'Esposito, Victoria Alonso, Jonathan Schwartz, Nikolas Korda and Stan Lee are the executive producers. Marvel Studios' "Guardians of the Galaxy Vol. 2" blasts into theaters now!
Get social with me AND GUARDIANS OF THE GALAXY VOL. 2 
and be sure to use #GotGVol2
*(Interview Photos by Louise Bishop)