Great Tasting Natural Products from KAYCO
This post may contain affiliate links or I may have received the product free in exchange for my honest review. See full disclosure for more information.
Looking for some delicious and different natural products to try? Let me tell you about several brands that were showcased at the Natural Products Expo West earlier this year. All products are part of the KAYCO family.
KAYCO, the category leader in innovative, premium-quality products, presented delicious variations on clean, nutritious snacks and craft beverages at the 39th annual Natural Products EXPO WEST in Anaheim, California this March.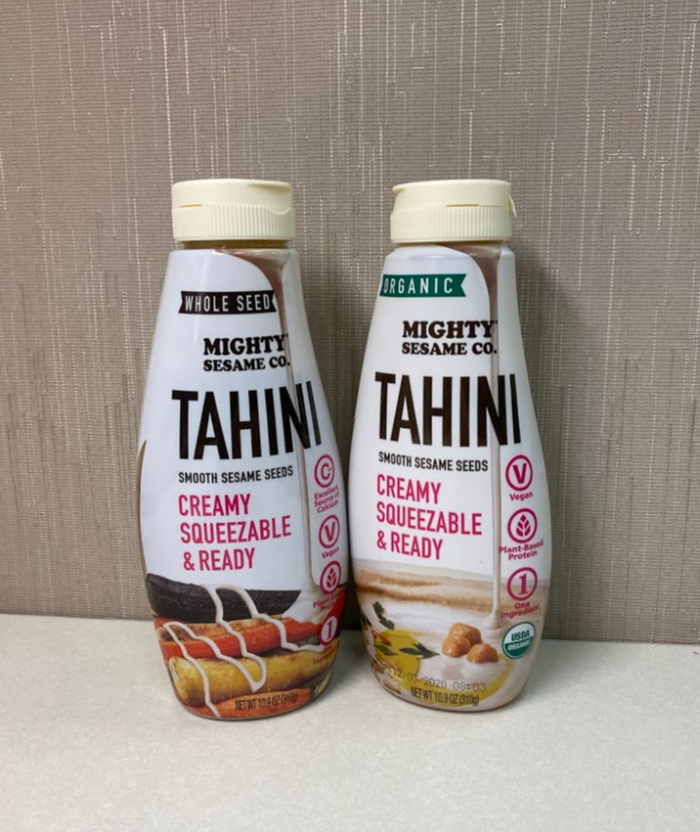 MIGHTY SESAME® BRAND TahiniBars® and Tahini Squeeze & Serve: A "Game-Changer"
Sesame is loaded with protein, vitamins, and minerals. A great alternative for those with nut allergies, it provides a boost of energy. Mighty Sesame's ready to eat Squeeze & Serve Tahini, sold in convenient squeeze bottles, is made from 100% slow-roasted sesame seeds (MSRP $5.99 per 10.9 oz. bottle.) Using a patented process and the highest quality Ethiopian sesame seeds, Mighty Sesame Tahini changes the Tahini game with a creamy shake and serve Tahini with virtually no separation or clumping. You can taste the difference! This versatile condiment is at home in everything from dips, marinades, and salads to soups, desserts, and as a straight-from-the-bottle drizzle over meat, fish, and falafel. All varieties (Original fine and Whole seed) are, vegan, gluten- and dairy-free, kosher, halal and Keto-friendly – the perfect way to add flavor to any diet with just one ingredient. One journalist who received a sample of Squeeze & Serve reported, "My life recently changed." She feared that squeezing the bottle with the top still on would cause oil to pour out of the spout. "Nope. What came out was perfectly blended, delicious, luscious, measurable tahini. I was ecstatic…Tahini you don't have to mix is a game-changer."
The Mighty Sesame Company also leads the pack in healthful, perfectly portioned grab-and-go snack bars. Its delectable TahiniBars® come in three all-natural varieties – Pistachio, Cocoa Nibs, and Vanilla. These bars begin with Tahini, made from Roasted Sesame seeds and a touch of salt, and in the past year, 2.1 Million Tahini Bars have been sold. Each 100-calorie bar is gluten-and dairy-free, vegan, kosher, and delicious. (MSRP: $3.99 – $4.89 per box of 6 individually wrapped 0.63 oz. bars.)
All about the beets: BEETOLOGY™ packs a nutritional punch into 5 delicious organic cold-pressed blends.
Sophisticated consumers are interested in ingredients they can pronounce, served as close to farm-to-table as possible. That's why chefs, health-conscious folks, and even athletes are tapping into beets in creative new ways. This versatile veggie is packed with vitamins and minerals associated with lowering blood pressure, fighting inflammation, increased stamina, detoxification support, boosting immunity, and much more.
Beetology™ ups the ante with 5 varieties of craft beverages blended with some of nature's most delicious superfoods: Beet/Lemon/Ginger; Beet/Veggie; Beet/Tropical Fruit; Beet/Berry; and Beet/Cherry. These refreshing, cold-pressed drinks are a great way to refuel after a long hike, hard workout, or a great yoga class. They're also terrific as cocktail/mocktail mixers. Each variety is 100% non-GMO, U.S.D.A. certified organic, and certified Fair Trade. Beetology is non-soy, non-dairy, and certified kosher, with no preservatives, additives, artificial colors, or flavors. These beautiful beet beverages come in great grab and go glass bottles for easy recycling. (MSRP $3.99 per 8-oz. bottle/6 bottles per case.)
Introducing the coolest "it" beverage on the natural food scene. Wonder Melon™ is made from 100% organic cold-pressed watermelon juice with no sugar, artificial ingredients, or artificial colorings. This surprising newcomer contains a bounty of nutrients, antioxidants, vitamins, and minerals, and is excellent for hydration. It comes in two exciting varieties. Watermelon Cucumber Basil is a delightfully crisp concoction of real watermelon juice, lemon juice, apple juice, cucumber juice, and basil, with only 80 calories per 8.45 oz. bottle. Watermelon Lemon Cayenne wakes up the taste buds with real watermelon juice, lemon juice, apple juice, and a dash of cayenne at just 100 calories per 8.45 oz. bottle. Drink them straight up or let them inspire extraordinary mixed drinks. This juice is produced in glass bottles because Wonder Melon is better for you and glass is just better for the planet.
Both varieties are non-GMO verified, certified Fair Trade, USDA organic, and certified kosher (parve). Packaged 6 bottles per case (MSRP $3.99 per bottle).
BETTERINE
Consumers have a new and better way to cook and bake thanks to a butter swap that's 100% vegan and free of dairy products, chemicals, and additives. Visit Booth 8713 ACC Level 3 Ballroom at the Natural Products Expo West, March 4-7, to sample Betterine, an alternative that measures and behaves like butter and margarine, so it can be used in any favorite recipe to achieve outstanding results without compromise on taste or texture.
"Butter's Vegan Twin" is non-GMO and contains no trans fats or lactose. Unlike margarine, it is not manufactured through the hydrogenation process nor does it contain any chemical additives. Betterine is also non-dairy lactose free and certified OU Kosher. This breakthrough product is the latest innovation from Amarlane Foods, an Israeli company dedicated to developing plant-based foods using only a few natural ingredients. It is made from just 4 natural ingredients: pure coconut oil, water, organic soy lecithin, and arrowroot powder.
Betterine's natural taste means it can be used in any recipe calling for butter or margarine. Unlike other plant-based butters on the market, its ability to stay emulsified at high temperatures makes it superior in transforming buttery desserts into healthier, dairy-free, vegan-friendly masterpieces.
Visit Betterine on March 4 -7 at Expo West, Booth 8713, and enjoy specially prepared gourmet baked goods from a local baker, at the Anaheim Convention Center.
With so much ground to cover at the world's largest natural and organic trade show, visitors are sure to need a break. When it's time to relax and recharge, come to Booth N1832 at Expo West and sample the Wissotzky Tea Company's signature lines of flavorful new ARTISAN SPICED and NANA TEAS – Mint like no other. These intriguing new brews are carefully crafted to shine whether served hot or iced.
Wissotzky is a family-owned company that has been passionate about blending tea for five generations. Its products are made from natural ingredients and are non-GMO, gluten-free and kosher. Wissotzky, the bestselling brand of Tea in Israel, has been crafting the most delightful teas for over 170 years while bringing the latest innovations to the market with everything from exquisite packaging to new and different flavor combinations.
Wissotzky recently introduced Nana Mint – Mint like no other, to the American market…and hit a home run. This slightly and naturally sweet cultivar of Mentha spicata, found only in the Mediterranean region, has long been prized by Middle Eastern cultures and daily diet. Discerning tea drinkers in the U.S. are praising Nana Mint's subtle layer of earthiness and invigorating minty flavor.
Visit Booth N1382 N1832 to get "Nanafied" in five delicious, all-natural ways:
Simply Nana Mint Black Tea
Simply Nana Mint Green Tea
Simply Nana Mint Herbal Lemon Tea
Simply Nana Mint Herbal Ginger Tea
Simply Nana Mint Herbal Chamomile Tea
Have you tried any of the KAYCO family brands above? Comment below and tell us your thoughts.