Having dogs is a wonderful and awesome! They become like our children and we care for them like children. I'm not quite sure what I would do without my furry friends! Although, there is one thing I always dread – bath time. The dogs love it, but for me I know it will produce a mound of soggy wet towels! Until now! Have you heard of the H2O at Home Pet Kit and Pet Soap?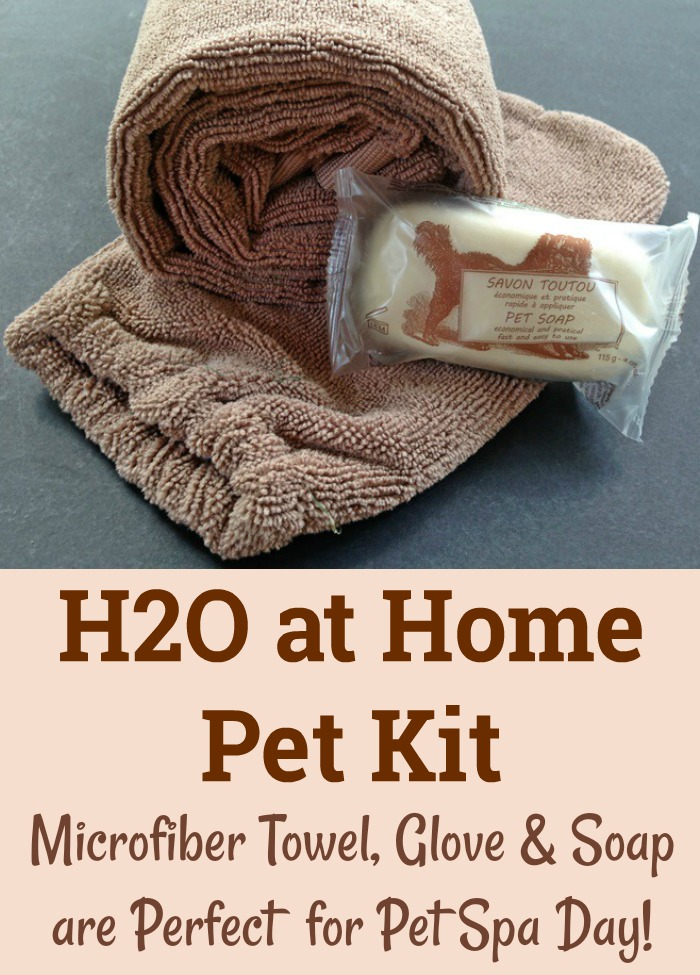 The H2O at Home Pet Kit is the PAWFECT solution for tons of wet towels and the Pet Soap makes pet spa day easier than ever before!
H2O at Home is an innovative home and personal care company that is changing the way people clean. H2O at Home was founded on the simple premise that all you need to clean safely and effectively is a high-quality microfiber cloth, water and, in some instances, a natural cleanser. The company adheres to strict European eco-certification standards for the organic and natural ingredients in of all its products.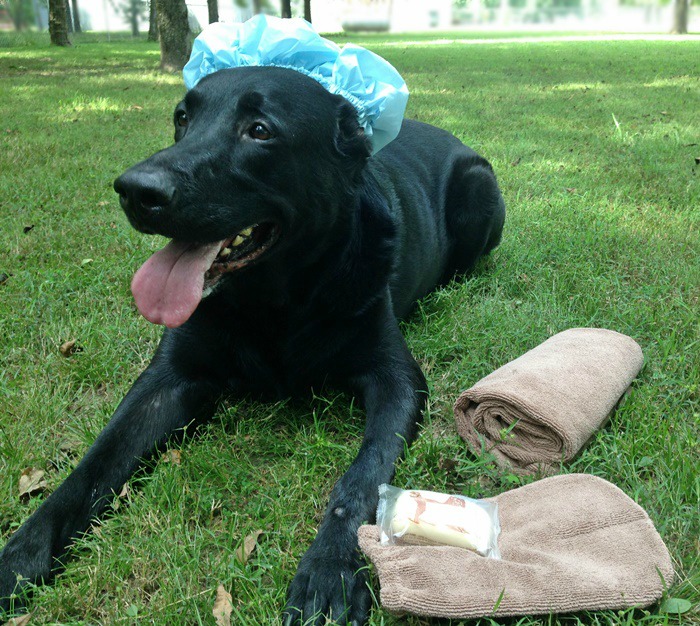 When it comes to bathing our furry friends, it takes a lot of regular towels to soak up the water. I have found that microfiber towels are the best towels to get the job done. I am loving the pawsome Pet Kit from H2O at Home!
The Pet Kit comes with a large 40″x27″ EXTRA THICK and ABSORBENT microfiber towel and a handy dandy 10″6″ microfiber glove.
Nothing beats having a towel that will get the job done when you are bathing your furry friends! I hate going through a washer load of regular towels only for my dogs to still be wet! The large, super soft, and absorbent towel from H2O at Home is perfect for absorbing large amounts of water!
Not to be outdone by the awesomeness of the towel, the microfiber glove is just as fabulous! It features an elastic band that helps to keep it in place. I love using it in combination with the pet soap to lather them down! It is also VERY useful for cleaning their feet when they come in on a rainy, muddy day.
H2O at Home Pet Kit features:
1 Glove (10″6″) with elastic band
1 Towel (40″x27″)
70% polyester – 30% polyamide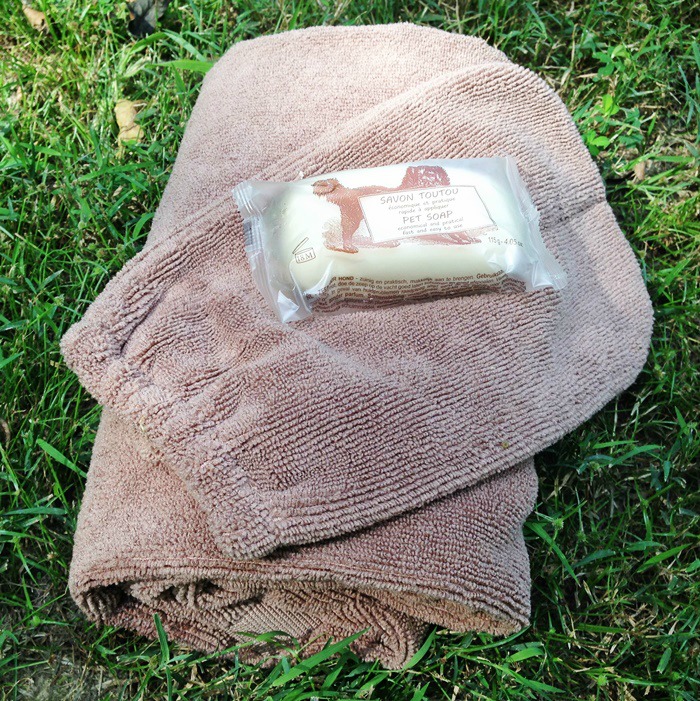 The Pet Soap from H2O at Home is a 3-in-1 soap. Not only does it clean, it will moisturize and help repel fleas and ticks. It is mild and gentle, with a cleaning base will match the pH of your pet's skin. It also moisturizes and conditions for a shiny, healthy coat.
The Pet Soap is super easy to use! I love the bar soaps for their ability to lather the dogs up without wasting large amounts of soap. The soap bar is also easy to use, rather than trying to reach for a bottle while holding a wet dog! This solid bar will last as long as two bottles of liquid pet shampoo, saving you money in the long run! It will last approximately a dozen washes for a medium sized dog, give or take.
If you are like me, you will appreciate that it is unscented and preservative-free. You, and your dog, will also love that it contains 1% organic neem oil. Neem oil helps fight fleas and ticks naturally, without irritating sensitive pets.
H2O at Home Pet Soap features:
4.05 oz.
1 Pet Soap is the equivalent of at least two bottles of 8 oz. liquid shampoos, more than a dozen washes for a medium sized dog
Unscented
Preservative-free
Contains 1% organic neem oil to naturally fight against ticks and fleas without irritating sensitive pets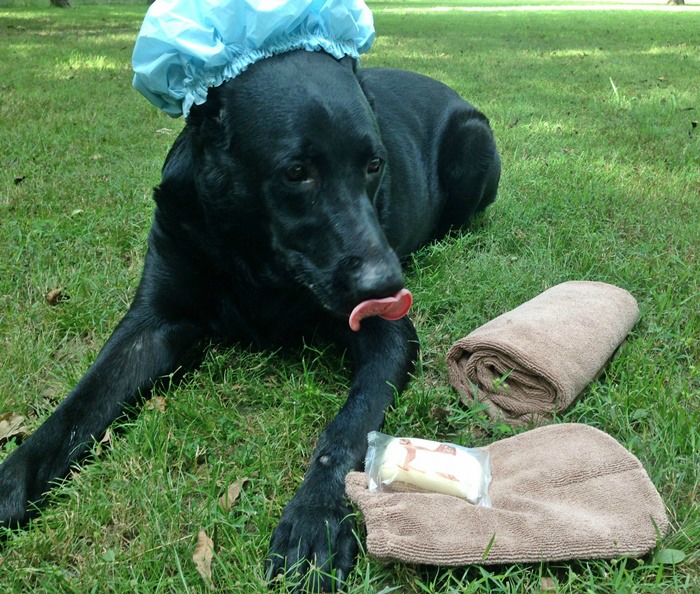 Ozzy loves his baths! During the hot Summers, he enjoys an old-fashioned water hose bath. When the heat soars and the heat index is in the triple digits, I can't say that I blame him! Whether we are outside or inside, he will wait patiently. Even though he does look like he wants to taste test the soap 🙂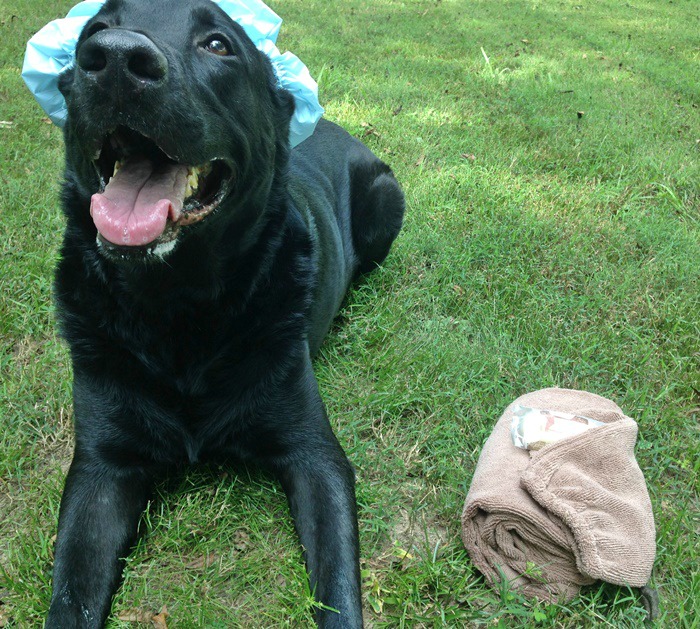 Give your furry friend the perfect spa day with H2O at Home Pet Kit and Pet Soap! You will find yourself grabbing the thick microfiber towel and glove for drying and cleanups on rainy days in between too! Visit H2O at Home and take a look around. In addition to the H2O at Home Pet Kit and Pet Soap, they also offer a variety of natural home care, organic personal care, and natural home fragrance products!
Connect socially with H2O