Help Your Baby Fall Asleep with DreamEgg Portable Sound Machine
This post may contain affiliate links or I may have received the product free in exchange for my honest review. See full disclosure for more information.
Getting a baby to sleep at night and to stay asleep can be a challenge. I always felt like my babies wanted to stay up all night, but I needed to get some sleep myself. I would have loved to have this great sound machine by DreamEgg to help my babies drift off to sleep. With all the sounds to select from I am sure you will find one that they will fall asleep easily with. You can also use this once your babies are all grown up if you want to create white noise to help you fall asleep and relax.
This would make a great baby shower gift!
SMALL BUT MIGHTY – D11 combines noise blocker, nightlight and sleep soother in one easy-to-use device. It comes with favorable features with soothing sounds, customized light brightness, timer, volume levels and child-lock for safety. It is not only a sleep helper sound machine for baby kids, but also an effective white noise machine for adults for sleeping and relaxation.
About Dreamegg:
Dreamegg strives to help new parents take care of their babies to sleep in sweet dreams. The brand owner Robin Sun is a new Daddy and has been a professional product manager in the past 10 years. Robin Junior is always full of energy, curious about everything, and loves taking adventures at night. For helping Robin Junior get enough rest and sleep at night, Robin was trying to find any whie noise machines that are designed for baby use, but he did not find any regarding his "high-quality product standard". Therefore, he started to research and design to make a sound machine for sweet dreams and happy growing up.

Dreamegg puts all efforts to work with the professional studio to record and process the sounds such as the ocean, fan, and white noises. In order to get the most realistic and high quality shsher sound experience, we hired 30 different real people to record the sound in the studio. To improve the sleep for every newborn and people who want to sleep like a baby, we bring the Dreamegg products and service along with the best "Soak-in-all-in" sleep experience.
Fully equipped with 24 soothing white noise, ocean sounds, lullabies and more, it's compact design helps babies glide into dreamland at the blink of an eye. The warm night light for the nursery and timer allows for parents to transition into nighttime routine at the drop of a hat. As a new dad riding the growing wave of stay-at-home fatherhood, founder Robin Sun used his professional product management skills to build the perfect alternative for his newborn.
The Dreamegg D11 White Noise Machine is a portable noise machine and has many dedicated features for babies and new parents. Beside the adorable and compact design, it features with various soothing sounds such as white noise, ocean sound, lullaby, cricket, fan sound and more, to get your baby to glide into dreamland easily.
CUSTOMIZED NIGHT LIGHT FOR NURSERY – We take into basically everything you could ever need for a smooth bedtime routine. Designed for babies and new parents, D11 features a night light with adjustable light intensity, which is ideal for mid-night feeding and warm hue help keep you and your baby in a sleepy-type mood. Option to stay on all night or stay pitch dark if you turn the light off.

MOM'S HELPER IN PARENTING – Sticking to a childhood sleep schedule is best, but no one teach us for how to do so. D11 is our hardest-working product, perfect for every greatest mom and dad. It is not only a sleep trainer sound machine for baby kids, but also gives mom more own time to do any stuff she likes. Reliable quality and 365 days warranty saves your worry in purchase.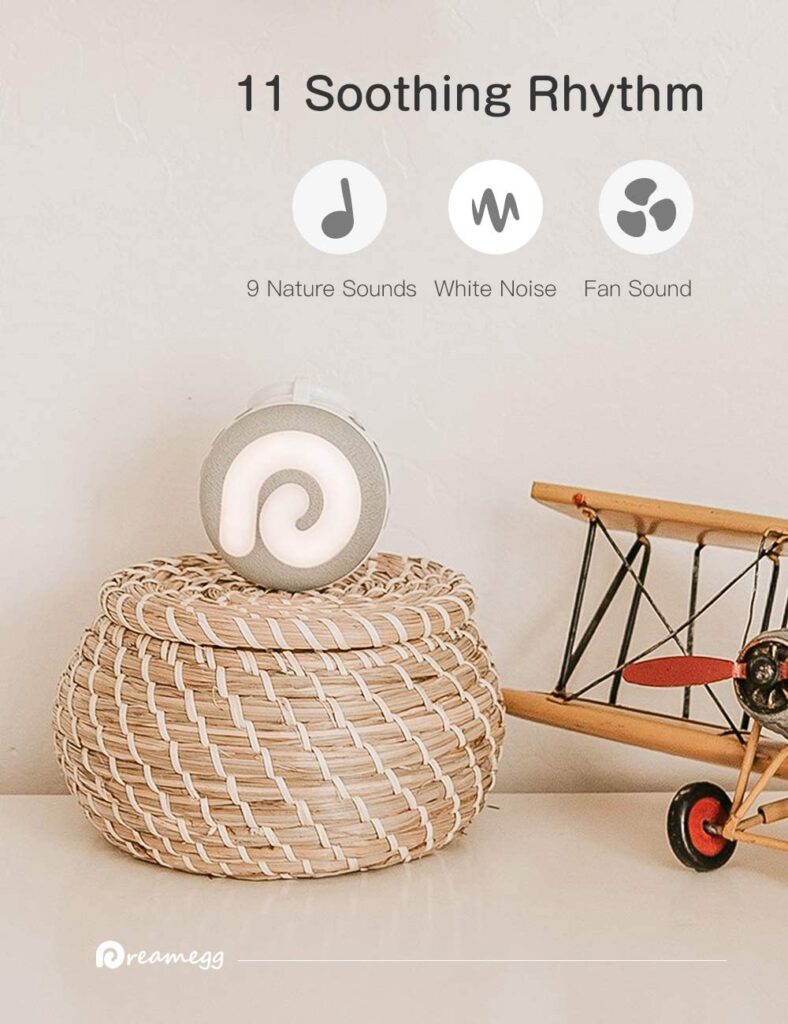 HELPS SETTLE-IN & STAY ASLEEP – Trash trucks? Doorbells and deliveries? Turn it on to create peaceful sleep environment to help crying baby calm down and stay asleep. Choose from 11 soothing sounds including white noise, ocean sound, brook, lullaby, music box, shushing, vacuum cleaner, fetal tone , fair sound, cricket and fan sound. Fall asleep easier and stay asleep longer with this D11 portable sound machine

TRUE PORTABLE AND CORDLESS – Small and lightweight makes it a perfect travel noise machine for baby on-the-go. We know good nap/sleep is the key to a successful trip with little ones. At just 3.4″ in diameter and 5.7 ounces, this small sound machine couldn't be more convenient when you're packing around so much stuff . It fits easily in a diaper bag or backpack and comes with a baby-safe clip that attaches to virtually anything.
You can purchase the DreamEgg Sound Machine on Amazon and their Website.
Stay socially connected with DreamEgg for all their latest products: