Iconic Recipes Bring State and County Fairs to Your Home This Summer
This post may contain affiliate links or I may have received the product free in exchange for my honest review. See full disclosure for more information.
With fair season cancelled this year, chef and author, George Geary lets you enjoy the food of county fairs without leaving your house.
The summer season is a time for ice cream, summer camp and state and county fairs. But this summer will be different with fairs cancelled due to COVID 19. But that doesn't mean you can't still enjoy the fun foods we love to eat served up at the fair.
In his best-selling cookbook, Fair Foods: The Most Popular and Offbeat Recipes from America's State and County Fairs, award-winning chef, best-selling author, and renowned educator George Geary celebrates the fun, delicious, strange and wonderful foods sold at state and county fairs. Since we can't go to the fair, George brings the fair to you with two of the most popular and iconic fair food recipes.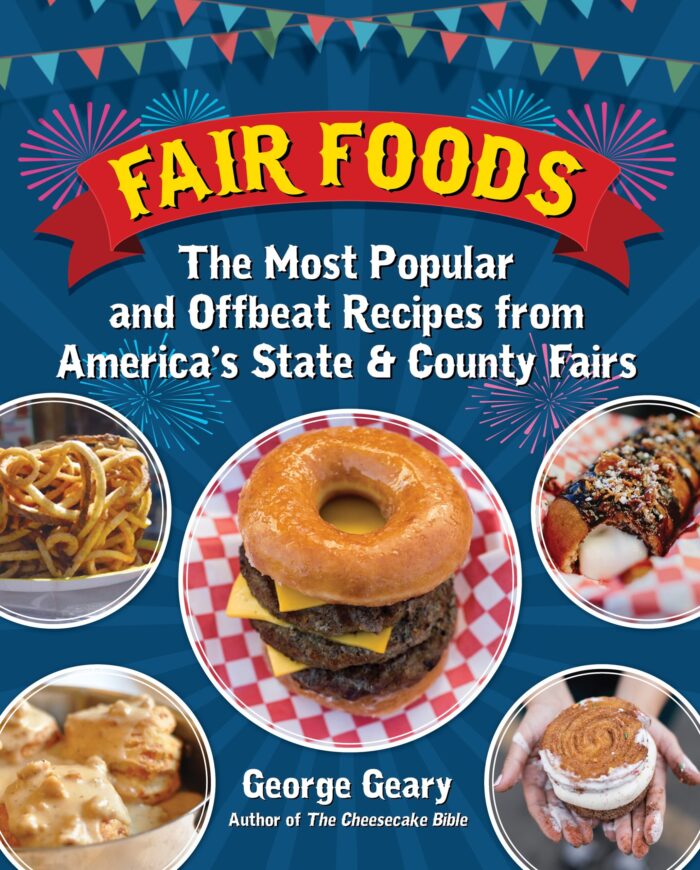 Create your own local fair or summer camp experience this summer in your own backyard with two of the most popular and delicious fair food recipes.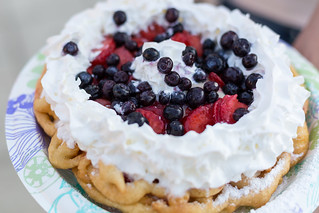 Funnel Cake with Berries
Makes 6 to 10 funnel cakes
Funnel cake at the fair is as American as the Ferris Wheel. This summer make this delicious dessert for a backyard BBQ or picnic.
Special Supplies:
Electric Mixer
Stockpot
Medium saucepan
Candy/Deep fry Thermometer
Pastry Bag
Wire Rack
Ingredients:
6 tbsp unsalted butter, cut into small pieces
1 cup water, cool
1/2 tsp sea salt
1/2 tsp granulated sugar
1-1/2 cups all-purpose flour
3 large eggs
2 large egg whites
Canola oil
Confectioners' sugar
Combine butter, water, salt and sugar in a medium saucepan over medium-high heat. Bring to a boil over high heat. Remove from heat and quickly stir in the flour. Return the pan to low heat and cook, stirring frequently, for about 3 minutes to cook the flour slightly and rid the mixture of an starchy floury taste.
Remove the pan from the heat and place the dough in the bowl of the mixer fitted with the paddle attachment. Mix on medium speed until most of the steam subsided, then add the eggs and egg whites, one at a time, until each is incorporated, and a batter is formed.
Pour 3-inches of oil into a stockpot and heat to 350 degrees F.
Meanwhile, place the batter in a pastry bag that is fitted with a round pastry tip no wider than 1/4 inch in diameter.
Holding the pastry bag over the hot oil, push the batter out into the hot oil in a zigzag or spiral shape. Fry no more than 1 large or two smaller funnel cakes at a time.
Fry the cakes until puffed up and golden (they will triple in size), 3 to 5 minutes, flipping every 30 seconds or so.
Drain the cakes on a rack and cool slightly, then sprinkle with confectioners' sugar and Berry Topping (recipe follows).
Berry Topping Makes 2 cups
1-quart fresh berries (Strawberries, Raspberries, Blueberries, Blackberries)
1/2 cup granulated sugar
Pinch sea salt
In a bowl, combine berries, sugar, and salt. Let stand for 30 minutes before serving.
Or serve up this unique fair food staple: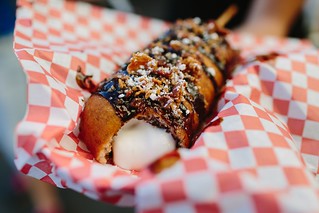 Deep-Fried Twinkies
Makes 6 Twinkies
The Texas State Fair in Dallas was the first to offer this sinful treat.
Special Supplies:
Dutch Oven
Candy/Deep Fry Thermometer
Skewers (6)
Baking Sheet, lined with Parchment Paper
Paper Towels
Ingredients:
6 Twinkies
3 cups all-purpose flour
3 tbsp granulated sugar
3 tsp baking powder
1 tsp baking soda
3/4 tsp sea salt
1 cup buttermilk
1/2 cup whole milk
3 large eggs
3 tbsp unsalted butter, melted
Canola oil
Confectioners' sugar
Skewer each Twinkie and place on baking sheet lined with parchment paper. Freeze for 2 hours.
Meanwhile, prepare the batter: In a large bowl, whisk together flour, sugar, baking powder, baking soda, and salt. Set aside.
In a separate bowl, whisk together buttermilk, milk, eggs, and melted butter. Pour into flour mixture and blend just until smooth.
In a Dutch oven, heat 2-inches of Canola oil over medium heat to 375

°

F.
Working two at a time, dip the Twinkies into the batter until fully coated. Place in the hot oil, turning after a few seconds until all sides have reached a light brown color, about 4 to 6 minutes.
Drain on paper toweling, the dust with confectioners sugar.
Geary's Fair Foods cookbook highlights not only the new culinary "classics" at state and county fairs, but also longstanding favorites such as:
Maple and Bacon Doughnuts
Triple Cheeseburger Doughnuts
Cheesecake on a Stick
Corn Dogs
Fried Pickles
Chocolate-Encased Bacon
Fried Coca-Cola®
Deep-Fried Oreos®
Mock Fried Ice Cream
Grilled Pork Chops on a Stick
Firehouse Chili with Peppers
Spicy Peanut Butter and Jelly Cheeseburgers
Black and White Cookies
Egg Creams
Mint Juleps
This summer bring the county fair to your house. Fair Foods captures the joy and spirit of America's love affair with fairs. Book is available on Amazon
About the Author
George Geary is an award-winning chef, best-selling author, and renowned educator. A former pastry chef for the Walt Disney Company, George is a Certified Culinary Professional, and was recently awarded as the Culinary Educator of the Year by the International Association of Culinary Professionals. He is perhaps best known for creating all the cheesecakes for The Golden Girls and other top-rated television programs.
George has worked as a critic and/or judge for ABC's The Taste with Anthony Bourdain, The American Baking Competition with Jeff Foxworthy, Hell's Kitchen, Supermarket Superstar, and many other popular television shows. For eight years, George was a guest chef on board the Holland America Line's ships, sailing to over 118 countries and every continent.
For over thirty years, Geary has been a culinary contest judge for such major food manufacturers as Canola Producers, Veg-All, Hormel Foods, the Hershey Company, Knott's Berry Farm Foods, Ghirardelli Chocolate, Fleischmann's Yeast, the San Diego Union Tribune, ABC News, and many more. From 1982 to 2010, George was the culinary coordinator of the Los Angeles County Fair.
George is the author of L.A.'s Legendary Restaurants, as well as eleven cookbooks including The Cheesecake Bible, The Complete Baking Cookbook, and 500 Best Sauces, Salad Dressings, Marinades & More. Since 2011, George has been the Resident Chef for KFMB TV the CBS San Diego affiliate. He is a frequent guest on national and local television and lives in the Los Angeles area.
Disclaimer: Recipe(s) and photo(s) reprinted from FAIR FOODS: The Most Popular and Offbeat Recipes from America's State and County Fairs by George Geary Santa Monica Press.