Khao Lam: a traditional Thai rice dessert cooked in bamboo tubes
This post may contain affiliate links or I may have received the product free in exchange for my honest review. See full disclosure for more information.
Thai food as we know it today comes from a long and ancient history and it's the result of influences coming from other traditional cultures. However, Thai cuisine has found a place for itself in this field and a typical Thai dish has some key elements. For example, it doesn't matter what kind of meal it is, you'll find all the flavors there: spicy, sweet, sour, salty. So it's no surprise there are from lunch meals to desserts made in the most innovative ways that combine different ingredients to provide a unique experience.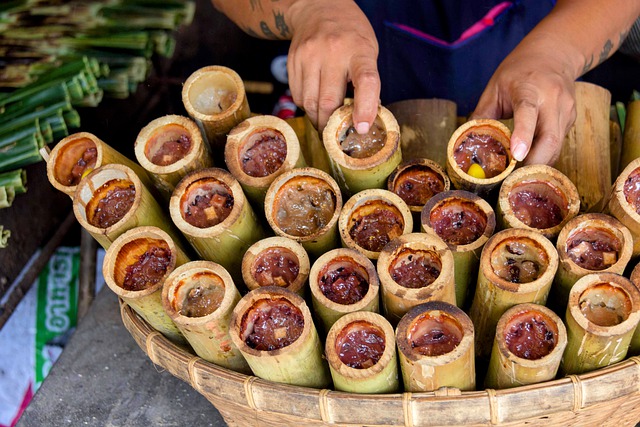 Image by เกรียงไกร เหลืองชัยปรีดา from Pixabay

Presentation matters
This exotic yet delicious cuisine doesn't consider a meal satisfying unless it packs as many flavors as it can. But what's even more interesting is how important presentation is for Thai people when it comes to their dishes. It's not only about the looks, because of course they look amazing, it's also how creative they can get. And minimalism doesn't apply here whatsoever, the more, the better!
When it comes to presentation and if this is your first time trying Thai food out, Khao Lam will definitely blow your mind.
Rice and the wit factor
As important as the presentation is rice, it's definitely the key ingredient. And Jasmine rice recipes are not only limited to lunch and dinners. As the title says, Khao Lam is a dessert which includes two very distinctive elements, rice is one of them and bamboo tubes are the second.
And we might try putting this into words to make it clearer, but that's pretty much the gist of it. Rice dessert in a bamboo tube specifically used for this purpose. You'll have to cut it and wash it first, but if you have a bamboo farm near your house, the timing couldn't be any more perfect. Take a hand saw and go cut some bamboo sticks to try this exquisite dessert.
You're going to need:
Bamboo sticks, as many as you want to prepare.
4 cups of coconut milk.
3 cups of water.
2 cups of sugar.
3 cups of Jasmine rice.
1 tbsp of salt.
Shredded coconut.
Plastic and aluminum paper.
Preparation:
Take the bamboo sticks and cut them a bit under the lines along the stick to make sure your tube has a bottom. Take the bamboo tubes and wash them. Prepare as many as you want to eat or serve.
Take three cups of Jasmine rice and steam in for about fifteen minutes. Once done, place it in a big bowl.
In that same bowl pour four cups of coconut milk. Stir and mix them both.
Add two cups of sugar to the mix. You could use three cups if you want it to be sweeter. Stir and mix them well.
Add three cups of water and season with some salt (about one tablespoon). Make sure the mix is well integrated and let it rest.
Take the tubes and fill them up with the mix. Do not fill them right to the top. Leave some space to include the shredded coconut. Repeat this process with all the tubes you got ready.
Cover the top with some plastic paper and some aluminum paper on top.
Fill a big-size pot with water and place all the tubes inside. Boil to a high heat for at least two hours.
After that, take them off the water and take the tubes to a grill for an extra thirty minutes.
With a cleaver knife, cut the tubes in half. Sometimes the bamboo tube forms a foil around the dessert which is totally edible.
Extra notes on Khao Lam
You can always go directly to the grill. If you choose to do so, grill the tubes until they are browned, making sure you turn them around along the grilling.
As you know, Thai food combines different flavors and in this particular dessert, you'll notice that the top is sweeter than the bottom thanks to the shredded coconut.
As this is a dessert, you can always have the ingredients prepared in advance and the tubes already filled. Leave the cooking for last and get them ready to serve on your special Thai night. This will definitely take your cooking to the next level.