Kitty Bitty – The Colorful Meow-mory Race Game for Kids
This post may contain affiliate links or I may have received the product free in exchange for my honest review. See full disclosure for more information.
With school back in session you want to find fun and educational games that will help your child thrive and learn and this new game by Blue Orange Games named Kitty Bitty will help your child with social play, memorization and visual perception while they are having fun! This games pieces are all made of wood, which makes this game more durable and will last a long time!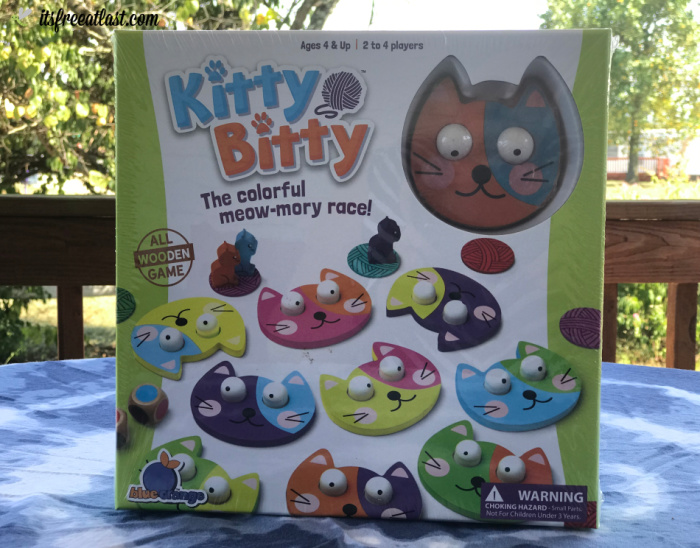 About Blue Orange Games:
At Blue Orange Games, we have been publishing and promoting award-winning games for over 18 years. We prioritize quality and durability, and pledge to make games that will stand the test of time. We make sure each and every game is easy to learn, fun to play, and engaging for all- it's our not-so-secret formula to success! Many of our games help children build important skills such as dexterity, memory, math, logic, and cooperation.


We pride ourselves in helping people unplug and bond for hours of good old fashion fun. As a company dedicated to growing with families, we are confident there is a little something for everyone in our catalog.

We are strong advocates of the value of play and would like to thank all the retailers and players around the world who support our games and help to make play an everyday reality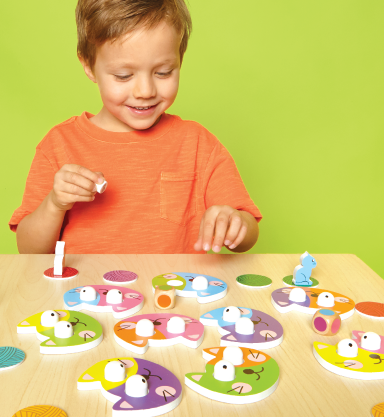 It's nap time for the itty bitty kitties, but they just want to play! Help them jump, bat the yarn balls around, and race to the basket without catching a look from the watchful eyes of the mommy cats. Each turn, roll the dice, look for the mommy cat matching their colors, and lift one. If she doesn't catch you, your kitten advances one yarn ball closer to the basket and you get to go again. If she spots you, it's the next players turn. The first kitten back to the basket wins! Players must correctly identify colors, and remember which mommy cat eyes will catch the kittens so that the fun never stops in this adorable memory game.
Skills:
Visual Perception
Memory
Social Play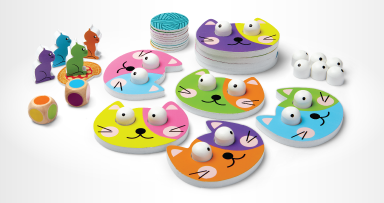 Contents:
4 Wooden Kittens
9 Wooden Mommy Cats with 18 Eyes
1 Wooden Basket
10 Wooden Yarn Balls
2 Wooden Colored Dice
Illustrated Rules
You can purchase Kitty Bitty on Blue Orange Games website, or your local toy store.
Stay updated socially with Blue Orange Games: