Launder Away Unwanted Pet Hair with FurZapper
This post may contain affiliate links or I may have received the product free in exchange for my honest review. See full disclosure for more information.
Most of our readers know we have added a new fur baby to our family – Chewie. Well with owning this new pup comes a new problem, hair everywhere. Blankets, bedding, the flooring, you name it, there is bound to be some Chewie hair left behind. That is why I am thankful for the makers of FurZapper!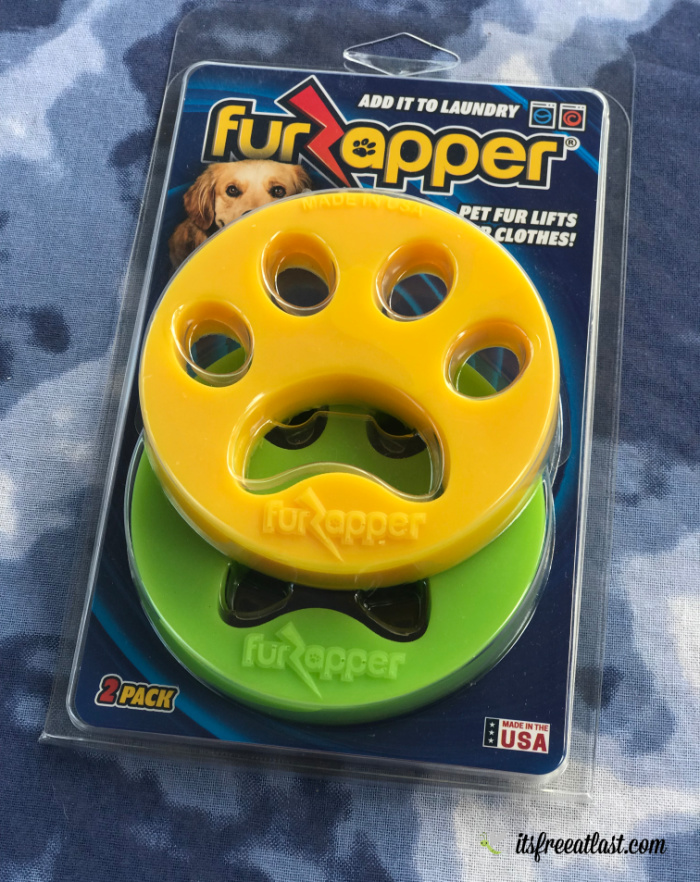 About FurZapper
FurZapper ™ is a patent-pending product that was created to provide pet owners with a simple, self-cleaning product that will help keep pet fur off of your laundry. Pet hair and fur has a tendency to embed and weave itself into sweaters, jackets, blankets and nearly every textile.

Even the most efficient washer and dryer system still requires picking out the fur, or lint-rolling clothingeven after a long cycle of tumbling through liquids, detergents, fabric softeners, and the heat and circulation of a dryer.

The FurZapper material provides a flexible, tacky surface that temporarily grabs onto pet fur. It adheres to the pet fur, and then quickly releases it into the washer or dryer to be flushed or blown away. This specialized material does not allow any material to permanently stick to it.

The FurZapper shape has been tested and fine-tuned for optimal performance. It's small enough to fit between clothing as it tumbles and oscillates, and shaped to ensure it has an effective surface area without sticking to the sides of your clothing machines.
How It Works:
The FurZapper is a safe, re-usable, and effective pet hair remover that goes into your washer/dryer and gently removes pet hair from your clothing,
Just place the FurZapper into your clothes washer during your regular washing cycles, and it goes to work gently adhering to, and separating pet fur or pet hair from your clothing. While effective in the washer, it works fantastic in the clothes dryer along with your freshly washed laundry, often filling up your lint trap faster than ever.
The FurZapper is Reusable, Safe, and Effective.
Place the FurZapper™ Pet Fur remover with your laundry in your washer
Transfer your Laundry, and FurZapper into the dryer with your clothes
The FurZapper gently loosens and disposes of Pet Fur and Hair down your drain or into your lint trap
No need to wash the FurZapper- it is self-cleaning in your clothes washer so just throw it back in the washer for the next load!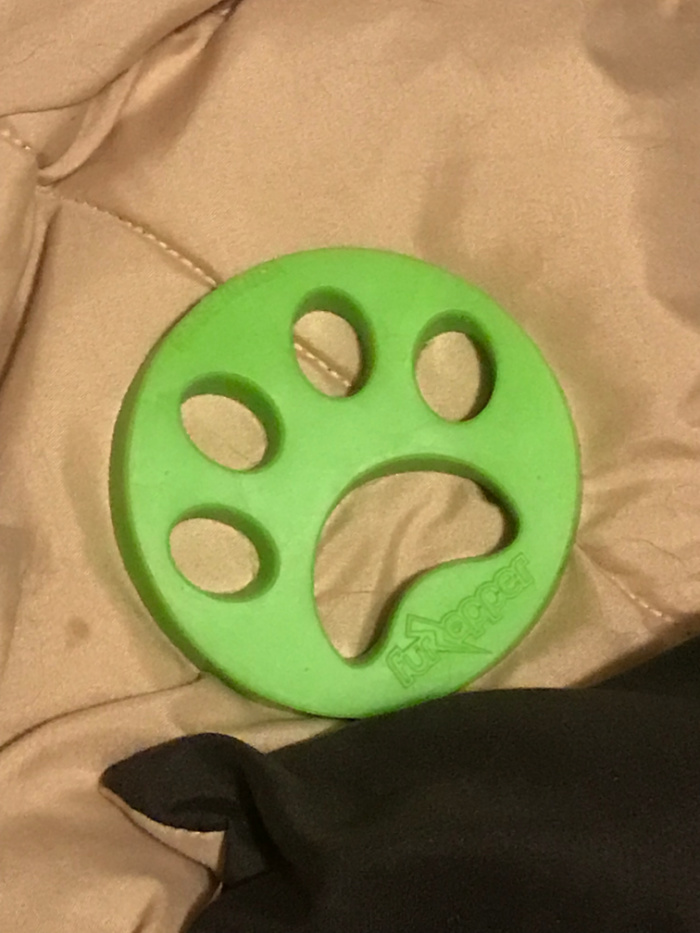 Our Thoughts
My two-tone brown comforter seems to show every speckle of Chewie hair possible. For our weekly wash, we threw in the FurZapper, set the cycle and let it works its magic. I was pleasantly surprised at how much hair that little contraption caught.
It really reduced the amount of hair and has now become a staple in my weekly laundering routine. It lives up to its name and really does zap the fur right off of clothing and bedding.
I recommend that you give FurZapper a try if you are a household that has pets that shed, like Chewie does. You can find FurZapper online at Amazon.
Stay connected socially with FurZapper and see what new and exciting products they introduce, including their new FurZapper Glove.