What to Look for in Wireless Headphones
This post may contain affiliate links or I may have received the product free in exchange for my honest review. See full disclosure for more information.
If you're in the market for a pair of wireless headphones, you might start feeling overwhelmed by the different choices available to you. With prices ranging from under $20 to over $300, how do you know which features set the bar for premium, and are these features worth the expense? Here are a few things to keep in mind when shopping for wireless headphones.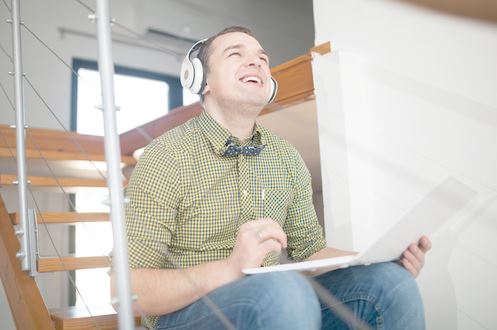 Comfort
The very first thing to look for in headphones is comfort. Some models feature extra padding around the ears and at the top of the bridge, which will rest on top of your head. This added padding allows for extra comfort, making your listening experience much more enjoyable. If you have the opportunity to try on different headphones in-store or before you buy, thoroughly test the padding on each pair by wearing them for at least a few minutes, taking notes on fit and weight.
On-Ear, Over-Ear or In-Ear
You may have heard of the terms "in-ear," "on-ear" and "over-ear" in product descriptions. So what does each mean and how does it affect the headphones? On-ear headphones sit on your ears, but don't surround them, whereas over-ear headphones do enclose your ears, fully surrounding them. And in-ear headphones, also referred to as earphones or earbuds, sit inside the ear canal or just outside of it. While some folks love on-ear headphones for the sound quality, many would agree that over-ear headphones provide for a more powerful and richer sound experience. In-ear headphones also give listeners top-notch sound quality, but they are much smaller than their bulkier counterparts, making them easier to transport.
Sound Quality
What good is your investment in headphones if the sound quality is subpar and dismal? Your headphones should play music the way it was meant to be heard. With many models now having some type of noise cancellation built into them, like Sony's line of noise-canceling headphones, your headphones should have a deeper, clearer sound as they fight off outside noise.
While you're shopping, test out the different models by playing music with deep bass notes and loud vocals, and try playing them at varying levels of volume. Watch out for any distortions in sound so you can pick a pair of headphones that will play music clearly without having to overcompensate by manipulating the volume.
Durability
Whether your pair is $15 or $350, there is no excuse for durability. A good pair of headphones should stand up against heavier usage like wireless headphones for tv, or even against some accidental drops while working out. If the headphones feature an easy fold-up design for compact storage, check to see if the hinges are robust. Are the parts made of metal or plastic? Are the sensitive parts most prone to usage, such as the earcups, made of quality material and reinforced for heavy use?
Battery Life
No one likes when their electronic devices die from low battery. What a bummer for your morning commute or on the way back home after a long day when your headphones are out of juice. Check reviews of your headphones from other buyers, particularly on battery life. Most headphones on the market today boast at least five continuous hours of playback, but that might not be enough for the extended traveler. While comfort and sound quality might be at the top of one's checklist, battery life is equally as important. Think about your daily routine and how you'll be using your headphones, and consider if the battery life will be enough to handle it.
Buying wireless headphones will be a pleasant upgrade from your standard setup. While some buyers will look for specific features such as extended range of connectivity or concentrate more on aesthetics of the headphones, all buyers should look for a pair that's comfortable, durable and has a battery life that can handle a full day's routine.