Mingling with the Moms of ABC Family's "Switched at Birth" & "Pretty Little Liars" #ABCFamilyEvent
This post may contain affiliate links or I may have received the product free in exchange for my honest review. See full disclosure for more information.
Mingling with the Moms of ABC Family's "Switched at Birth" & "Pretty Little Liars"
Two of ABC Family's HOTTEST shows airing right now are "PRETTY LITTLE LIARS" & "SWITCHED AT BIRTH".  During my recent trip to LA, I had the chance to sit down with the moms of these two hit series' (Marlee Matlin ("Switched at Birth"), Constance Marie ("Switched at Birth"), Holly Marie Combs ("Pretty Little Liars") and Laura Leighton ("Pretty Little Liars").  We talked candidly with each of them about their roles, their career and what their lives were like as real moms versus that of their characters.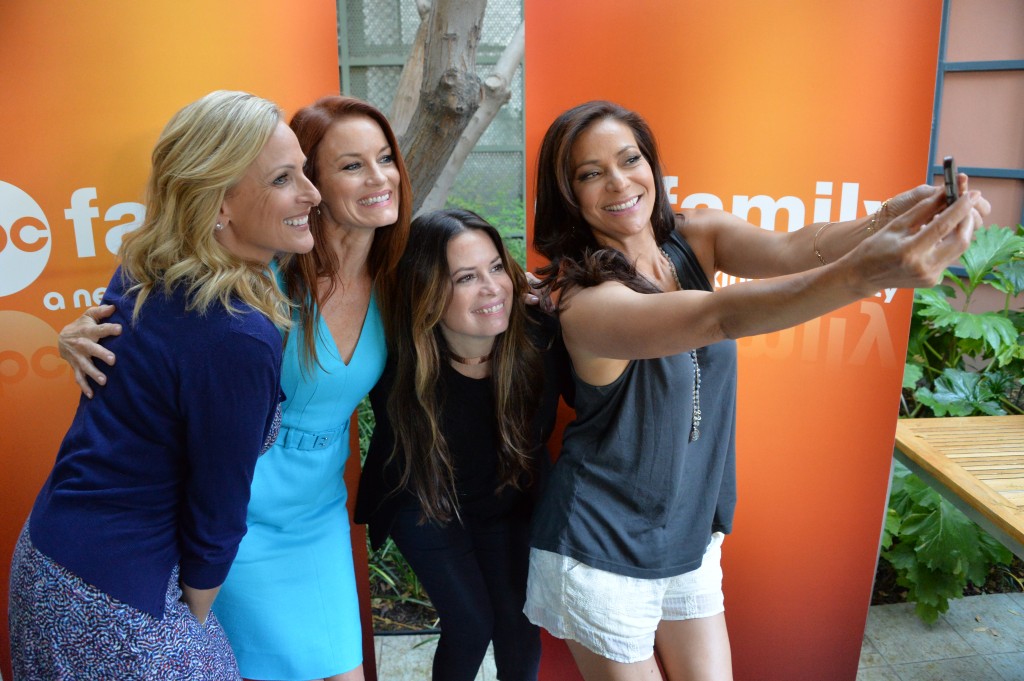 Photo Courtesy of: ABC FAMILY/ Eric McCandless
I have grown watching all of these ladies careers grow and blossom as they have had starring roles and supporting roles on various shows and movies.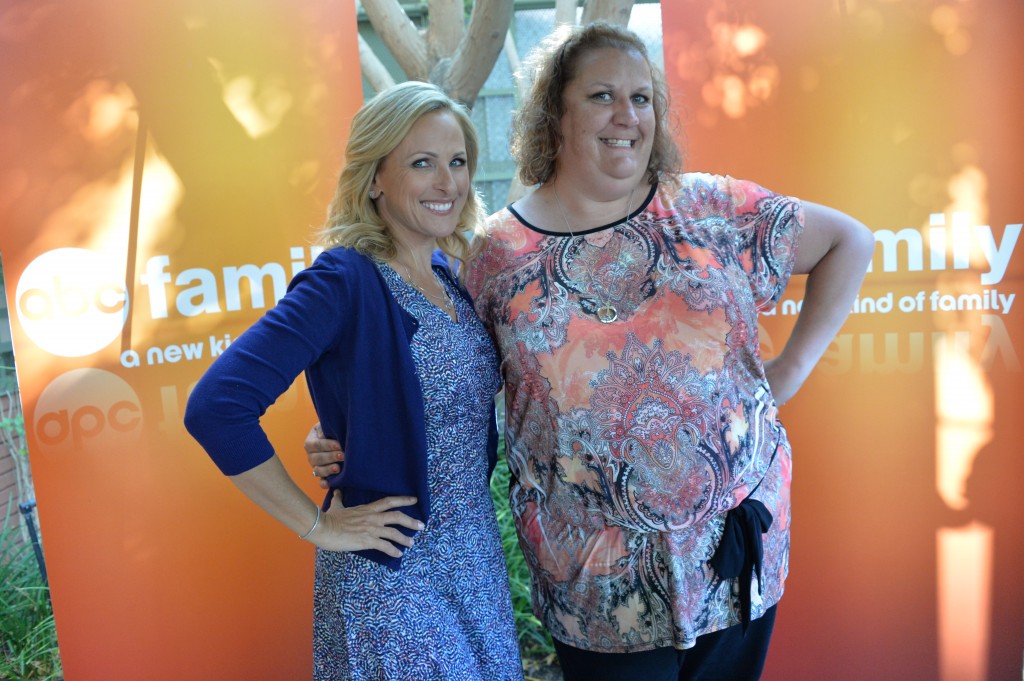 Photo Courtesy of: ABC FAMILY/ Eric McCandless
Marlee Matlin has been an AMAZING actress that I have watched for years.  She has won an Academy Award (Children of a Lesser God) and has been nominated for countless Golden Globe Awards for her work in television. She currently plays "Melody Bledsoe" on "Switched at Birth".  Marlee has been married to her police officer husband and they have 4 children.  Marlee recounted for us the current trials she has dealing with her eldest, who is set to go off to college this fall.  I really related to Marlee because I have a daughter who is 17 and will be heading off to college next fall.  Sitting and listening to her tell her interaction with her teenager really put something into perspective for me.  Marlee has to be one of the most down-to-earth actress' I have ever met.  She has kept her children in school and insists that they obtain a normal education, including college, before they would think of pursuing a career in acting, like her.  From sassy talk to butting heads, Marlee deals with everyday struggles of raising teenagers, just like any other parent.  Marlee was so humble and so genuine, I could have sat and talked with her for hours about family, life and of course her career.
After talking with Marlee for a bit, in strolled her co-star of "Switched at Birth", Constance Marie.  Constance sat down and joined our mingle so naturally and as if she was long-time friends with each of us.  Immediately noticing Marlee's shiny read heals, she commented on her own stylish shows and they even posed for a informal, funny photo.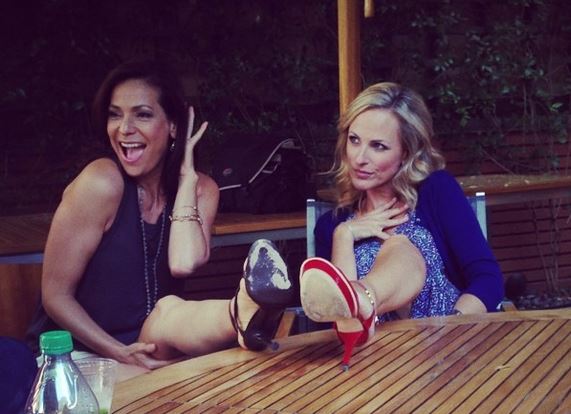 I first watched Constance Marie as her role of the mother in the hit movie "Selena".  She currently plays a the supporting role of Regina Vasquez on ABC Family's "Switched at Birth".  Constance Marie is one of the funniest ladies I have ever met.  She was so warm and welcoming of all the mommy and daddy bloggers and really spoke highly of her role on the show, as well as that of her real-life mom role to her daughter (age 5).  Constance lives in the area and playing her role on the show still gives her time to be active in her own daughter's life and activities.  Constance Marie has endless amounts of energy and even posed for a personal selfie with all of the bloggers.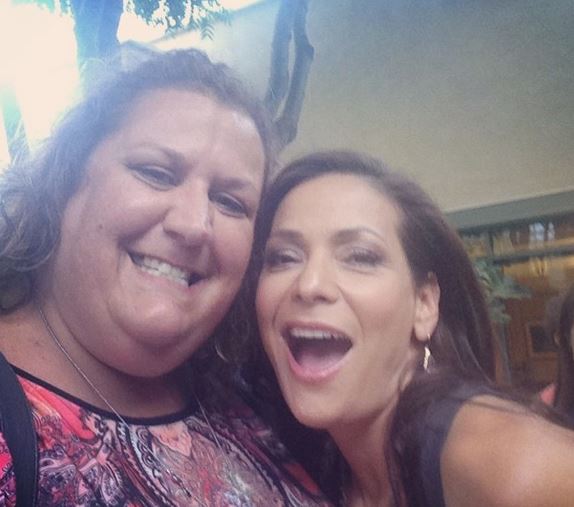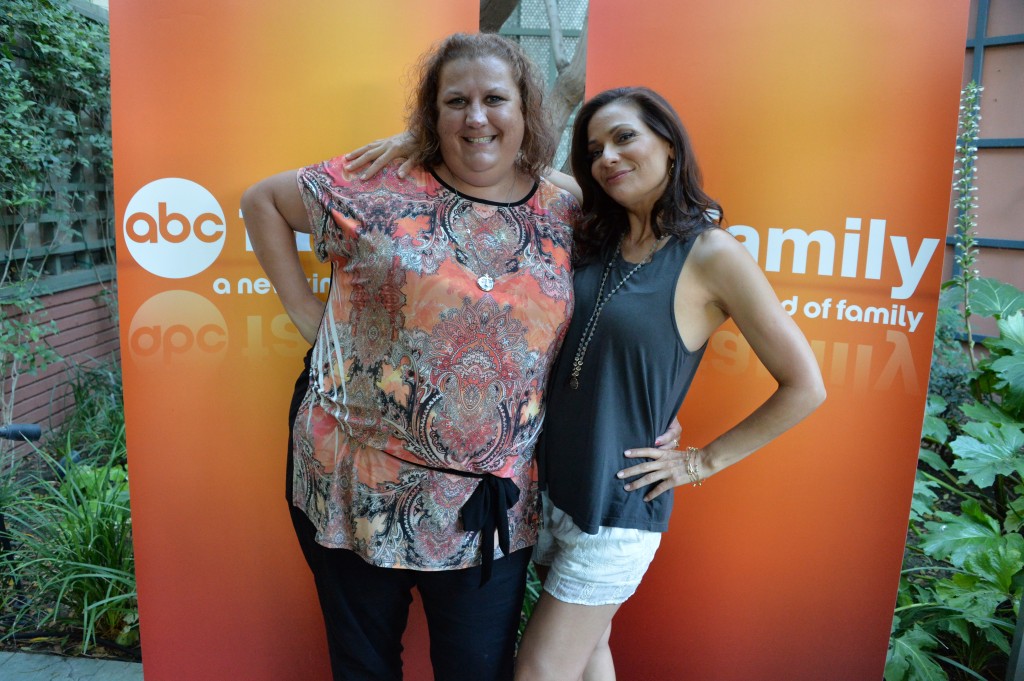 Photo Courtesy of: ABC FAMILY/ Eric McCandless
It was evident to me that these two amazing actresses are true friends and were so fun to meet and talk with.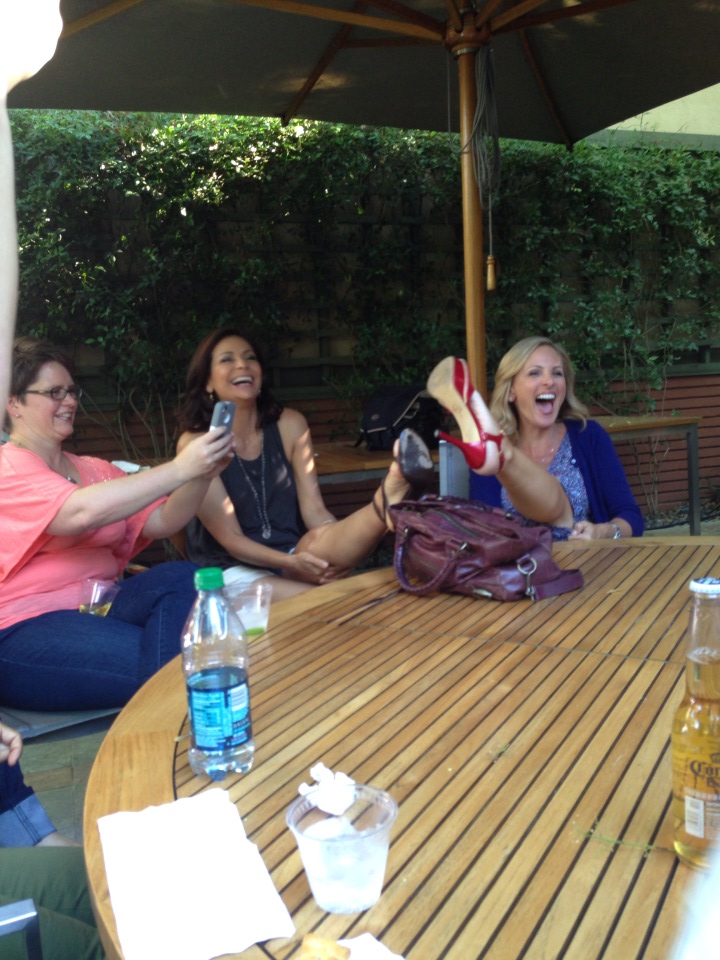 When my 17 year old learned I was going to LA without her, she was disappointed.  What made it worse was when she found out I was going to meet the two moms from her Tuesday night LOVE – Pretty Little Liars.  She was in for a surprise when I actually arrived at the set to mingle with Holly Marie Combs & Laura Leighton.  Let me tell you first about how my first moment with meeting Laura Leighton started.
If you have ever been to LA, you know that by 5pm, it is a little muggy and warm outside.  After getting myself a cold Coke, I sat down at the table with Laura and we just starting talking openly about her role as "Ashley Marin" on "Pretty Little Liars".  Within seconds of starting the conversation, I was unknowingly stung by bee.  I felt a small pain in my arm and looked down to see a dead bee in my lap.  My arm immediately started to burn and ache.  Laura Leighton ran to the attendant and grabbed me a cold drink to place on my sting (Thank you again, Laura).  Well, if that wasn't a way to break the ice for all of us, who knows what would be.  Thanks goodness I was not allergic to bees!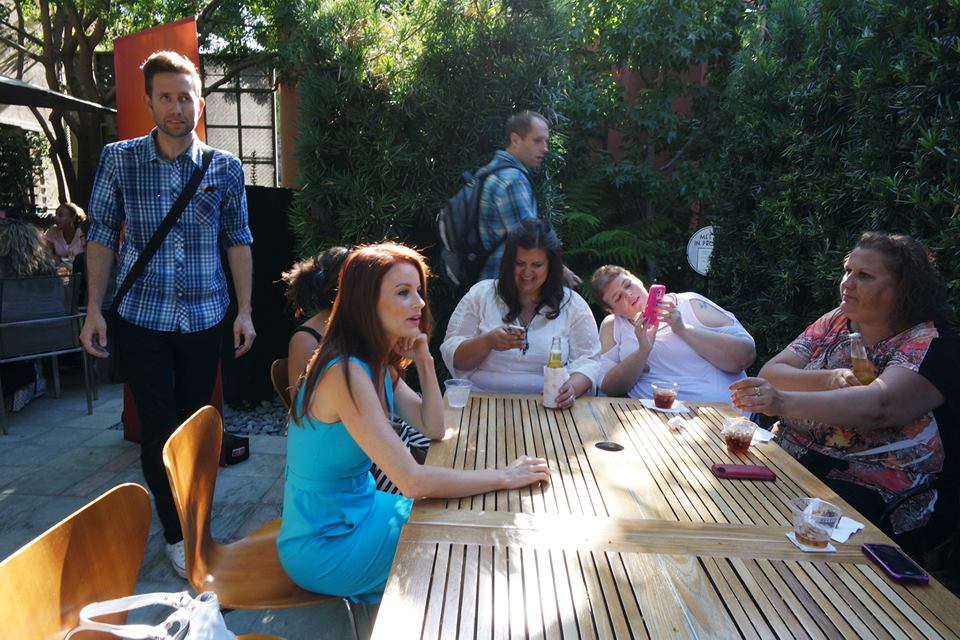 Photo Courtesy of: DadofDivas.com (Thanks Chris)
Now that my arm was fully chilling with an ice-cold Corona, we resumed our convo with Laura about her personal family and her role on PLL and how it compares to playing a prominent supporting role versus a starring role like "Sydney Andrews" on "Melrose Place".     Laura is married to her former "Melrose" co-star, Doug Savant and has been since 1993.  They have 4 children between them and life seems pretty busy for her as a working mother.  Laura noted that she loves this role so much more, as the schedule allows her time to shot her scenes and still be home each night with her children, take them to school, attend their extracurricular activities and more.
A short time later, we were joined by her PLL co-star, the infamous, Holly Marie Combs. This was also a highlight for me personally, as I have watched her on television for over two decades.  From "Kimberly Brock" on "Picket Fences" to her more notable role of "Piper Halliwell" on "Charmed", I have been a fan of hers for years.  Now that she is playing a supporting role on PLL, Holly noted that she too has more time for her family and their activities.  She noted that the younger actresses have very long, busy filming schedules and she loves that she can come to the set and shoot her characters scenes and still be home at night with her three sons.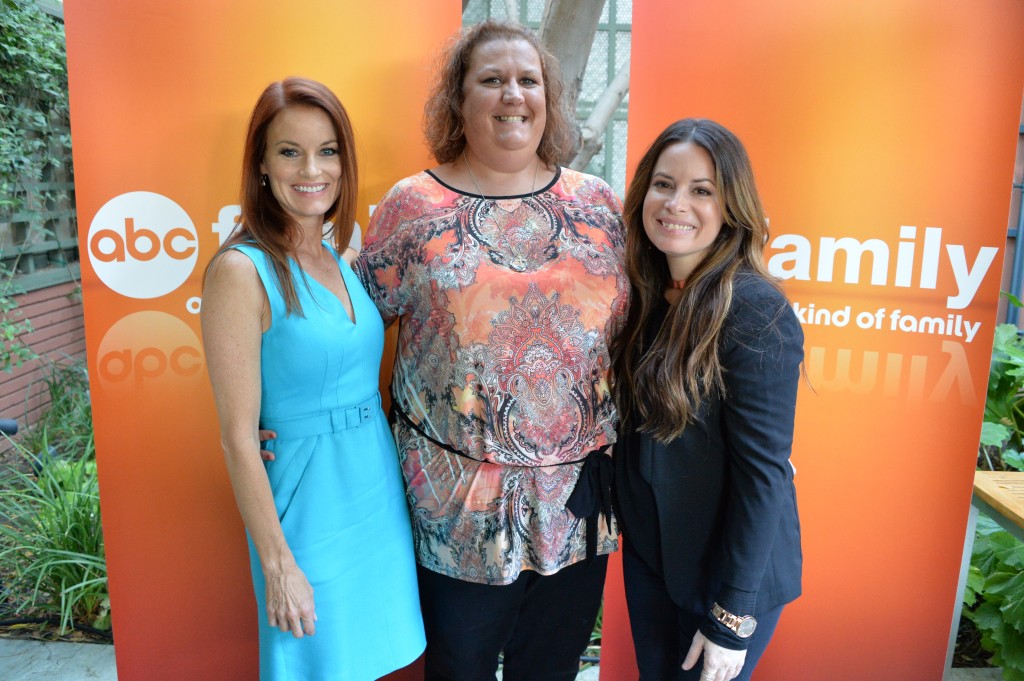 Photo Courtesy of: ABC FAMILY/ Eric McCandless
Both of these actresses seem to really enjoy their supporting roles on the hit show.  They love the show and the roles that allow them the time to spend with their own children.  They are still amazing actresses and bring great life and character to their roles as the moms on Pretty Little Liars.
Now the personal side of this entire experience that will resonate with me personally as a mom for years to come.  Laura Leighton and Holly Marie Combs took the time to personally facetime and chat with their #1 fan, my daughter!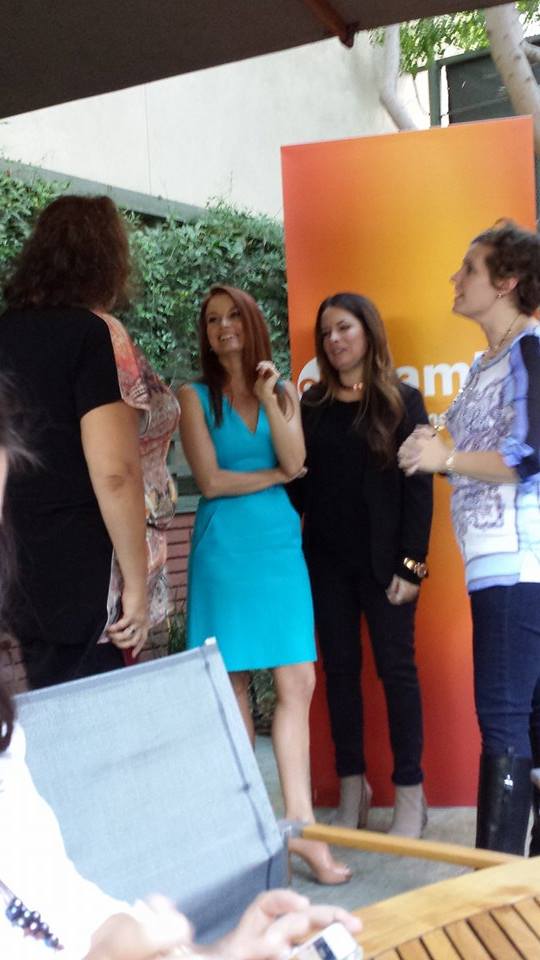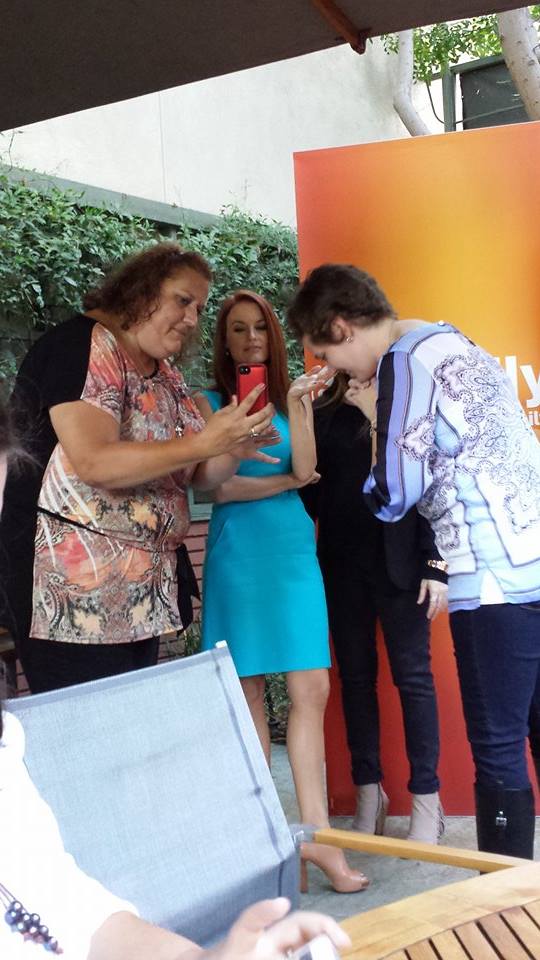 Photos Couresty of SanityinSuburbia.com (Thanks Meredith)
Special thanks to PLL publicist, Catherine, for the amazing time with the moms of "Pretty Little Liars", the little insider tip for my daughter and for making a dream of her come true by chatting with the moms themselves!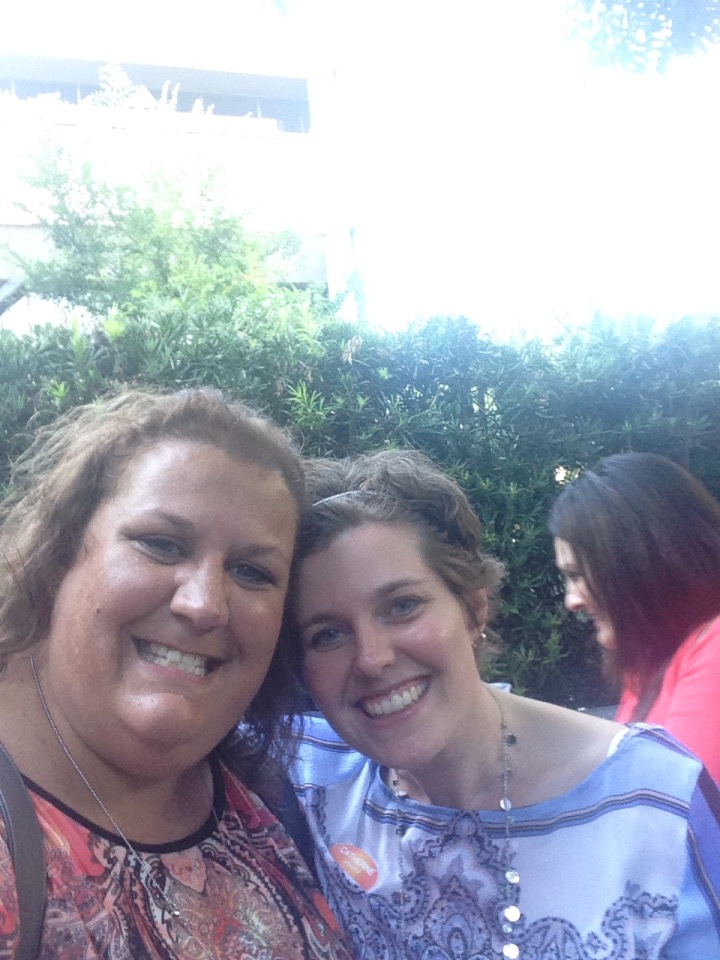 Stay up to date with Switched at Birth
Tune in on Mondays at 8:00pm ET/PT on ABC Family
Website |Facebook| Twitter | Pinterest| Instagram| Tumblr
Stay up to date with Pretty Little Liars
Tune in on Tuesdays at 8:00pm ET/PT on ABC Family
Website | Facebook | Twitter| Instagram
Disclosure:  I was provided an all expense paid trip to cover Pretty Little Liars, Switched at Birth and all ABC Family Events.  Regardless, all opinions are 100% my own.