My Home Feels Secure Thanks to Netgear Arlo by Netgear 4 HD Camera Set from Best Buy #BBYConnectedHome
This post may contain affiliate links or I may have received the product free in exchange for my honest review. See full disclosure for more information.
As a blogger, I am always reviewing some great products and services, traveling to destinations and seeing some amazing locations. As a blogger, my home usually has packages that arrive on my doorstep several times a week throughout the year. While I feel pretty secure in my neighborhood, and we all watch out for each other, the occasional package has come up missing, especially as Christmas draws near.
I have considered investing in a camera system for my home when I happened upon this amazing kit from Netgear. The Netgear Arlo by Netgear 4 HD Camera Set was like an answer to my prayers and has arrived just in time for this holiday season approaching!

The 4 camera set is an "ONLY AT BEST BUY" product. You can purchase Arlo cameras at other retailers, but can only purchase this exclusive set – a superb value at $499.99, and only at Best Buy. This product enables you to safeguard your home or business with the 4 motion-activated Netgear Arlo Smart Home security cameras. You can add additional cameras for a small price. Features of this exclusive kit include:
Downloadable apps enable you to view live video from your compatible Android, Apple® iOS, Amazon Kindle, Windows or Mac device
Completely wire free, for use inside and outside – weatherproof for temperatures ranging from 14° to 122°
Enables you to capture 720p video footage both during the day and at night , with a 130° field of view
Motion-activated design automatically records motion once detected, sending e-mail or app notifications
Comes with 6 magnetic camera mounts and 9 mounting screws, for easy installation on a wall or flat surface
Works with other Netgear products
I have set up the cameras throughout my home, both in and out and I LOVE how I can get notifications on my phone whenever there is motion in front of the cameras.  Another amazing feature, is that you can set motion detector time slots to help save the life of the batteries and cameras.
You can log in on your computer or phone and actually activate the camera as well and get a view of what is going on when you are away from home. The Netgear Arlo by Netgear 4 HD Camera Set is powered by the Netgear® Nighthawk™ DST Router.
The one thing that brings all of my connected home together is the amazing Nighthawk router from Netgear. The Netgear® Nighthawk™ DST Router is the Ferrari of routers. It is extremely powerful and has enabled me to connected everything in my home.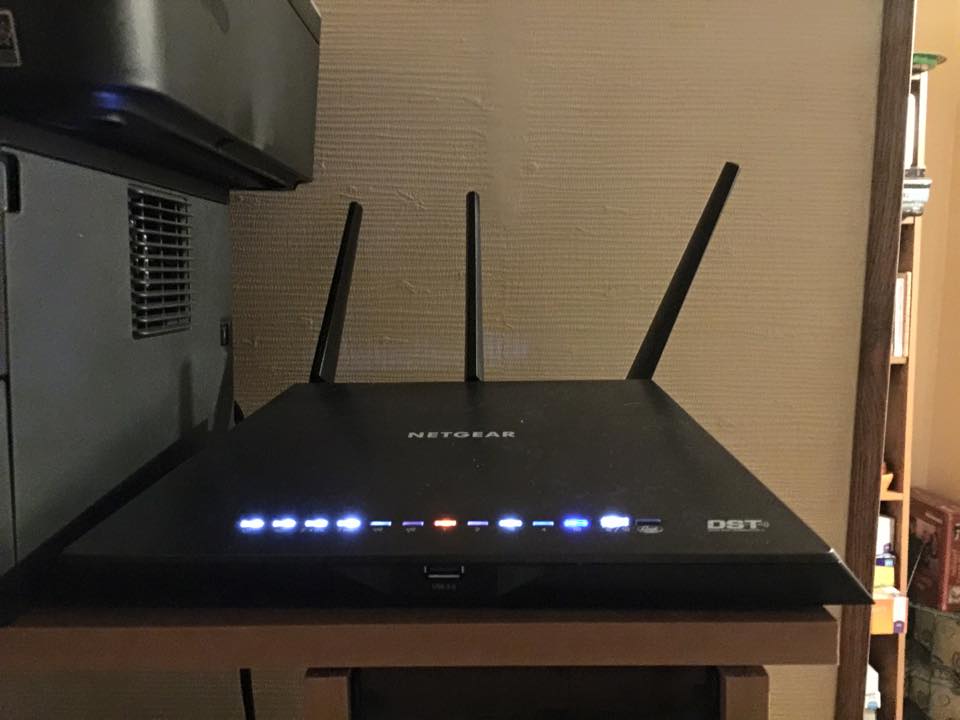 Netgear® Nighthawk™ DST Router and DST Adapter with Geek Squad included – new and exclusively at Best Buy!
This is a brand new router that was exclusively developed between Netgear, an industry leader in the networking world, and Best Buy, to help provide consumers with an easy, all-in-one solution to support their home's connected devices. As the number of Wi-Fi dependent products increase in a home – the average US household has 7 "connected devices" – from smart phones (often several in a home), to tablets, to laptops, to computers, and Wi-Fi printers, this puts a strain on the home's network, especially the router. With the interest in online gaming and 4k TVs, connected devices such as smart thermostats, plus the need to stream shows from Netflix or hulu, it places even more demands on the network. Many households may experience slow Wi-Fi, dropped calls, or experience "dead zones" – which could be improved upon with an "AC" router, Wi-Fi extenders and expert help.  Features include:
The AC1900 comes with one DST, or "Dead Spot Terminator," adapter – to eliminate your Wi-Fi dead zones; place it in an area where you get little/no reception, to improve Wi-Fi access. Additional adapters can be purchased for other dead zones.
This high-performance router was built to support 10+ connected devices – you can also prioritize devices for streaming videos or music, and included advanced features for lag-free gaming
See additional fact sheets for both the Router and DST adapter
Best Buy makes it easy with this new high performance Wi-Fi router, which includes a Wi-Fi extender and Geek Squad Set Up and Support via phone & web, for one full year.
The Geek Squad service via phone & web allows customers to call or get help 24/7 whenever they want, vs. the need to schedule an appointment.
Another one of my favorite features with the Netgear® Nighthawk™ DST Router is the Add-on DST Adaptor.  I have this connected at the other end of the home, that gives me FULL WiFi power throughout the entire home!
The Netgear® Nighthawk™ DST Router comes complete with Geek Squad support to help you get fully installed and set your home up to get fully connected. All items are available exclusively at Best Buy and are on shelves now! Be sure to add these items to your wish list this holiday season to get your home fully connected.
Disclosure: The reviewer has been compensated in the form of a Best Buy Gift Card and/or received the product/service at a reduced price or for free.