#MyReason for a Blowout Tailgate Party is Rooting for the Colts! #AtHomeStores
This post may contain affiliate links or I may have received the product free in exchange for my honest review. See full disclosure for more information.

Is there a better reason for a fantastic blowout tailgate party than rooting for your favorite football team?! I think not! And, by the way, my favorite team is the Indianapolis Colts! GO COLTS! I wanted a fun day of good food, good friends, and family! So, I pulled out all the stops . I kept the menu simple, even though there was a variety of foods. However, I wanted to have a little something for everyone. When it came to decorations and party supplies, I relied on a little help from At Home. Little did my guest know, but I was planning some fun party favors for them!
Our Blowout Tailgate Party to Root for the Colts!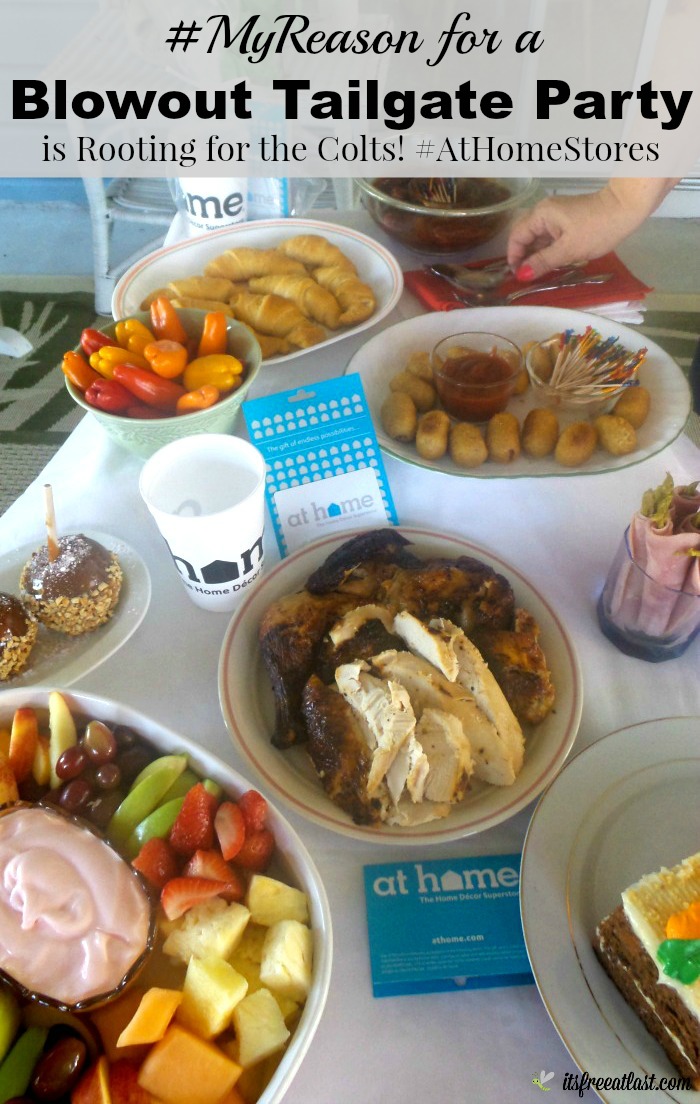 I wanted to do something special for my party goers. So, with the help of At Home, I prepared a party favor gift package. I added a little something extra on the inside too. To create a bit of fun, I told them they could not open them until the end of the game. With hungry bellies and all the good food smells, all were happy to dig into the spread first.
Our Blowout Tailgate Party Menu!

For my meat based dishes, I prepared a Peach Tea Marinated Chicken. While I planned the chicken as the main menu item, I also knew my friends and family loved Asparagus Wrapped in Ham. It isn't only delicious, but it is also an easy finger food. In addition, I planned on some yummy Corn Dog Bites to snack on throughout the party.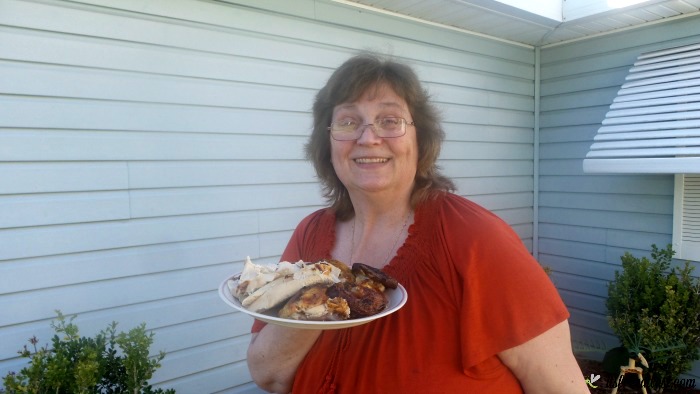 When the Peach Tea Marinated Chicken was done, we carved it up and prepared it for our tailgating table. Oh, the smell! YUM! My friend offered to carry it to the table, so that I could tray up the rest of the party foods. She had a look in her eye that was saying she wanted that platter all for herself. She does have that look doesn't she? I felt the need to warn her – the chicken better make it to the table!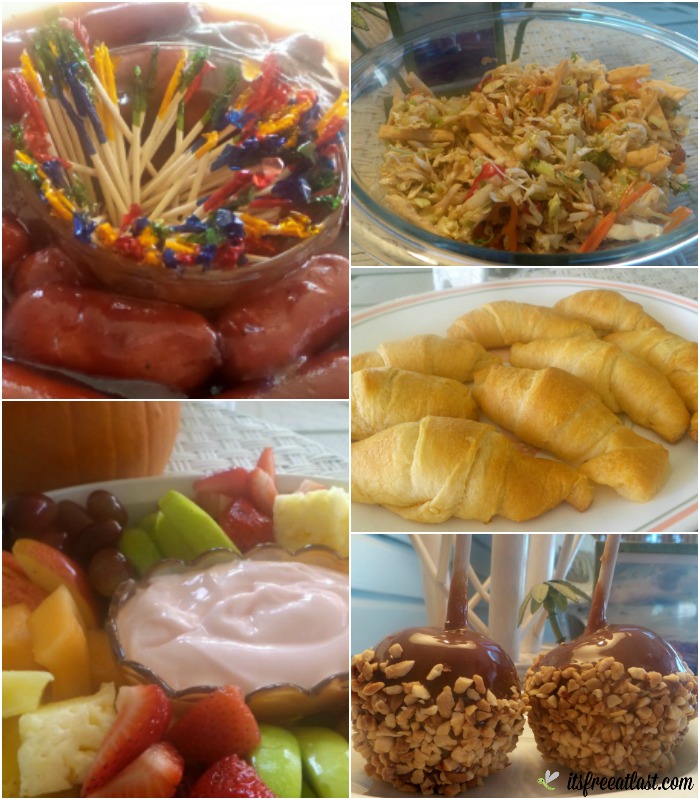 Meanwhile, I plated up the delicious smelling BBQ Cocktail Lil' Smokies. They smelled AMAZING! Then, I quickly finished up the Asian Slaw and took the rolls from the oven. Earlier in the day, I had prepared a yummy fruit salad and some candied apples as our sweet treats. I pulled it all together and that would complete our menu.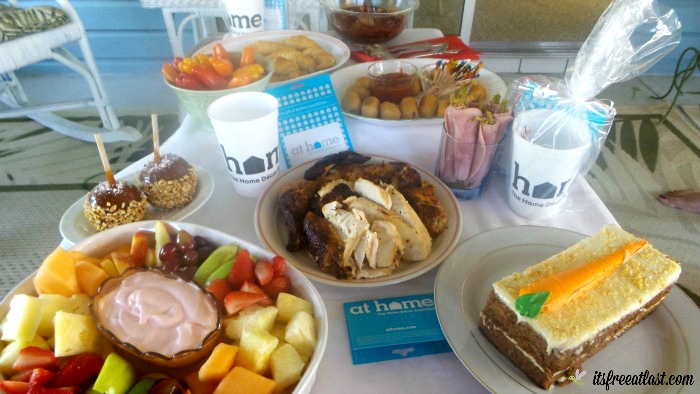 My tailgating table looked fantastic! It was almost time for the game and everything was in place. Everyone was anxious to dig in to a delicious plate of food and continue snacking the afternoon away! Meanwhile, my guest still had no idea they were in for a treat!
My Mysterious At Home Party Favors Drew Curiosity!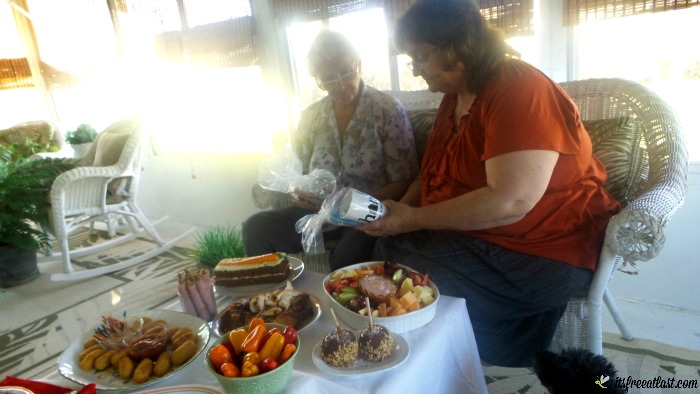 I had no idea what I was creating such curiosity when I decided on party favors from At Home! But, my At Home party favors were a tremendous hit! My guest kept looking and guessing, but I played a bit mysterious. I told them they had to wait until after the game to open their package.
The curiosity was building and I simply smiled! However, at the end of the day, we were full of amazing food and had a great day of fellowship – never mind we were hoarse from rooting for our Colts! It was finally time to end the mystery! My guests were more than happy to dig into their party favors! Each of my party goers received a nice prize pack with $10 Gift Cards tucked in. They were delighted! What an amazing day of fun it had been! When you can make your friends smile and have an afternoon of enjoyment, there is simply nothing better!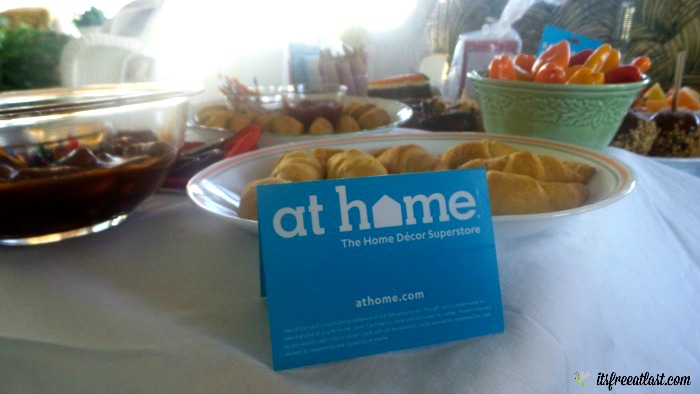 My tailgate party was so easy and it was was so much fun! Have you ever thought about having a fun party or tailgating event? If so, relax and have fun with it! Plan a fun and easy menu and then check out At Home for all your decorations and party favors! You will have it in the bag!
Do you have a favorite team?
Have you ever had a tailgate party at home?
Connect socially with At Home