Hosting a Dinner Party? Food Ideas You Need!
This post may contain affiliate links or I may have received the product free in exchange for my honest review. See full disclosure for more information.
For some people, hosting a dinner party is stress free and enjoyable. They love creating new menus or recipes, and they love being able to host their friends in their homes. They go shopping to lay the table with beautiful silverware and tablecloths, but others choose to have a more relaxed and buffet vibe. The only problem that you might have when it comes to your dinner party is being able to serve food that everybody is going to enjoy.
Not everybody likes Mexican food, but everybody may love a Roy Rogers drink. When it comes down to it, you need to think about what people are going to enjoy and what you could possibly serve, so let's take a look at some of the food that you could have on offer at your next dinner party.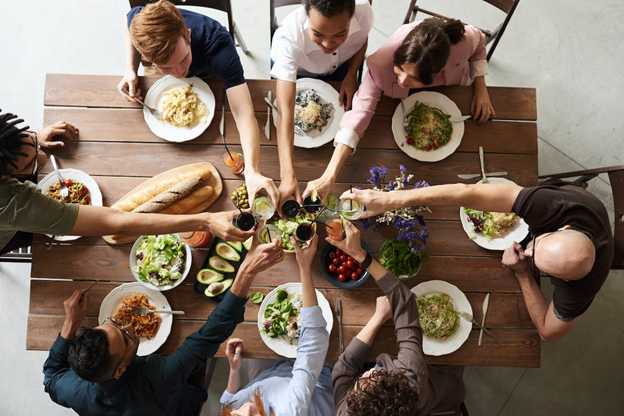 Elegant food. You could blow out your budget on T-bone steaks and caviar, or you can impress your guests with something more elegant and sophisticated. Think pickled gooseberry ketchup on the side of grilled mackerel. Think steak with garlic butter and parmesan potatoes. For dessert you could throw in some hazelnut praline and hot chocolate sauce, and you can serve all of this with wine. Sounds elegant, right?
Go casual. If you want to go the other way, you could consider the fact that everybody would like a buffet instead of a sit down meal. You could have a grill outside and serve all of the food along a table inside. You don't have to compromise on nutrition. With grilled aubergine stacks and fully loaded Cajun chicken burgers, everybody can eat really well and still have a great time. you could serve espresso cheesecakes or even homemade ice cream for dessert.
Choose a cuisine with Mexican food. Throwing a Mexican Fiesta is super fun if everybody who is coming enjoys Mexican food. Think about chunky guacamole and tortilla chips for starters, mexican steak and corn with a salad for a main and you could do a tres leche cake for dessert. Mexican food can be super fun when it's cooked to perfection.
Consider contemporary Asian food. You can really incorporate some zesty and fresh flavoring along with filling and nutritious food when you choose an Asian cuisine. Vegetable rice paper rolls bursting with flavor are super fun and easy to eat. You could have a chicken katsu noodle salad for a main and you could even make mochi ice cream for dessert. You could serve all of this up with a dessert of green tea.
Order in. Lastly, if you want your dinner party to be a total success, why not consider ordering in? It may not be something you initially think about considering dinner parties are usually homemade, but if you want to go a little bit luxurious with it you could have somebody in case all the food for you and a waiter to hand it out.