How to Nail the Edgy Rock Chick Look
This post may contain affiliate links or I may have received the product free in exchange for my honest review. See full disclosure for more information.
Rock chicks burst onto the fashion scene in the 1970s. This edgy look proved enormously popular with fans of the Rolling Stones, AC-DC and Black Sabbath. You didn't even need to appreciate the music to be a rock chick, although it helped if your mission in life was to meet a rock star. Today, the rock chick look is more popular than ever, with catwalk queens, movie stars, WAGs and students alike all embracing the rock chick look.
Here is our guide to nailing the edgy fashion style of a rock chick, but be warned, this look is not for the faint-hearted, as you need a healthy dose of self-confidence to pull off spandex with aplomb.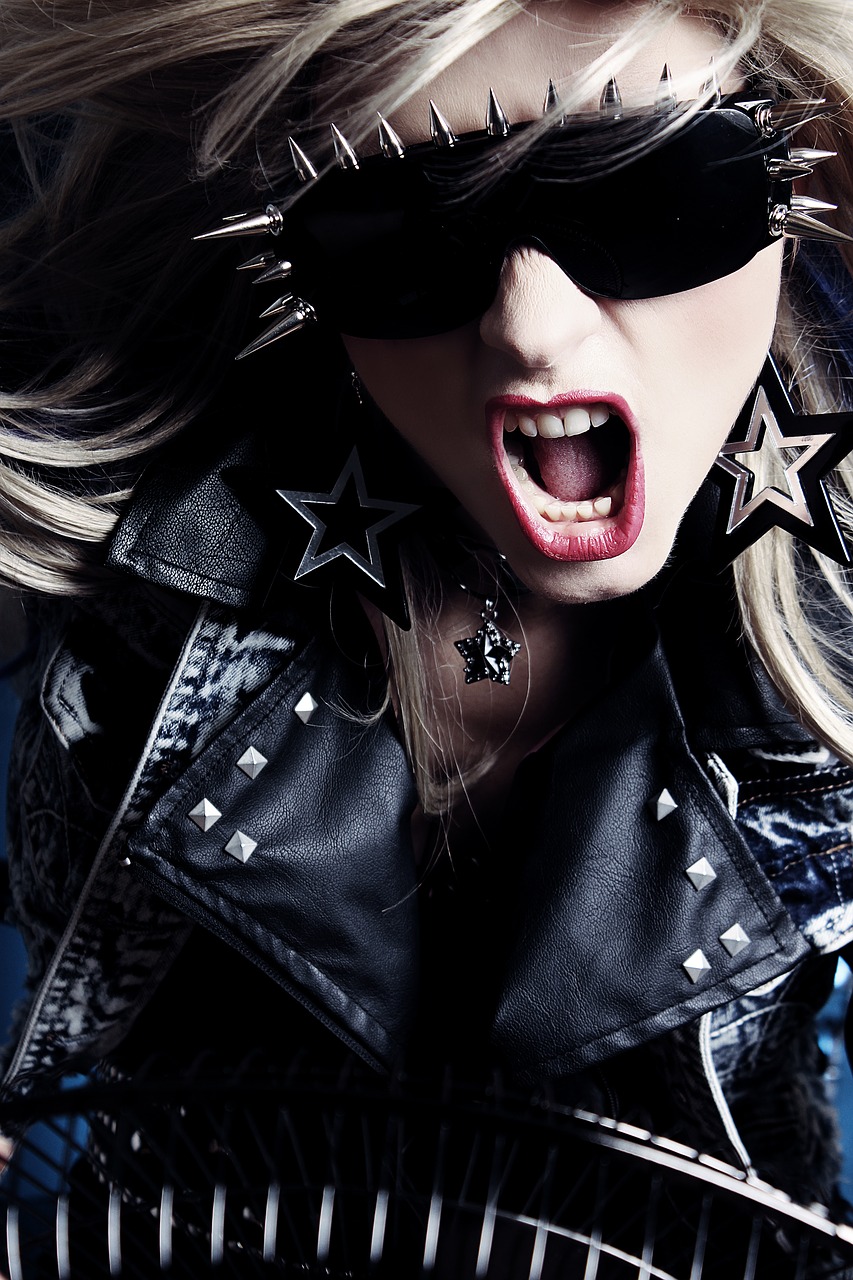 Band Tees
No self-respecting rock chick is seen without her favorite band t-shirt. It is a badge of honor for rock fans, and the more you have, the better. Band t-shirts work best when they are worn out from years of dedicated use. A brand new band t-shirt has kudos because it shows you were at the latest gigs, but you will look more stylish if you wash it a few times and leave it to fade in the sun.
Tight Trousers
Tight trousers are a wardrobe staple for the rock chick. Back in the 70s and 80s, spandex trousers were all the rage, but we have moved on from spandex and these days, rock chicks wear spray-on skinny jeans or tight leather pants. Black jeans are your best option, as faded denim doesn't hit the right mark.
The great thing about skinny jeans is that they are completely versatile. You can wear a pair of skinny jeans with some edgy ankle boots for college, or pull on a pair of spiky heels for a night out or hot date. Mix and match jeans, band t-shirts, and accessories for a cool look.
Jackets and Coats
Hard-core rock chicks don't need a jacket, but if you must wear protection from the weather, choose a leather biker jacket. Fashion jackets are also acceptable, but an authentic leather biker jacket with MC insignias is a better choice.
Alternatively, wear a worn denim jacket and accessorize it with funky badges and embroidery.
For a slightly softer, but still edgy look, full-length coats are an option. A floor-length coat with a fur collar works well over a pair of skinny jeans or a short body-con dress. Designers such as Roberto Cavalli have some amazing overcoats in their collections, but if designer prices are out of your budget, shop around for a second-hand version. Black is best, but red is an acceptable alternative.
Boots
Thigh-high boots with spiky heels are perfect for the rock chick look. Khloe Kardashian and Kylie Jenner both favor this look, which is no surprise because it is both sexy and edgy at the same time. You need toned legs to work thigh-high boots and a short skirt, but you can wear thigh-high boots over skinny jeans or tight leather pants. Lace up boots look super sexy, but only if they come with a narrow, spiky heel. Also, ankle boots work well with skinny jeans or leather pants. Once again, they need to be sexy, so spiky heels are in and flats are out.
For everyday rock chick glamor, wear motorcycle boots or cowgirl boots, but only if they are well worn in and falling to bits.
Body-Con Dresses
There was a time when the body-con dress was a red carpet staple, but legions of reality TV stars have destroyed the allure of the body-con dress. Today, though, a body-con dress is definitely edgy enough for a rock chick look. In fact, rock chicks have been flaunting their figures in skintight dresses for decades, so as long as you have something to flaunt, a form-fitting dress is a good choice.
Wear figure-hugging dresses with high boots and a long coat, and don't forget to add plenty of silver jewelry.
Accessories
There is some overlap between the rock chick look, and the boho look, so floaty scarves and floppy hats work well with skinny jeans and miniskirts. Think hippy-chic and festival attire. If your outfit would not look out of place at Coachella, you have nailed it.
For a more boho-inspired look, go for bold prints, and maxi dresses teamed with a leather or denim jacket. Success is all about adding personality to your style. Be authentic and original.
Jewelry
All rock chicks love to flaunt their jewelry, but fashion jewelry is not necessarily going to work. With most looks, less is more, but for the rock chick, the more edgy, the better. Skull jewelry from Bikerringshop will add the 'wow' factor to your outfit. Wear stacks of rings and bangles, ankle bracelets and neck chains. Now is not the time to be feminine and delicate.
Hairstyles
In the 80s, rock chicks wore their hair long and backcombed in the style of sex kitten, Bridget Bardot. Big perms were also popular. Today, not much has changed, although perms are no longer in fashion of course.
Perfect the art of teasing your hair into a messy, 'just-fallen-out-of-bed' look. Rock chicks don't use hair irons or curling tongs. They prefer the punk look. Your hair needs to be long, tousled, and very natural.
Makeup
Makeup is important, but don't bother with any face contouring or tons of foundation. Rock chicks favor a more natural look, with the main emphasis on the eyes and lips. Enhance your eyes with black eyeliner and add a subtle cat eye flick. Add lashings of black mascara and a touch of dark shadow on your lids. The smoky look is best for a rock chick.
Lips should be pink or red and perfectly pouty. Avoid blusher, but if your face needs a touch of color, a sweep of bronzing powder on your cheeks is enough. You can also lightly touch up around your eyes with a great cruelty-free concealer, which is a vegan-friendly way to rock out.
The rock chick look is easily achievable, and because old and worn-in are best, you don't need a large budget to look authentic.