With Summer almost here, most families will be planning vacations and outings. There are so many exciting things to do as a family, such as camping, hiking, canoeing, boating, theme parks, etc. One of the many problems on these fun outings is communication with your family or group. There are times our trusty cell phones just don't cut it. There may not be signal or if on the water – well, that is an accident waiting to happen with a cell phone, right? That is where the Motorola Solutions Talkabout T600 H2O Go Anywhere Walkie Talkies come in!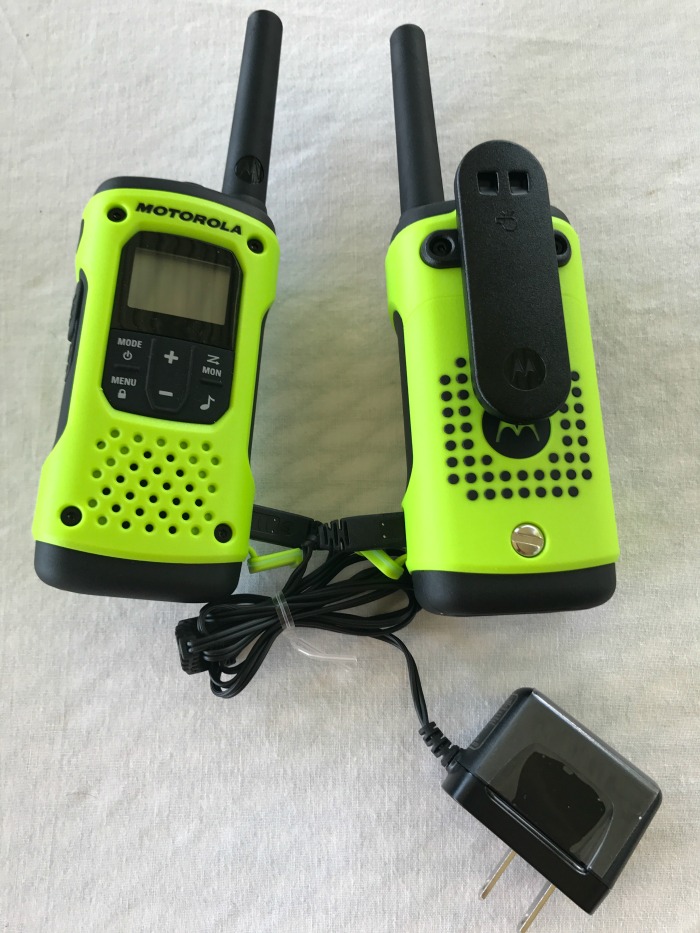 The Motorola Solutions Talkabout T600 H2O Go Anywhere Walkie Talkies are just what they say they are – "Go Anywhere"! With the T600 H2O, you can communicate directly with your family or group on land or water!
I'm sure you have heard of Motorola, but in case you haven't, let me introduce you to who and what they are before I tell you more about the Talkabout T600 H2O Walkie Talkies.
About Motorola Solutions
On any given day, every moment matters to someone, somewhere. And every moment, Motorola Solutions' innovations, products, and services play essential roles in people's lives.

They keep utility workers connected and visible to each other with real-time voice and data communication across the smart grid. And they provide the situational awareness first responders need when a moment brings catastrophe.

They do this by connecting them to seamless communication networks, applications and services, by providing them with real-time information, and by arming them with intuitive, nearly indestructible radios and devices.

They help people be their best in the moments that matter. This is their purpose.
Motorola Solutions Talkabout T600 H2O Go Anywhere Walkie Talkies
Motorola Solutions Talkabout T600 H2O Go Anywhere Walkie Talkies are rugged, with a fully waterproof design. It has amazing emergency features and a 35-mile range to keep you connected and protected during all your outdoor activities. The T600 H2O is packed with top-of-the-line radio features, including the ability to float and a water-activated flashlight. The flashlight also includes a red LED to preserve night vision. With these exceptional capabilities, you can count on this radio to deliver reliable communications during your wildest adventures.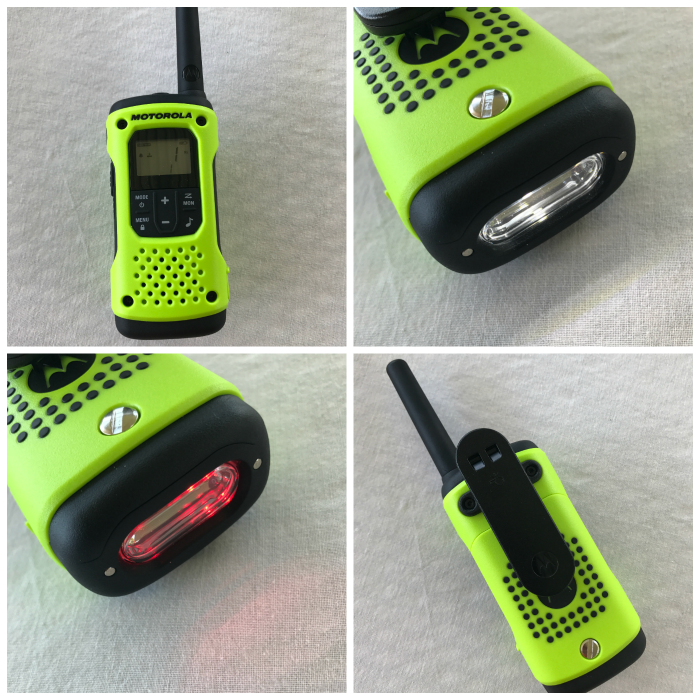 Let's take a look at the Amazing Features of the Motorola Solutions Talkabout T600 H2O!
IP67 Waterproof*

Count on the T600 H2O Series waterproof radios to keep you connected whether on land or at sea.  With its IP67 standard, the T600 H2O Series withstands constant submersion of up to 1m for 30 minutes and repels the heaviest rain.

Floats* Face Up, Water-activated Flashlight for Easy Retrieval

Through meticulous engineering, the radio floats and is visible on the water surface. And with the water-activated flashlight, it's even easier to find.

Be Prepared for an Emergency

This radio includes an emergency alert feature, allowing you to enjoy your escape to the great outdoors with confidence that others can be informed of any dangers that may come your way. When the alert button is activated, the radio transmits an alert siren followed by transmission of spoken or incidental sounds. This allows you to send the signal to other radios and warn of impending danger.

You can also use the whistle belt clip to let others know that you need help. In addition, there's a built-in LED flashlight for peace-of-mind during evening adventures, unexpected emergencies, and power outages.

Know the Weather in Advance

Keep updated with real-time weather conditions by turning on one of 11 weather channels or initiating weather alerts. NOAA radio service may not be available in all areas. Check with your local weather office for frequency and details, or visit www.weather.gov/nwr (Canada: www.msc.ec.gc.ca/msb/weatheradio).

Advanced Built-in Flashlight with White and Red LEDs

Select the white LED setting on the built-in flashlight to light your way during evening activities, unexpected emergencies or power outages. If your adventure takes place when it's dark, for example, if you're stargazing or hunting at night, and you need to view maps, charts or other papers, switch to the red LED setting.  This will allow you to read what you need while preserving your night vision.

Be Discreet

Use the VibraCall™ feature where ringing can be intrusive.

Power through Your Adventures

There are two ways to power your radio: use the included NiMH rechargeable batteries for up to 9 hours or use three AA batteries for up to 23 hours. To recharge the NiMH batteries, choose from one of three ways: connect it to your vehicle adaptor or your computer.  Or plug the Y cable charging adaptor into an outlet.  This cable features dual micro-USB connectors, so you can charge two radios at once.

Optional Extended Batteries

Enjoy hours of uninterrupted outdoor activities by selecting a high capacity battery. (High capacity battery sold separately.)

Be Hands-free

With iVOX/VOX acting like a speakerphone and allowing hands-free communication, you can keep on moving without stopping to answer a call.

22 Channels Each with 121 Privacy Codes

With 22 channels and 121 privacy codes, totaling 2,662 combinations, it's easy to find an available channel.

20 Call Tones

A call tone is what people calling you can hear instead of the normal default ring. It grabs the attention of your family and friends before you start speaking.

Extra Power When You Need It Most

Push-To-Talk (PTT) power boost allows you to extend the transmission range by increasing the transmitter power output. It also saves battery life when no power boost is necessary.

Compatible with Any Radio

You can communicate with other FRS/GMRS radios regardless of brand by being on the same channel and privacy code

Eco Smart

Most of the energy wasted when using a mobile device occurs during the charge. This radio consumes less power during its idle condition.

Quickly Find a Channel

Use the scanning feature to see which channels are currently in use.

Low Battery Alert

Low battery alert reminds you when batteries are running low.

Keypad Lock

The keypad lock prevents your personalized settings from being inadvertently changed.

*This radio meets IP67 standards. It will withstand submersion of up to 1m for 30 minutes. Radio floats with included NiMH battery. It may not float with some AA batteries. Use of headset should be in dry environments.
Be Prepared, Safe, and Connected with Motorola!
Keep your family safe and connected this Summer with Motorola Solutions Talkabout T600 H2O Go Anywhere Walkie Talkies! They are the perfect solution, whether you are having fun hiking, at a theme park, or riding the waves on a boat or in a canoe!
The Motorola Solutions Talkabout T600 H2O can be purchased in stores and online. Visit Motorola Solutions for more information and a complete listing of stores and online suppliers.
Connect socially with Motorola