Natural Personal Care with Crystal Deodorant
This post may contain affiliate links or I may have received the product free in exchange for my honest review. See full disclosure for more information.
With the summer months approaching, most everyone will be outside more often with sports, gardening, on the beach and much more fun stuff. With summer heat comes sweating and you will want to find a deodorant that will handle all of that perspiration. I have tried the Crystal Lavender + Rosemary deodorant and I love it! It leaves me feeling fresh, confident knowing if I sweat I will not have a foul odor.
I have been using the Crystal Essence Magnesium Solid for just over 2 weeks now and have permanently replaced my normal deodorant. I love the scent of lavender and rosemary and how much more natural it is for my skin. It works just as effectively as my chemically-ladened brand.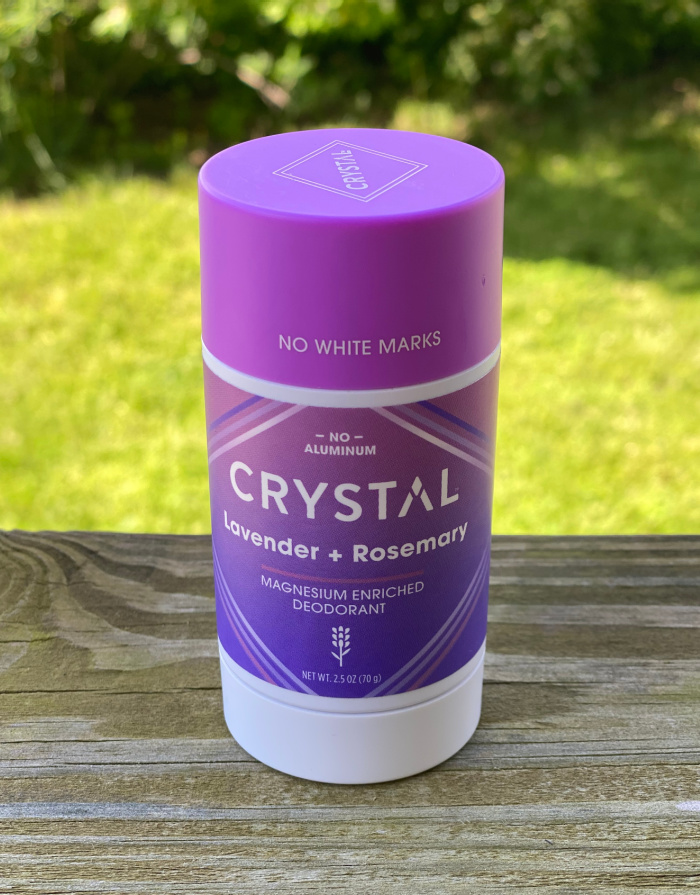 More About Crystal:
CRYSTALTM, the creator of the original mineral salt deodorant, has been leading the natural deodorant industry for 35 years, formulating its deodorants with clean ingredients that are always free of aluminum, parabens, silicones, phthalates, and artificial fragrances and colors.

Since its founding 35 years ago, CRYSTALTM has been providing an effective mineral-based line, that's vegan, and cruelty-free. The ingredients are non-toxic and the packaging's eco-friendly.

CRYSTALTM is committed to the safety, health, and welfare of both our customers and the environment. CRYSTALTM Deodorant is a recognized leader and innovator in mineral based hypoallergenic deodorant.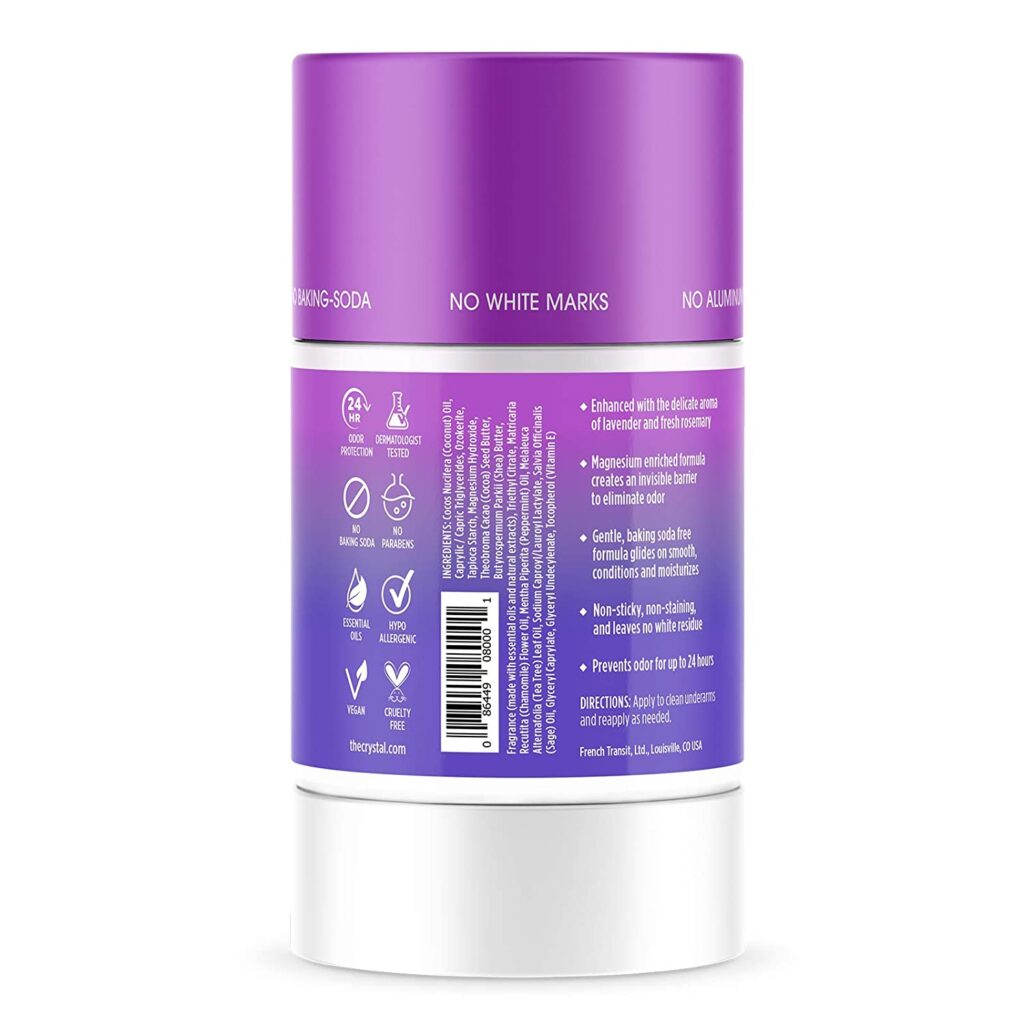 Trusted Brand With New Magnesium Innovation: More than 30 years ago, we invented the original mineral salt deodorant. Today, we continue to lead mineral innovation with Magnesium, a naturally occurring element used as an alternative to aluminum, baking soda, and other potentially irritating, ineffective, toxic, or harmful ingredients. Magnesium deodorants also help to create an easy transition from conventional antiperspirant.

Smell Good Naturally: Crystal aluminum-free deodorant for women and men dries quickly and allows the body to function naturally without blocking pores. It's non-irritating, dermatologist-tested to be hypoallergenic, and perfect for all skin types. Available in 5 different scents: Lavender + Rosemary, Coconut + Vanilla, Cucumber + Mint, Sea Salt + Sage, Charcoal + Tea.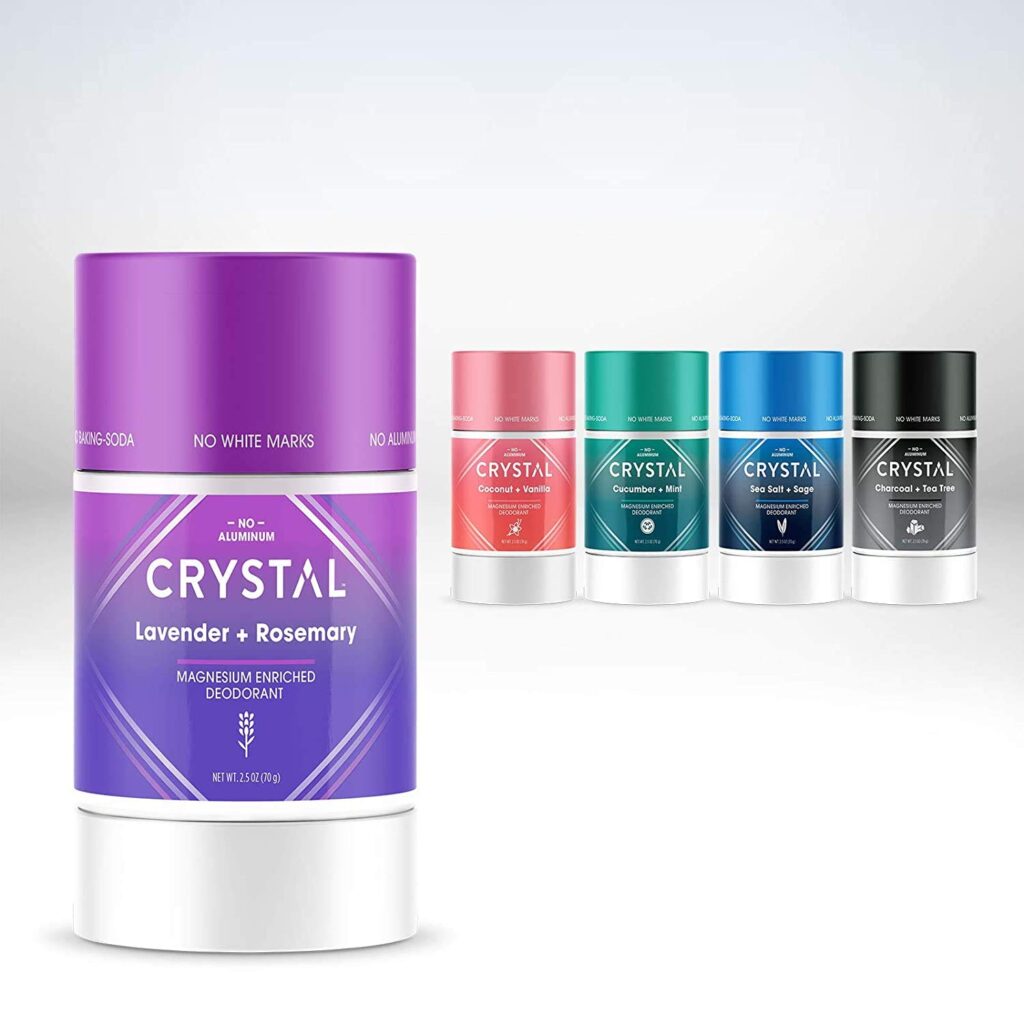 Invisible, Non Staining & No Greasy Residue: Crystal magnesium deodorant provides 24-hour odor control without the mess, greasy residue, or white stains on skin and clothes!

Good Vibes Only: Crystal aluminum-free deodorant is vegan, cruelty-free, safe, and effective. We never test our 100% vegan deodorants on animals and use the cleanest, safest ingredients available. You will never find parabens, sulfates, phthalates, artificial fragrances, or colors here!

Crystal Cares: We are committed to the safety, health, and welfare of the people who use our products and the environment. We are proud to sponsor like-minded non-profit organizations like Breast Cancer Prevention Partners and The Gentle Barn to create a better world.
You can purchase Crystal deodorant at your local pharmacy, retail stores including Target and Amazon.
Follow Crystal at the following:
Facebook / Twitter / Instagram