New Plant Powered Spray Eliminates Wasps & Hornets as Population of these Pests Peak in Late Summer & Early Fall
This post may contain affiliate links or I may have received the product free in exchange for my honest review. See full disclosure for more information.
This time of year is a prime time for wasp, hornet and yellow jackets with populations peaking in late summer and early fall. At this time these pests begin foraging for food and can become territorial, swarm in groups and sting multiple times. The Asthma and Allergy Foundation of America reports that these stingers are not just a nuisance but can be downright dangerous if someone is allergic to the venom and subsequently stung. In fact, five percent of the US population – 16.6 million people have insect allergies.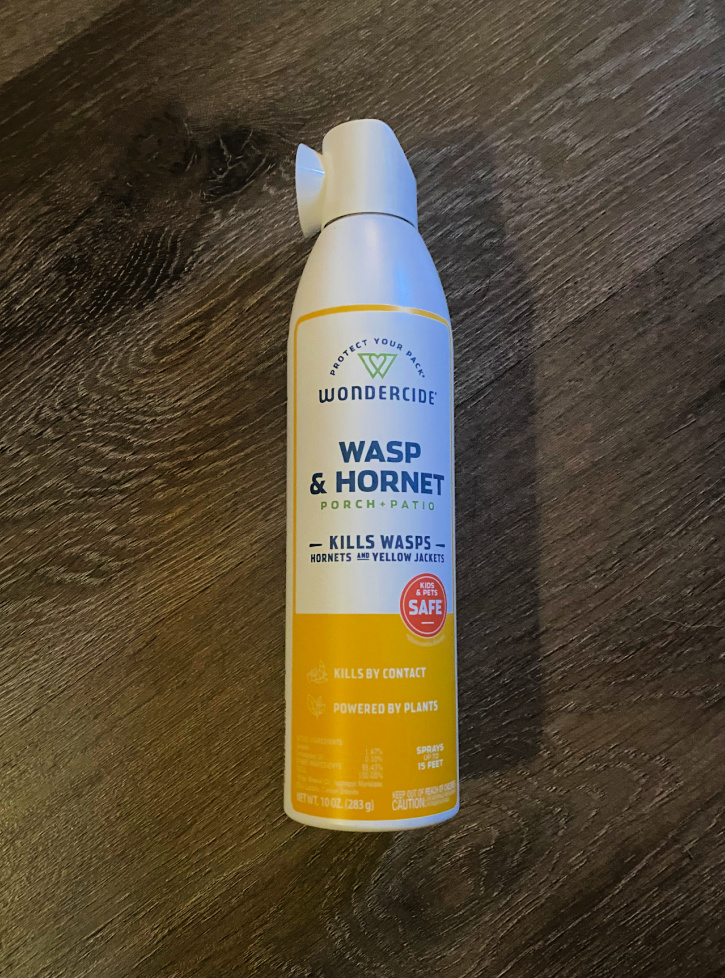 That's why Wondercide has introduced Wasp & Hornet for Porch + Patio, This aerosol spray powered by plants kills wasps, hornets, and yellow jackets by contact. It also treats open-faced hives, and like all Wondercide products, thoughtful ingredients mean it's safe around kids and pets when used as directed.
Wondercide provides this helpful information on how to identify wasps, hornets, and yellow jackets:
Before you use Wasp & Hornet to eliminate stinging bugs, check to make sure you're not dealing with bees. It's important to leave our best pollinators undisturbed, and bees aren't typically aggressive. Bees, both the bumblebee and the honeybee, are hairier than wasps, hornets, and yellow jackets. Pollen sticks to the bees' hair and makes it to the next flower where ​​fertilization is made possible.
In addition to having more hair, bees are stouter and have little to no thinning of the body between the abdomen and upper body. They also have a slightly enlarged segment on their hind leg and their legs overall are wide, which helps them carry pollen.
In contrast, wasps, hornets, and yellow jackets have very little hair and appear smoother. Their bodies appear slimmer, more elongated, and bigger compared to bees. Bees (around a half inch) are the smallest of this group, followed by wasps (roughly ¾ of an inch) and then hornets (up to an inch or more). Yellow jackets are a type of wasp and are similar in size.
Wondercide provides these tips to get rid of

wasps

,

hornets

, and yellow jackets safely:
The Direct Kill – How to Use on Stinging Insects

Never approach an aggressive insect if you suspect you may have a venom allergy. Chances are, if you're allergic to bee stings, you may also be allergic to

wasps

,

hornets

, and yellow jackets.
Maintain a safe distance away from the insect. When using Wondercide Wasp & Hornet, the aerosol range is up to 15 feet.
Do not spray into the air. Wait for the insect to land.
Spray the insect for about 1 second to ensure it is completely coated.
Wipe up the dead bugs and excess spray.

Mind the Open-Faced Hives:

Do not use any products on closed hives or for hives that are enclosed in small spaces like a wall.
Use after dusk when insect activity outside the hive is minimal.
Do not stand beneath the hive.
Stand 15 feet away from the hive and spray until all insects present are coated.
Wipe up dead bugs and excess spray.
WASP & HORNET PORCH + PATIO
Wondercide's new Wasp & Hornet for Porch +Patio, is a USA-made plant-powered aerosol spray designed to kill wasps, hornets, and yellow jackets by contact. With active ingredients of geraniol and lemongrass oil, this spray is safe to use around kids and pets when used as directed. As with all Wondercide products, this new solution is a 25b product (deemed by the EPA to be "minimum risk" to humans and the environment) and cruelty-free, tested only on the bugs the aerosol is designed to eliminate.
For those looking to lessen their impact on the environment, the aerosol is propelled by carbon dioxide (CO2) and once empty, the container is recyclable. Wasp & Hornet is available now at Wondercide.com and Amazon. Coming soon to Chewy.com and select independent pet specialty retailers.
About Wondercide
As seen on Shark Tank, Wondercide is an Austin-based company that has protected 1.8 million families from pesky pests since 2009, and the ticker is still running! The company provides safe, plant-powered, proven-to-work solutions for those looking for alternatives to conventional pest control products and services. As a Green America Gold Certified business for high standards in social and environmental impact, the company is woman-founded and led, family-friendly, and driven by Fierce Love® to help you Protect Your Pack® – pets, family, kids, homes, indoors and outdoors, and everything in-between. Come be part of our pack at Wondercide.com, Instagram, Facebook, Twitter, and YouTube.