Nourish the Animals in Your Life – Nutrients from the Sea for pets with VitaminSea Seaweed!
This post may contain affiliate links or I may have received the product free in exchange for my honest review. See full disclosure for more information.
VitaminSea Seaweed offers high quality Maine harvested seaweed to support the health of humans, animals, and plants
With health and wellness dominating the media, chat rooms, and bedrooms, people are looking for natural solutions for themselves, their pets, and even their gardens. In fact, 77% of people surveyed in April 2020 found their health to be more important than the prior year, which isn't surprising. Interestingly, it shows that 67% of the same people found environmental health to be more important now than in 2019.
People are turning towards trusted natural products to guide them. Interest in nature's most nutrient dense foods is surging, and this includes a rapidly growing interest in marine plants, or seaweed. VitaminSea Seaweed offers high quality seaweed products that help all life forms navigate vitality, build resilience and flourish.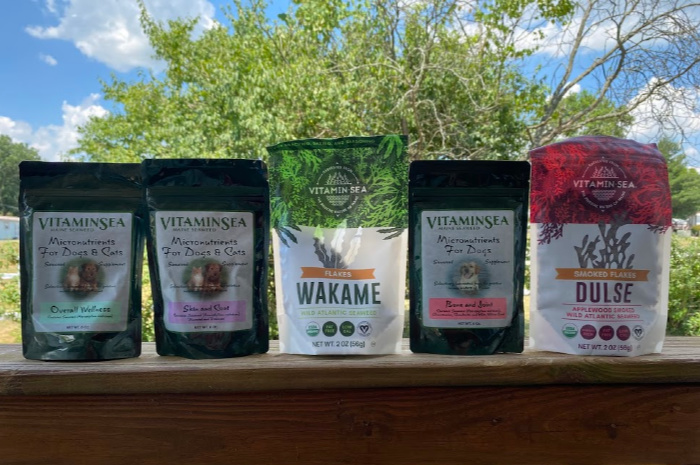 Optimal for human health, seaweed is full of vitamins and minerals, protein, fiber, and omega-3 fatty acids, and is a natural source of iodine. From the pristine water of Maine, VitaminSea Seaweed products are wild, hand-harvested and sun dried to become the highest quality seaweed that is rich in nutrients, and sold in many varieties, such as nori, dulse, wakame, and kombu in whole leaf packages or flakes. Including edible sea vegetables to diet can supply an abundance of vitamins, minerals, micro-nutrients, and antioxidants that can help to protect the body from free radicals and chronic disease, antiviral, and is one of the best sources of iodine that supports thyroid health and immunity function. For a healthy diet, VitaminSea Seaweed offers a powerhouse of nutrients from the sea as an easy to use nutritional ingredient that can be added to most meals, a natural solution has many health benefits for pets and gardens as well.
For animals, seaweed increases vitality and resistance to infection. The micro-nutrients, amino acids, and trace elements found in seaweed are often lacking in land-grown feeds, pastures, and standard mineral mixes. VitaminSea Seaweed Animal Supplements are offered in a finely milled powder for pets that is easily digested and in Large Animal Kelp Chips that provides a crunch when consumed. Healthy horses benefit from natural food supplement found in SeaNutrients for Horses as preventative care for bone and joint health and overall health. VitaminSea Pet provides relief for animals with stiff and achy joints in bone and joint health, a balanced diet with overall health,and increased nutrition with skin and coat. VitaminSea Seaweed's pet products can elicit a number of health benefits, such as: increased vitality and stamina, improved digestion, increased healing from injuries, increased fertility, brighter eyes, and so much more. VitaminSea Seaweed follows strict quality control guidelines for their feed-grade seaweed. This seaweed is carefully selected from the outer islands, dried in greenhouses, and milled separately from the fertilizer grade seaweed.
Supporting healthier plants, seaweed is one of the best fertilizers containing more than 60 minerals, vitamins, macro/micro nutrients, and amino acids. Seaweed adds organic material into the soil that benefits the rhizosphere for healthy microbial activity and bioavailability of nutrients needed for stronger plants, increased productivity, and longer growing season. VitaminSea Lawn & Garden Products include a kelp meal that contains over 60 trace minerals and important natural growth hormones, a kelp powder that boosts nutrient uptake and helps to bind soil crumbs together, and a liquid seaweed & fish emulsion that increases the health, vitality, and yield, of house and garden plants, lawn, shrubs, and ornamentals. VitaminSea Seaweed's lawn care products are approved for organic farming.
At VitaminSea, it is our undaunting commitment to help all in our value chain, from our harvesters to everyone, human, animal, plant and earth, who benefits from our natural solutions, navigate vitality and live life fully. All of VitaminSea Seaweed's products are available for purchase online at vitaminseaseaweed.com.
About VitaminSea Seaweed
VitaminSea Seaweed is a Maine-based family-owned company that wild-harvests local live ocean seaweed to create an array of nutrient dense products like whole leaf seaweed, sea vegetable flakes, granular sea vegetables, pet products, skin care products, animal supplements and more. VitaminSea Seaweed is passionate about sustainability and responsibly harvests sea vegetables in an environmentally and ecologically conservative manner. USDA Organic Certified, Certified Vegan, and Kosher Certified. VitaminSea
Be sure to join VitaminSea Seaweed's community on Facebook, Twitter, and YouTube.