Pee-wee's Playhouse: The Complete Series on Blu-ray and live Stream #peeweesplayhouse
This post may contain affiliate links or I may have received the product free in exchange for my honest review. See full disclosure for more information.
When I was a kid, every Saturday morning included an amazingly fun episode of Pee-wee's Playhouse.  When I learned they were remastering and releasing the ENTIRE series on live-stream video and DVD, I was STOKED!!!
Experience Pee-wee's Playhouse like never before! All 45 wacky episodes, plus the Pee-wee's Playhouse Christmas Special, have been meticulously remastered from the original film elements — and now you can see this ground-breaking series for the first time in beautiful high-definition!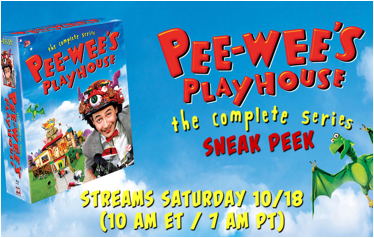 Scream along to the secret word with Pee-wee Herman and his pals: Jambi the Genie, Miss Yvonne, Cowboy Curtis, Reba the mail lady, Captain Carl, Magic Screen, Conky, Globey, Chairry, Pterri, Randy and all the rest. Pee-wee's Playhouse: The Complete Series Blu-ray box set, with special bonus content, debuts on home entertainment shelves October 21, 2014 from Shout! Factory. Also available to own on the same day is Pee-wee's Playhouse: Seasons One and Two in a high-definition 4-DVD set. Mecka-lecka hi, Mecka-hiney ho!
Check out these clips below and be sure to check out the live streaming on Shout Factory! You can also purchase the complete series set on Amazon!
Overview of the Re-mastering process below

Opening Sequence

Pee-wee Herman and His Friends Make Macaroni Art

Pee-wee Herman and Conky

Pee-wee Herman and Cowboy Curtis

Miss Yvonne Visits the Playhouse

About Shout! Factory
Shout! Factory, LLC is a diversified multi-platform media company devoted to producing, uncovering, preserving and revitalizing the very best of pop culture. Founders Richard Foos, Bob Emmer and Garson Foos have spent their entire careers sharing their music, television and film favorites with discerning consumers the world over. Shout! Factory's DVD and Blu-Ray™ offerings serve up feature films, classic and contemporary TV series, animation, live music and comedy specials in lavish packages crammed with extras.  Shout's audio division boasts GRAMMY®-nominated box sets, Broadway cast albums, new releases from storied artists, lovingly assembled album reissues and indispensable "best of" compilations.  In addition, Shout! Factory maintains a vast digital distribution network which delivers video and audio content to all the leading digital service providers in North America.  Shout! Factory also owns and operates Timeless Media Group, Biograph Records, Majordomo Records, HighTone Records and Video Time Machine. These riches are the result of a creative acquisition mandate that has established the company as a hotbed of cultural preservation and commercial reinvention.  Shout! Factory is based in Santa Monica, California. For more on Shout! Factory, visit shoutfactory.com