Perform Pain Relief Products ~ Helping me relieve my arthritis pain #MPMHGG
This post may contain affiliate links or I may have received the product free in exchange for my honest review. See full disclosure for more information.
I suffer daily with degenerative arthritis in my shoulders and back.  I come home night after night with mild to severe pain, depending on the weather and daily activity.  I have days that I can tolerate it with a simple ice pack or heating pad, but then the days come that it hurts so much, I can barely bend over or get comfortable sleeping in bed at night.
I recently discovered Perform Pain Relief products.  I have to say these products are amazing.I have tried other products in the past and nothing has really held a candle to Perform.  With a few sprays of the Perform Pain Relieving Spray, my pain is instantly sustained and I feel better and immediate relief. Perform products use a technology call Cryotherapy to help relieve pain.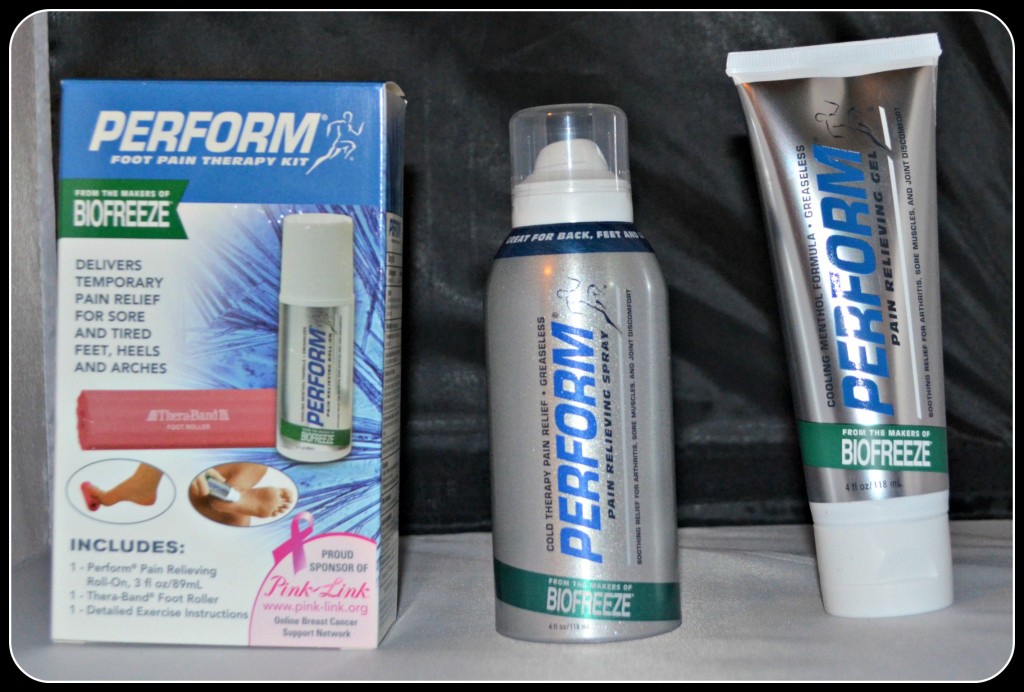 More about Perform and Cryotherapy
Perform products produce pain relief through the use of a process called cryotherapy.  Also known as "cold therapy," cryotherapy is the application of cold to decrease inflammation and relieve pain. The related term, cryokinetics, refers to the pairing of pain-relieving cryotherapy with exercise. This cooling and re-warming of tissue stimulates the return of blood flow to affected areas. 

 

The most popular form of cryotherapy is the use of ice. But when applied to sore muscles, ice can cause such negative side effects as stiffness, decreased range of motion, decreased motor performance and skin irritation.  Perform Pain Reliever produces a sensation of cold similar to that which accompanies icing. But unlike ice, Perform products allow you to remain active.
Perform sent me three products including the Pain Relieving Spray, Biofreeze Gel & Foot Pain Therapy Kit.  My product of choice would be the spray, as it is easy to use, not greasy upon application and works immediately and effectively.  It has a menthol smell that is actually pleasant to the senses and lets me know it really is working.
With winter quickly approaching, my back and shoulders are already aching a bit more than usual due to the colder weather.  Thanks to Perform, I have felt a nice sense of continuous pain relief, without the need to consume any over-the-counter pills or medication and I am actually sleeping much better and easier since I spray on my pain relief about 30 minutes before bed.
I am excited to share Perform products with everyone and pleased their products are available in my local stores including CVS, Meijer & Walmart.  Their products are also available online and you can have them delivered right to your doorstep.
Be sure to stay connected socially: