Pine Bros. Softish Throat Relief Perfect for Winter Time Colds and Find out about their new App Thumbopoly for chances to win prizes!
This post may contain affiliate links or I may have received the product free in exchange for my honest review. See full disclosure for more information.
Do you suffer from seasonal allergies? How about an irritated throat as the dry, cold fall and winter air kick in. In the Midwest, I have several allergies that affect me at different points and time through the year. It is especially hard in the winter months as the air is dry and cold.
I keep an ample supply of throat relief drops in the household, as we all suffer from allergies at some point and time throughout the year. My primary brand is the Pine Bros. Softish Throat Relief Drops.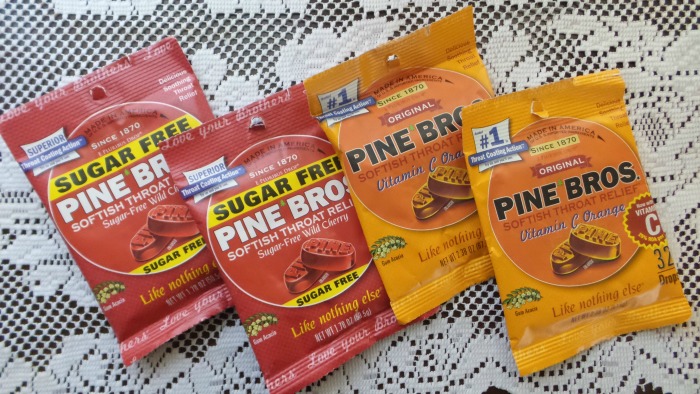 Growing up, my parents kept a well-stocked cabinet of cold supplies as we all suffered from dry, irritated throats. Pine Bros. throat relief drops were the only brand we used growing up. I have carried on that tradition with my family to this day. The main staple for our long-time use with Pine Bros. is they contain no medication.
More about Pine Bros.
Founded in 1870 by J. Herman Pine, he initially attempted to come up with something to relieve his sore throat. By combining several ingredients, including plant glycerin and gum acacia, he came up with a household staple that millions utilize to this day.
Available in 2 tasty new flavors including Vitamin C Orange and Sugar Free Cherry throat drops. The Pine Bros. come in convenient packages including bags for around the home or office, and the puck packs that you can carry in your bag or purse.
Pine Bros. is available at Target, Walmart, Walgreens, CVS and other major retailers. They are conveniently located in the cough drop aisle. Remember that Pine Bros. softish throat relief drops are not medicated. They are all-natural with glycerin as the key ingredient to help with sore throat relief. This is especially helpful for me throughout the day, as I can get relief for my irritated throat, without a drowzy feeling of medicated drops.
These new flavors are available in select locations. Cherry is available at Harris Teeter, Harmon, ShopRite and Vitamin C Orange is available at Kinney Drug. Also, both can be bought online at the Pine Bros Website.
*** WIN FABULOUS PRIZES ***
I am excited to share that Pine Brothers has created a fun and entertaining mobile game app called Thumbopoly! It is a slot game for gals where you can win fun brand name prizes and gift cards by playing daily and gaining points.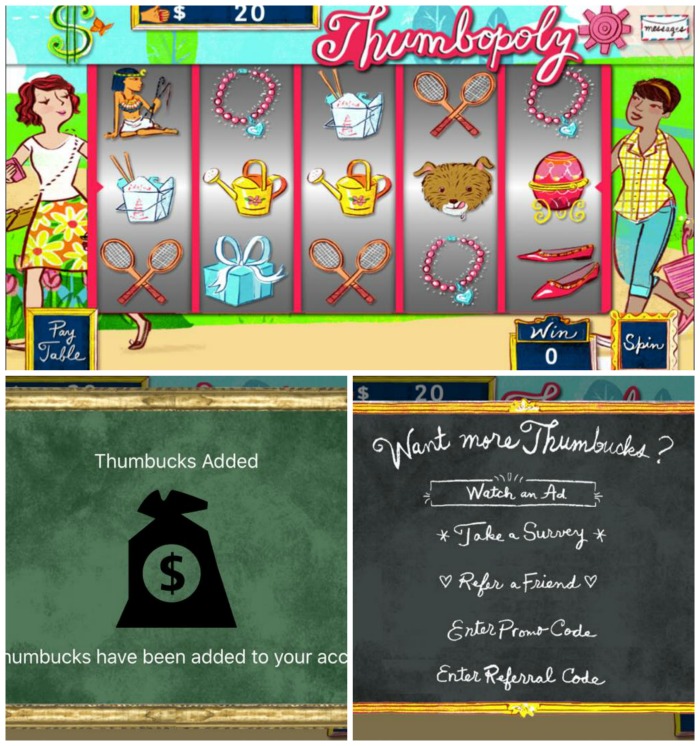 The app is free and can be found in the app store for Apple or Android. This fun game gives you chances to win elite prizes from premium brands. It also gives you great, money-saving coupon codes to some of your favorite stores. When you win, you are instantly contacted via email.
Just download the app to your mobile phone or tablet, start earning Thumbucks and spin to win – it is that simple. You get a daily alloted amount of Thumbucks, but your earning limits are endless. You can hit the dollar sign ($) in the upper lefthand corner, and find various ways to earn more. With quick ads, surveys and even referring friends, you will rack up Thumbucks to keep spinning in no time.
Don't get down and out this winter. Keep your throat moist and fresh with Pine Bros. and keep your thumbs active with Thumbopoly.
Want to stay connected with Pine Bros. for all of their latest product and sales information? Follow along: