Pound Puppies: Showstopping Pups on DVD April 12
This post may contain affiliate links or I may have received the product free in exchange for my honest review. See full disclosure for more information.
Pound Puppies: Showstopping Pups on DVD April 12 from Shout! Factory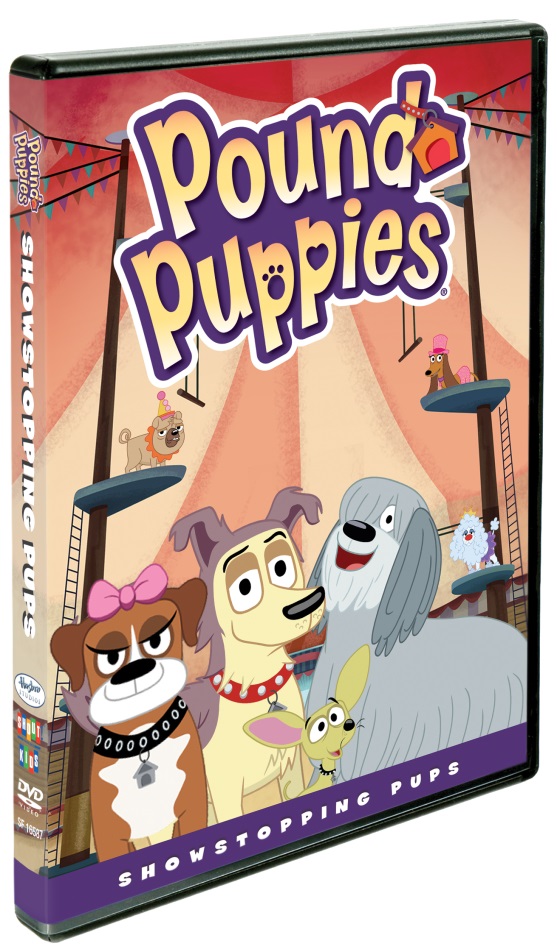 The canines find new pup-ularity in five fun-tastic tales!  On April 12, 2016, join the pound puppy pals in Pound Puppies: Showstopping Pups, on DVD everywhere from Shout! Factory Kids and Hasbro Studios. Priced to own with an SRP of $12.99, this DVD is sure to be a hit with Pound Puppies lovers big and small.
The Pound Puppies are in the spotlight for this brand-new collection of adventures from Shelter 17! Join Lucky, Niblet, Cookie, Squirt and Strudel as they display their song-and-dance skills, solve a mystery, become superheroes and encourage a faded TV star to return to glory!
Episodes Include:
The Accidental Pup Star
It's Elementary, My Dear Pup Club
Hot Dawg!
The Watchdogs
Back In Action
Be sure to pick up your copy on April 12th!
About Hasbro Studios
Hasbro Studios is responsible for entertainment brand-driven storytelling for Hasbro across television, film, commercial productions and short-form content.  It develops, produces and distributes TV shows based on Hasbro's world class brands, including TRANSFORMERS, MY LITTLE PONY, LITTLEST PET SHOP and FAMILY GAME NIGHT.  Many of these shows air on Discovery Family Channel and on networks in more than 180 territories globally.  Since its formation in 2009, the studio has received nine Daytime Emmy wins.
On the film side, the studio has developed and produced a number of features based on Hasbro's brands.  In addition to partnering with leading studios, the Company intends to make movies based on new and existing Hasbro brands for audiences globally through the Allspark Pictures film label.  Films in development or planned for release, include G.I. JOE 3 (Paramount), JEM AND THE HOLOGRAMS (Universal & Allspark Pictures), MAGIC: THE GATHERING (21st Century Fox) and an animated feature based on MY LITTLE PONY (Allspark Pictures).
About Shout! Factory
Shout! Factory, LLC is a diversified multi-platform media company devoted to producing, uncovering, preserving and revitalizing the very best of pop culture.  Founders Richard Foos, Bob Emmer and Garson Foos have spent their entire careers sharing their music, television and film favorites with discerning consumers the world over. Shout! Factory's entertainment offerings serve up feature films, classic and contemporary TV series, animation, live music and comedy specials in lavish packages crammed with extras.  Shout's audio division boasts GRAMMY®-nominated box sets, Broadway cast albums, new releases from storied artists, lovingly assembled album reissues and indispensable "best of" compilations.  In addition, Shout! Factory maintains a vast digital distribution network which delivers video and audio content to all the leading digital service providers in North America.  Shout! Factory also owns and operates Shout! Factory TV, Scream Factory, Timeless Media Group, Westchester Films, Biograph Records, Majordomo Records, HighTone Records and Video Time Machine. These riches are the result of a creative acquisition mandate that has established the company as a hotbed of cultural preservation and commercial reinvention.  Shout! Factory is based in Santa Monica, California. For more on Shout! Factory, visit shoutfactory.com