React Mobile Safety App ~~ A must-have download for your smartphone
This post may contain affiliate links or I may have received the product free in exchange for my honest review. See full disclosure for more information.
As a mother, safety is always a priority with me when it comes to my children.  There are several mobile safety apps available, but React Mobile is a leader in their market when it comes to safety mobile apps.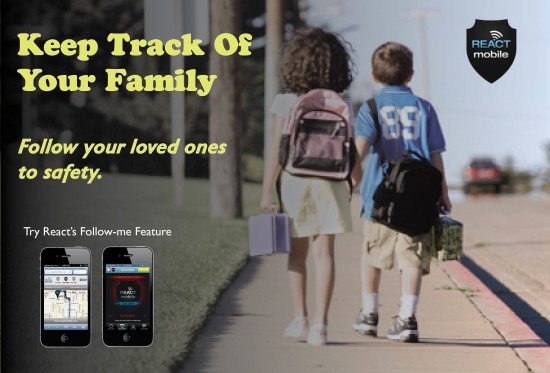 Available as a FREE Download on iTunes & Google Play, React Mobile has many amazing features that are simple and easy to use and give you a better peace of mind when it comes to your safety, as well as that of your children.
Simply press the shield symbol to active React mobile (screenshot below):
What Moms Like About React Mobile
React Mobile is an app that allows your smartphone to transform into a lifeline. The app includes a "Follow Me" feature that lets the user select contacts that can track where they are at any given moment. This is perfect for when your kids are going out with friends, when you have to work late, or when you are going to meet someone for the first time. Once you are, at your location, you can then press the "I'm Safe" button and your contacts will know that you are okay.
You can add contacts manually or via your existing contacts lists and, when activated, React Mobile will send an SOS alert to everyone on your list of contacts.  The alerts can be sent via SMS/text, email and Facebook with your GPS coordinates to let everyone know exactly where you are.
Another nice feature is that whenever you activate your SOS alert, you will automatically be prompted to call "911". For users outside of North America, the app allows you to choose which country you live in (or are traveling to) from the settings tab and when an SOS alert is triggered, you will be prompted to dial the appropriate emergency authority depending on you're geographic location.
You can check out this informative video to see just how React Mobile works:

React Mobile Personal Safety App from Robb on Vimeo.
With the "Follow Me" feature, this allows you to select certain contacts of your whereabouts without notifying everyone on your contacts list.
Add this amazing free app to your and your children's smartphones today and have a better peace of mind and safety when you are alone or away from your kids. After gaining information from React Mobile, I immediately added this app to my daughter's smartphone.  She is 16 and a responsible teenager, and I never know what can happen when she isn't with me, but I have a better peace of mind knowing she is versed well with the details of this app and has it available under ANY circumstances to use and notify myself, family, friends and even the authorities when she is in danger.
Disclaimer: This is a sponsored post; however, the opinions are 100% my own.