Tuna has been a staple in my home for as long as I can remember. From easy tuna salad to tuna casseroles, it makes for quick wholesome meals. Or, so I thought! I have been hearing more and more about mercury levels in fish and its toxic effects. It is especially dangerous for young children and pregnant women as it puts children and babies at risk for learning disabilities. As far as I am concerned, it is not something I want in my tuna either! That is when I started looking for a safe, pure tuna and found Safe Catch Elite Tuna!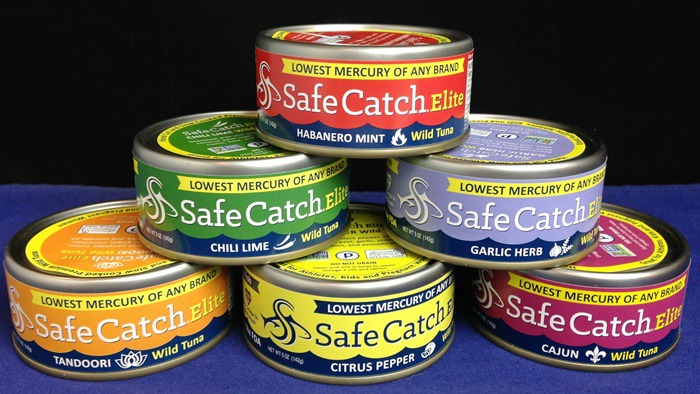 Safe Catch Elite Tuna is not only healthier, but also delicious! And, to my surprise, it comes in wonderfully spiced and yummy combinations. Let me introduce you to Safe Catch and then I will tell you more about their yummy tunas!
Safe Catch's mission is to provide pure seafood and protect purity in our oceans, lakes, and rivers. They provide 100% tested, sustainable seafood that is traceable all the way from their captains to your kitchen table. Fishing responsibly is important, protecting our fish from impurities is even MORE important.

Mercury is a serious threat to everyone's health, and the majority of mercury is emitted into the air by coal-fired power plants. Contamination of our air and water ways will continue unless there is a voice for change.

Together, we can be that voice! When you purchase Safe Catch products, you will be giving back to help educate and stop mercury emissions into our air, water, fish and inevitably…YOU!

Sustainably Caught
From an eco-friendly stand point, we love that Safe Catch only sources sustainably caught Pole and Line and FAD Free tuna. Their tuna can be traced from catch to can. They insure this by only buying from captains whose fish come from managed and sustainable tuna stocks.
Safe Catch Test EVERY Fish!
Safe Catch can assure purity by testing every single fish for mercury and only buying ones that meet their strict standards. They insure their standards by testing every single fish for its mercury content. That is a lot of testing, but it is the Safe Catch way! If it doesn't meet their level of purity standards they don't buy it! It is as simple as that. It still may be a good tuna, but it's not a Safe Catch tuna. Their limit for Safe Catch Elite Wild Tuna is ten times (10x) stricter than the FDA mercury action limit. Their limit for Safe Catch Wild Albacore Tuna is three times (3x) stricter than the FDA mercury action limit.

You may ask – Why test every tuna?
All the fish may seem identical. They are the same size and swim in the same school. But, it isn't always as easy as that. In reality, about 1 out of 3 tuna tested do not pass Safe Catch's strict purity standards. And, did you know that Safe Catch is the only brand that test EACH and EVERY fish?! They are the ONLY brand that does!
Delicious Taste
After selecting their fish, Safe Catch hand-cuts, hand-packs, and slow cooks solid tuna steaks to seal in all the nutrients and flavor. Because of machine processing, most canned tuna loses flavor and the majority of Omega 3s. This is why Safe Catch hand packs pure, raw tuna steaks! It retains all the good nutrients. Then, they slow cook them to delicious perfection.
Safe Catch Tuna is Pure Tuna
Safe Catch tuna DOES NOT CONTAIN any fillers or additives. Their tuna is non-GMO verified and BPA-Free. What you get is 100% pure tuna! It is pure tuna with an amazing flavor!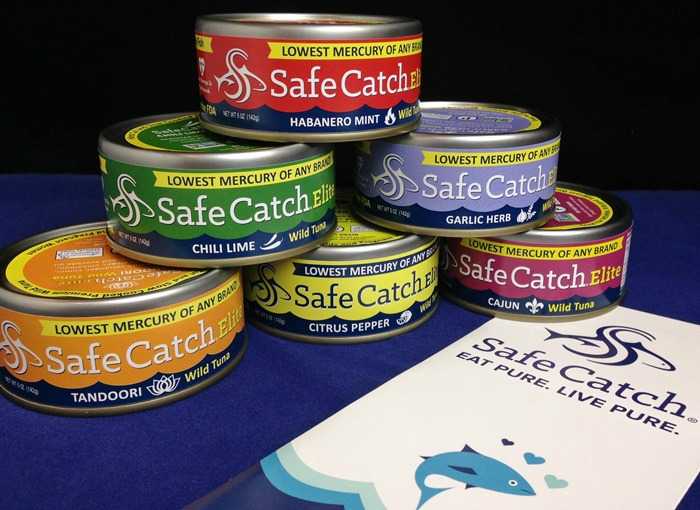 Safe Catch Elite Tuna Comes in a Variety of Delicious Flavors!
Other than their regular flavor of tuna, I am loving the delicious spice blends such as:  Habanero Mint, Chili Lime, Garlic Herb, Tandoori, Citrus Pepper, and Cajun. Along, with trying my own tuna salads and casseroles, I have also been trying a few of the Safe Catch recipes. There are some seriously mouth-watering recipes on their site! It brings a whole new level to tuna deliciousness!
Safe Catch Elite Benefits in a nutshell:
They are the ONLY Brand to Test Every Fish for Mercury
The ONLY Brand to Test to a Stricter Mercury Limit than the FDA
The ONLY Brand that Test as Pure as Wild Salmon
They are the ONLY Brand that Meets Consumer Reports 'Low Mercury' Criteria
Seafood Watch Sustainability Partner
Hand Cut, Hand Packed, Slow Cooked Artisan Process
Minimal Processing – All Omega-3s and Nutrients Retained
35g Lean Protein
Paleo Certified
Visit Safe Catch to learn more and check out the delicious tuna spice blends! And, of course, they also have original tuna and albacore – nothing added. Keep your family safe while providing delicious mouth-watering meals prepared with their 100% pure tuna! Tuna never tasted so good! Find a store near you using their convenient store locator tool!
Connect socially with Safe Catch