Save 25% OFF ALL Superior Source Vitamins on CVC4Health.com #SuperiorSource #CVC4Health
This post may contain affiliate links or I may have received the product free in exchange for my honest review. See full disclosure for more information.
Now that Spring is here, that means that allergies are going to start kicking in and I need all the help I can get. Now, more than ever, it is imperative to make your health Priority #1 and it can be done with the right mindset and some great assistance of Superior Source Vitamins. To help you get into the right frame of mind, Superior Source Vitamins are ON SALE for 25% off at CVC4health!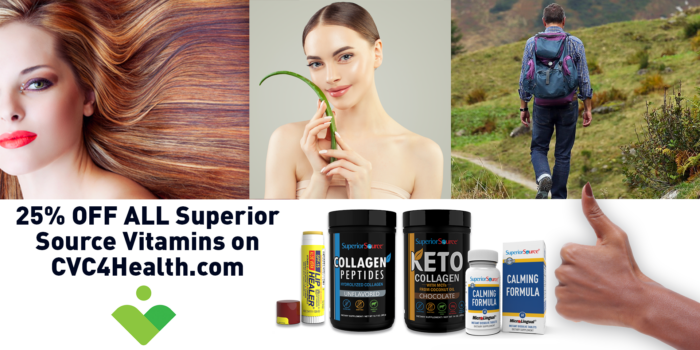 The month of March is featuring the CVC4Health.com website that exclusively carries the Superior Source Vitamins. Get your favorite vitamins for a healthy 25% off all products, plus enjoy the benefits of their newest best-selling product – Collagen Peptides powder (just mix it into your favorite drink). Buy 1 Get 1 50% OFF (a savings of over $20); and Lip Healer Lip Balm 3-pack (Buy 1 3-Pack, Get 1 3-Pack FREE).
Superior Source Vitamins are MicroLingual® – "Under the Tongue Technology". They work fast and are quickly absorbed into the body, dissolving in seconds – NO pills to swallow! Supplements that are swallowed lose as much as 50% of the potency in the high acid environment of the stomach.
No pills to swallow
GMO FREE and Sugar FREE
90% smaller than regular vitamins
No chemical binders or fillers
Make Your Health Priority #1!
Let's look at the vitamins that can help keep your loved one healthy!
Collagen Peptides – Special Buy 1 Get 1 50% OFF
Collagen is the most abundant substance in the body and helps give structure to our hair, skin, nails, bones, ligaments, and tendons. When we get older, the production of collagen begins to slow down. Supplementing with collagen peptides (or hydrolyzed collagen) may help with the body's need for these building blocks.
Benefits: Unflavored with No Additional Ingredients • 18 grams of Protein per Serving • Only 70 Calories Per Serving • From Grass-Fed Corn
Directions: As a dietary supplement, mix two scoops of Superior Source Collagen Peptides with 8 to 10 ounces of water or your favorite beverage.
Calming Formula
Calming Formula combines L-Theanine, 5-HTP and Melatonin in an all-natural formula designed to support calmness and healthy sleep. L-Theanine is an amino acid that is found in tea leaves; it promotes relaxation and facilitates sleep by contributing to a number of changes in the brain. L-Theanine elevates levels of GABA, as well as serotonin and dopamine. 5-HTP supports the production of serotonin, an important substance for healthy nerve and brain function and the normal regulation of mood and normal sleep patterns These chemicals are known as neurotransmitters, and they work in the brain to regulate emotions, mood, and sleep; increasing levels of these calming brain chemicals promotes relaxation and can help with sleep. Melatonin acts as a natural aid for healthy sleep regulation and the promotion of normal sleep cycles.
Coenzyme B Complex
Superior Source Coenzyme B Complex is formulated with the "activated" forms of the B vitamins. It provides the nutrients that support energy production and optimal health. Folate promotes the production and maintenance of new cells and supports nervous system health and energy metabolism. The combination of Vitamin B-12, Vitamin B-6 and Folic Acid works synergistically to support healthy heart function and provide essential nutrients for the cardiovascular system.
Lip Healer – Lip Balm: 3-Pack – Special Buy 1 Get 1 3-Pack FREE
All Natural "Lip Healer" Lip Balm is Petroleum free and contains Aloe Vera, Vitamin E, Calendula and Chamomile to soothe and moisten lips while providing SPF-15 protection from the Sun's rays.
Where can you find Superior Source Vitamins & Supplements
You can find these MicroLingual® vitamins and all Superior Source Vitamins at major retailers. Use their handy store locator tool to find a store near you. Or, you can purchase from online retailers!
Hurry and stock up on these savings exclusively at CVC4Health.com today and make your health priority #1, not just the month of March, but all year long.
Connect socially with Superior Source