"Scooby-Doo The Sword and the Scoob" on DVD and Digital February 23, 2021
This post may contain affiliate links or I may have received the product free in exchange for my honest review. See full disclosure for more information.
The Scooby-Doo gang is transported to the mythical castled city of Camelot in Scooby-Doo The Sword and the Scoob a brand-new, full-length animated family film set for release on DVD and Digital February 23, 2021 by Warner Bros. Home Entertainment. Produced by Warner Bros. Animation, Scooby-Doo The Sword and the Scoob takes our favorite teen sleuths on a trip to England to trace Shaggy's family roots, where they suddenly find themselves in the Middle Ages and meet the legendary King Arthur and his noble knights. It's an unforgettable adventure inspired by medieval legends and fantasy that the whole family can enjoy together. Scooby-Doo The Sword and the Scoob retails for $19.98 SRP ($24.98 SRP Canada) for the DVD.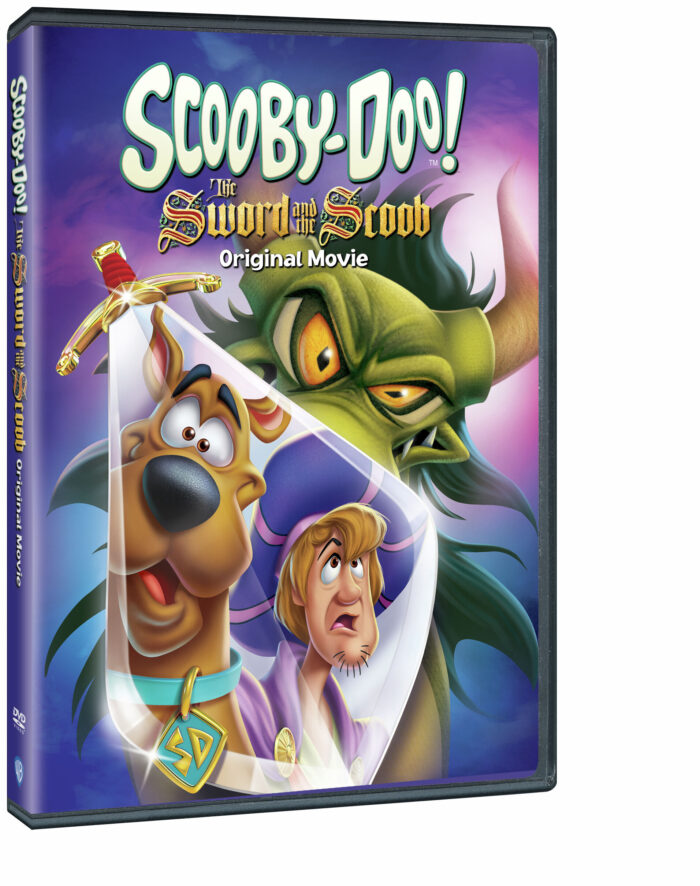 Take a journey back in time to King Arthur's court in this legendary saga of wizards, knights, dragons…and Scooby-Doo! An evil sorceress tries to seize power in Camelot, so King Arthur needs the help of our favorite super sleuths to save his throne. But will their valiant efforts only make things royally worse? This new movie serves up laughter on a platter, and Scooby and Shaggy are ready to dig in!
Scooby-Doo! The Sword and the Scoob features the familiar voice talents of Frank Welker as Scooby-Doo/Fred Jones, Grey Griffin as Daphne Blake, Matthew Lillard as Shaggy Rogers and Kate Micucci as Velma Dinkley. The film also features Jason Isaacs as King Arthur Pendragon and Nick Frost as Merlin. Scooby-Doo! The Sword and the Scoob was executive produced by Sam Register and produced by Maxwell Atoms, Spike Brandt, Jim Krieg and Colin A.B.V. Lewis. The film was directed by Atoms, Christina Sotta and Mel Zwyer, and was written by Jeremy Adams.
Scooby-Doo The Sword and the Scoob
will be available to own on Digital on February 23, 2021. Digital purchase allows consumers to instantly stream and download to watch anywhere and anytime on their favorite devices. Digital movies and TV shows are available from various digital retailers including Amazon Video, iTunes, Google Play, Vudu and others.
Scooby-Doo The Sword and the Scoob will also be available to own on Digital for $14.99 SRP (US and Canada) on February 23, 2021.
About Warner Bros. Animation
Warner Bros. Animation (WBA) is one of the leading producers of animation in the entertainment industry, producing and developing projects for multiple platforms, both domestically and internationally. WBA's current series include Animaniacs for Hulu, Green Eggs and Ham for Netflix, Aquaman: King of Atlantis, Gremlins: Secrets of the Mogwai, Jellystone, Little Ellen and Looney Tunes Cartoons for HBO Max, Harley Quinn and Young Justice: Outsiders and Phantoms for DC UNIVERSE, DC Super Hero Girls, Teen Titans Go!, ThunderCats Roar and Unikitty! for Cartoon Network, Bunnicula, Dorothy and the Wizard of Oz, New Looney Tunes, Scooby-Doo! and Guess Who?, The Tom and Jerry Show, Wacky Races and Yabba-Dabba Dinosaurs! for Boomerang. WBA's full-length theatrical film, Teen Titans GO! to the Movies, was released in summer 2018. As home to the iconic animated characters from the DC, Hanna-Barbera, MGM and Looney Tunes libraries, WBA also produces highly successful animated films — including the DC Universe Movies — for DVD, Blu-ray® and digital media. One of the most-honored animation studios in history, WBA has won six Academy Awards®, 35 Emmy® Awards, the George Foster Peabody Award, a BAFTA Children's Award, an Environmental Media Award, a Parents' Choice Award, the HUMANITAS Prize, two Prism Awards and 20 Annie Awards (honoring excellence in animation).
About Warner Bros. Home Entertainment Inc.
Warner Bros. Home Entertainment (WBHE) brings together Warner Bros. Entertainment's home video, digital distribution and interactive entertainment businesses in order to maximize current and next-generation distribution scenarios. An industry leader since its inception, WBHE oversees the global distribution of content through packaged goods (Blu-ray Disc™ and DVD) and digital media in the form of electronic sell-through and video-on-demand via cable, satellite, online and mobile channels, and is a significant developer and publisher for console and online video game titles worldwide. WBHE distributes its product through third party retail partners and licensees.