Sky Wellness CBD Products for Pets and People
This post may contain affiliate links or I may have received the product free in exchange for my honest review. See full disclosure for more information.
CBD has become a staple in many households nationwide the last several years. It has many health benefits and is great for not only yourself, but even your pets. I know it was CBD oil that helped me cope with the initial onset of the pandemic and I haven't looked back when using CBD. Here are some of your favorite products from Sky Wellness that you should check out.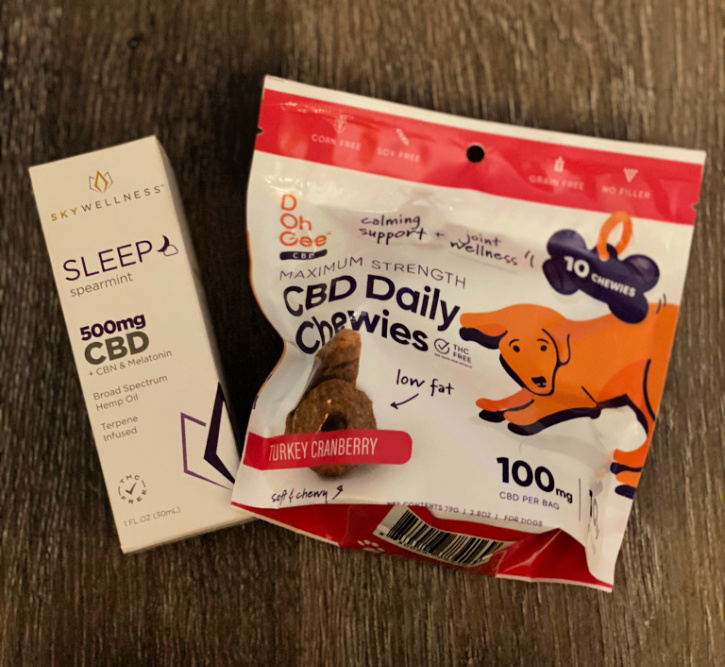 CBD Sleep Oil Drops 500mg + CBN + Melatonin – The collection of sleep assist CBD products by Sky Wellness is the perfect combination of CBD, CBN, and melatonin. CBN – the cannabinoid for sleep – has been studied for anti-insomnia effects and may be one of the strongest cannabinoids in promoting healthy sleep habits. These oil drops are made from pure, high quality, cannabidiol oil from USA-grown and manufactured hemp. The all-natural flavor is subtle and soothing. $54.99
CBD Immunity Gummies 125mg + CBG + Elderberry – Each Immunity softgel includes 25 milligrams of pure, THC free, broad spectrum hemp extract. The product contains no GMOs, pesticides, or gluten. Immunity softgels combine CBD and CBG with several other naturally occurring cannabinoids, terpenes, and nutrients from the hemp plant. In addition to those benefits, the formula is enhanced with natural elderberry and vitamin C to offer full immunity support. $11.99
Sky Wellness CBD Skincare Routine Bundle – Studies have shown CBD may have a few benefits for skincare with one study from 2014 noting the possibility of anti-inflammatory effects on skin cells that produce sebum. Additionally, a study from 2009 indicated that CBD might help with dry and dehydrated skin. You can experience these benefits with Sky Wellness's curated collection of CBD skincare products for face and body. The set includes a Facial Spa Oil, Eye Cream Triple Action Renewal, Regenerative Sculpting Cream and Body Glow Butter. $99.99
CBDaF! Gummies 160mg – These awesome award-winning CBD gummies from the CBDaF! collection is made only from the highest quality raw materials in the cleanest, safest, certified facilities, all verified via rigorous third-party testing. And not only are these lab tested but they're also taste tested and really the best on the market. They're also vegan, gluten free, fat free, made from USA-grown hemp, and manufactured in the USA. $8.99
D Oh Gee CBD Daily Turkey Chewies – Celebrate the day with your pet friends and give them these award-winning CBD treats from D Oh Gee that are formulated with 10mg of CBD per chew and 100mg in total per bag. The product has been expertly formulated for supportive, natural care with a top focus on your pup's physical and mental well-being. These treats are made from premium turkey, real cranberries, and are free from corn, soy, and wheat, unlike most other CBD edible products for dogs. They're also free of additives, fillers and preservatives. $11.99
Stay connected with Sky Wellness to see all that they have to offer