Talking with Director Domee Shi and Producer Becky Neiman of Pixar Animation Short "BAO" #Incredibles2Event
This post may contain affiliate links or I may have received the product free in exchange for my honest review. See full disclosure for more information.
Something has been cooking up for a while now and the end result is a tasty new animated short from Pixar. Created and directed by Domee Shi, BAO is a story of love, loss, family and growth.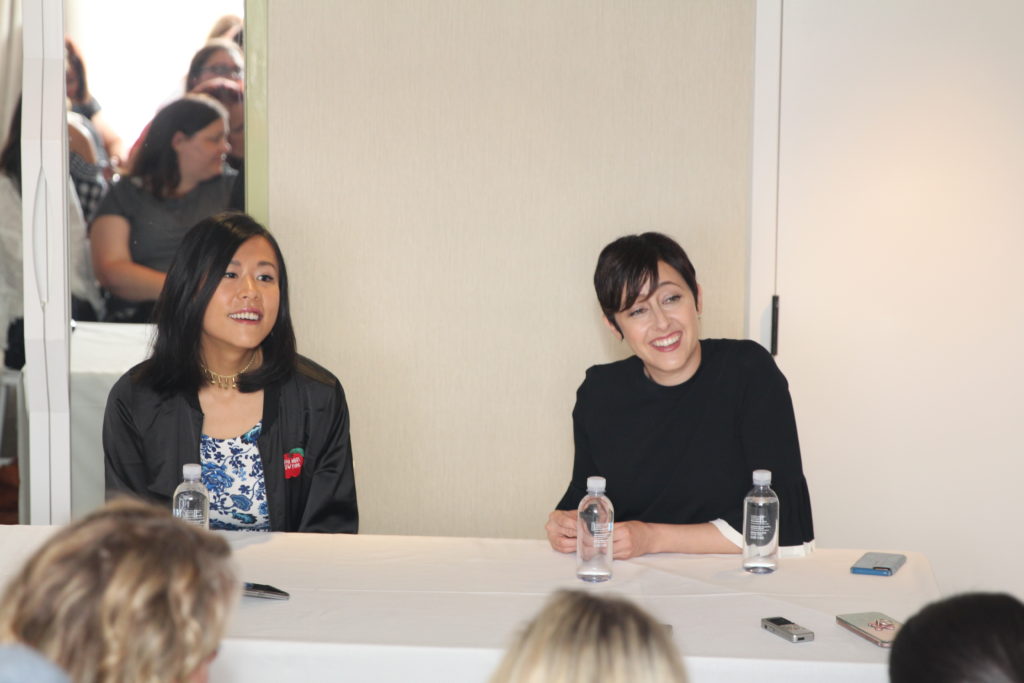 While in LA last week, we had the chance to interview Domee Shi and Producer Becky Neiman and get a more in-depth understanding of BAO.
Here is a small clip of BAO:
A bit of amazing information right out of the gate is that Domee Shi is the first female director of a Pixar short! The first question was directed at Domee, asking what was her inspiration for BAO and how it came to fruition.
Oh, I came up with the idea over four years ago, technically. I think it was in my office late one night and I was really hungry. I really wanted to, one, just like do a modern take on a classic fairytale like "The Little Gingerbread Man" but with a Chinese dumpling. 

I was like just doodling in this image of this mom nuzzling her little baby boy dumpling to death. It just popped into my head. I had to draw it out, and as I was drawing I started developing this story. I was also drawing a lot of inspiration from my own life growing up.

I'm an only child, and ever since I was little, I feel like my mom and my dad have always treated me like a precious little dumpling, always making sure that I'm always like safe and never wandered away too far. So, I didn't wander away too far. I want to explore that relationship between this parent and this child and this mom character learning to let go of her little dumpling.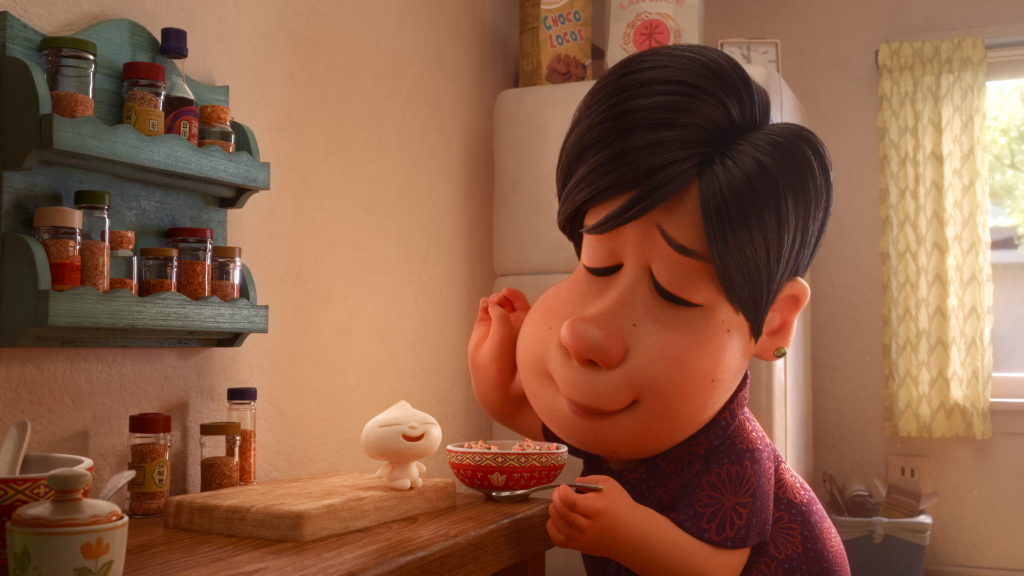 We were so excited to learn that her mom was there with her during the interview. As a mother myself, I occasionally glanced over at the mom and you see the pure amount of pride and joy she had on her face for her daughter, Domee.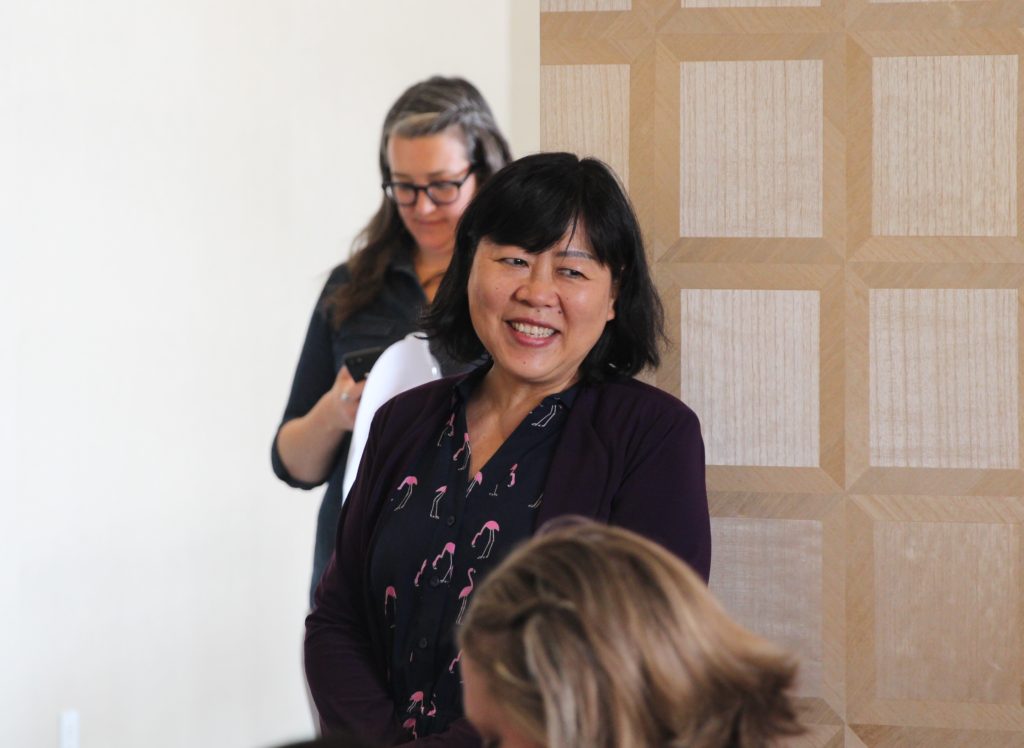 Becky Neiman gave us a little insight into what BAO means – "The title Bao has two meanings. One is steam bun and one is treasure or something precious."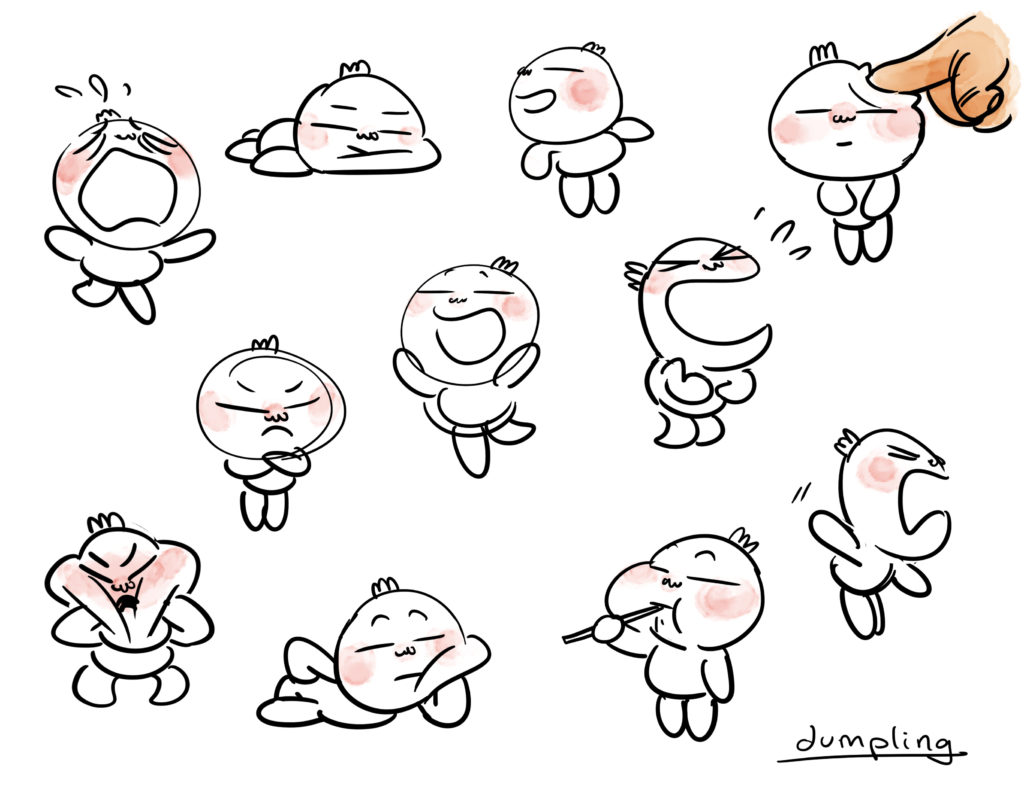 When asked why she choose the point-of-view of the mother in the short, Domee shared why:
Yeah, I feel like — well, when I'm coming up with stories or when I'm developing any art or anything like that, I wanna learn something new as well. And if it was just from the dumplings point-of-view, like I already know…'cause that's me. I guess I wanted to know what it was like for my mom, like learning to let go of me. So, I decided to explore this idea from the parents' point-of-view.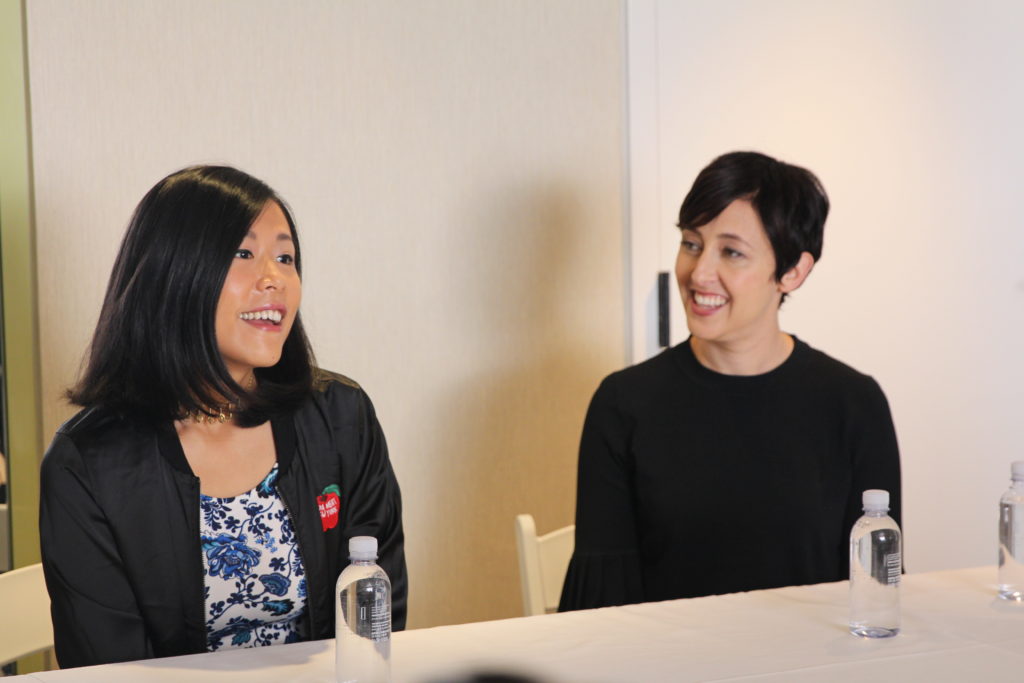 Becky and all of the bloggers in the room agreed that Domee did an amazing job portraying it from the mother's POV. I, as a mom myself, really resonate with this short. My own daughter is 21 and will be leaving the next soon, leaving me to explore a new, unknown chapter in my own life.
Interesting fact – she actually consulted extensively with her mom during the creative process, including how to actually make the Chinese dumplings.
So, it was really important for us to get all of those little details right and to get the animators and effects artists in there studying my moms technique of how she folds the dumpling exactly and kneads the dough and just, you know, poking the dough and smelling the pork filling. 'Cause it was important to get those details right, like just to get them as accurate as possible on the big screen.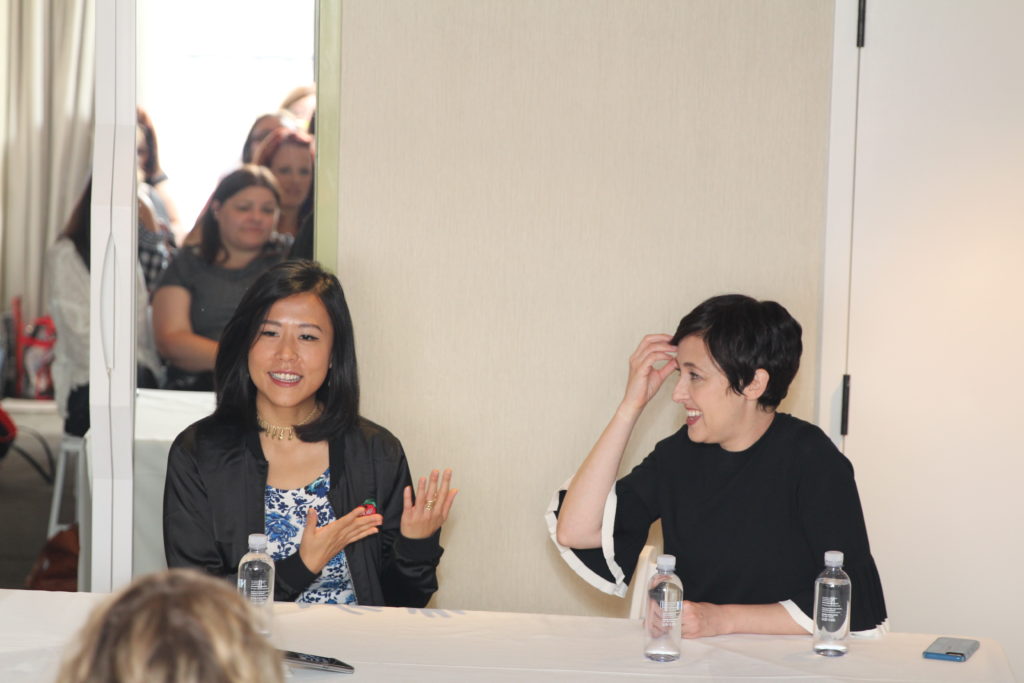 The film was recently shown at Tribeca Film Festival and Domee and Becky both were amazed and how people of all ages, gender and roles in a family or single related to the short.
Becky: …at Tribeca we had a woman come up to us and she said, 'you know, my boyfriend he never cries. He's like not very emotional, but he sobbed at your short. We just need to make sure you guys know this.' And that made us —

Domee: Made a grown man cry.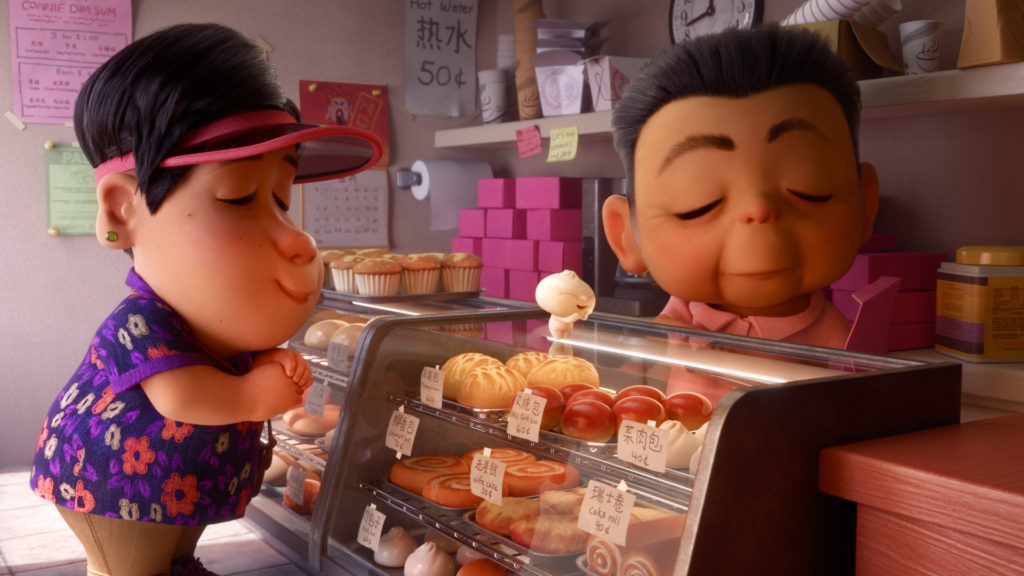 When many of the moms, including myself, commented how relateable the short is to we, as moms of those kids getting ready to enter the world the as young adults, Becky added:
Thank you. Yeah, we have found that this (is a) very unique and culturally specific story, but the themes are so universal. We found that with our crew, you know, anybody who would join would just be like 'I am (the) Dumpling. I'm the mom. I'm the girlfriend.' You know, I was the dumpling and I became a mom during the making of this short. And then I related more to the mom.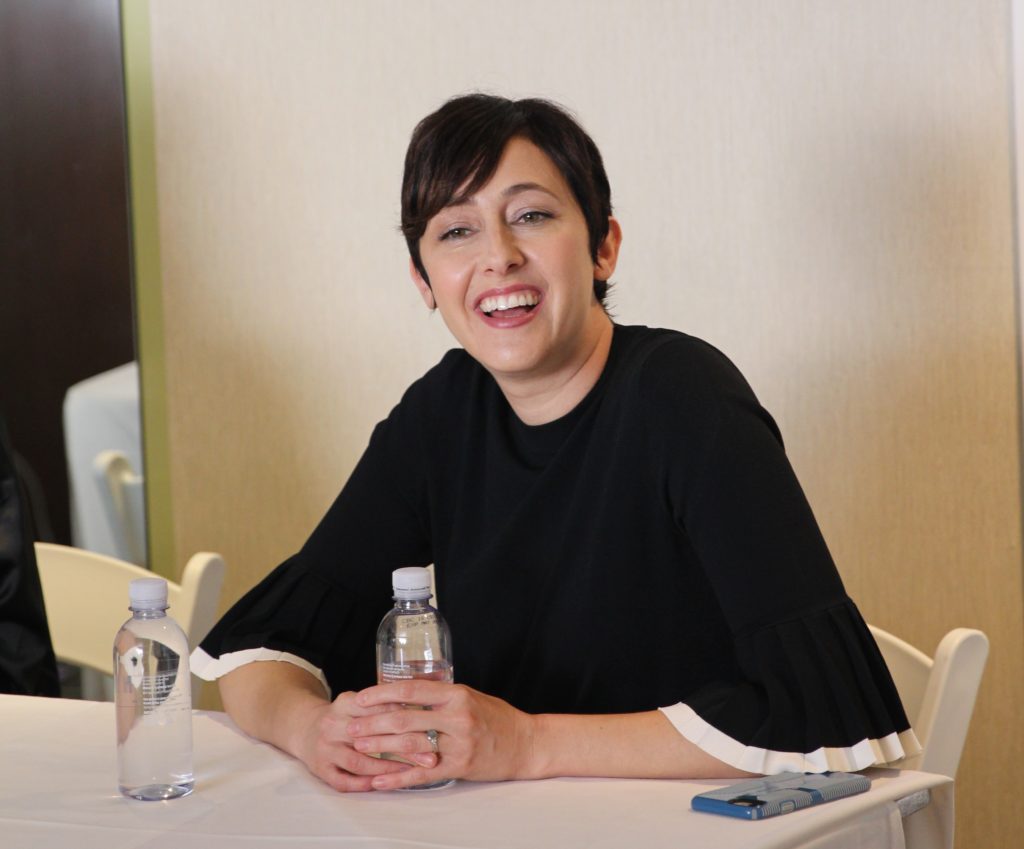 Domee has started at Pixar as an intern and knows how their processes work. We asked about the rules of storytelling and how they work with making BAO.
Domee: Oh, we definitely we follow one protagonist. I think that's really important to kinda just pick your main character and then like follow them emotionally throughout the whole story.

And for us the main character was the mom character. We tried to tell the whole story from her point-of-view. And we tried to get the audience to be feeling what she's feeling on screen and to never feel like they were ever ahead of her or behind her like emotionally. 

Becky: Yeah, even when we were working with our composer, that would be the direction that we would give them. Like, 'Mom feels terrible right now. Like, the music needs to reflect that, or Mom's really — you know, this is a happy time for her.' They're really connected. And all of the, even the lighting direction would support that.

Domee: Like, everything has to support the characters and their emotion throughout the story. So, we couldn't design stuff just for the sake of it looks really cool or colorful. It has to be like, 'okay, where are in the story? Is she feeling really low or lonely, or is she feeling really happy?' And we would design her clothes to be even more colorful if she's feeling really happy and close to dumpling.

Or like the lighting would reflect the relationship between Mom and dumpling. We would separate them with light and shadow when they were growing apart. Then bring them together in like a warm glow when they're closer together.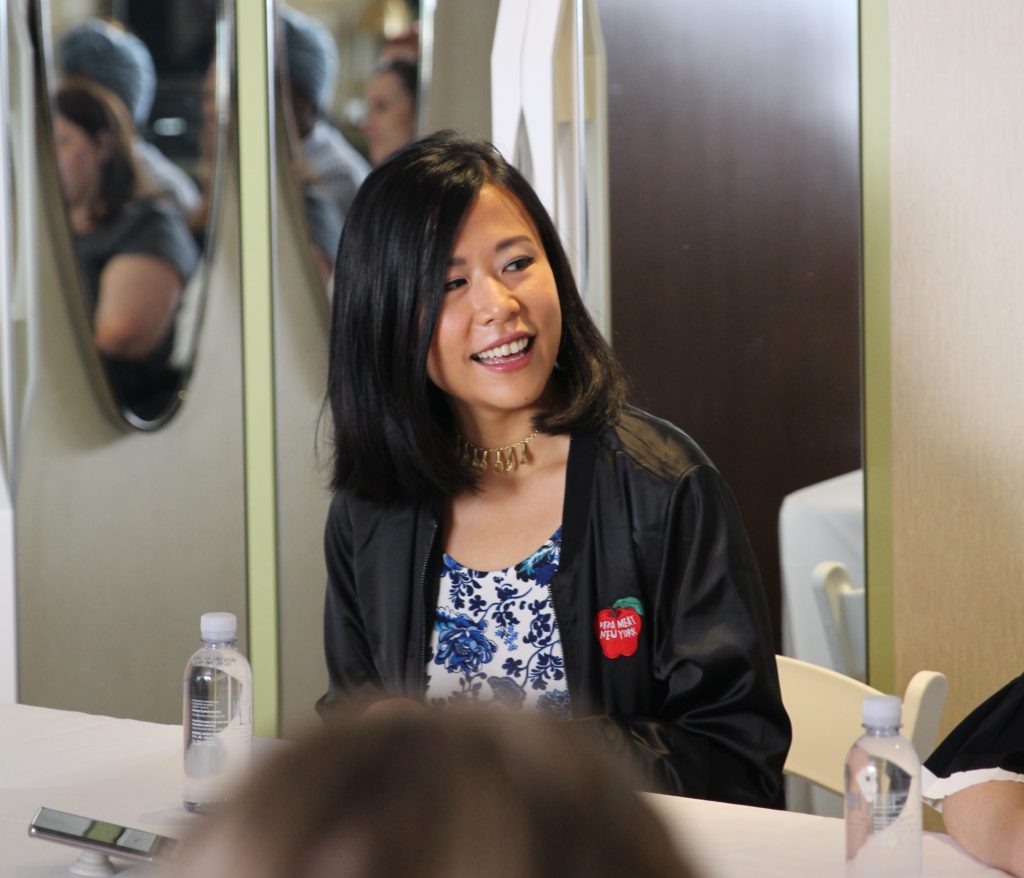 Want to know how to make that delicious dumpling that you can gobble up? Here is the downloadable, step-by-step recipe to follow:
As noted earlier, Domee started at Pixar as an intern in 2011. Here is how she has evolved within Pixar since that time.
So, I came to Pixar as a story intern in 2011, and the story internship is a three-month storyboarding bootcamp, and you just do assignment after assignment.

You pitch to a whole room full of veteran story artists, supervisors, directors, every week. That was like kind of my way of like training myself to be up for this job. Then I didn't know if I was gonna get a position afterwards, but they offered me a full-time position as a story artist on Inside Out afterwards.

So, I worked on Inside Out for about two and a half years, and then I moved on to The Good Dinosaur. Then I moved on to Toy Story 4. I even did a small stint on Incredibles 2. I boarded a lot of the sequences with Edna and the baby.

Those were super fun to board. Then it just so happened that one year Pixar did like an open audition at the studio. 'Anybody who has ideas for short films, you can pitch 'em to us.' And I (was) like 'me, me.' And I then signed up. I pitched three ideas. BAO was one of them. The rest is history.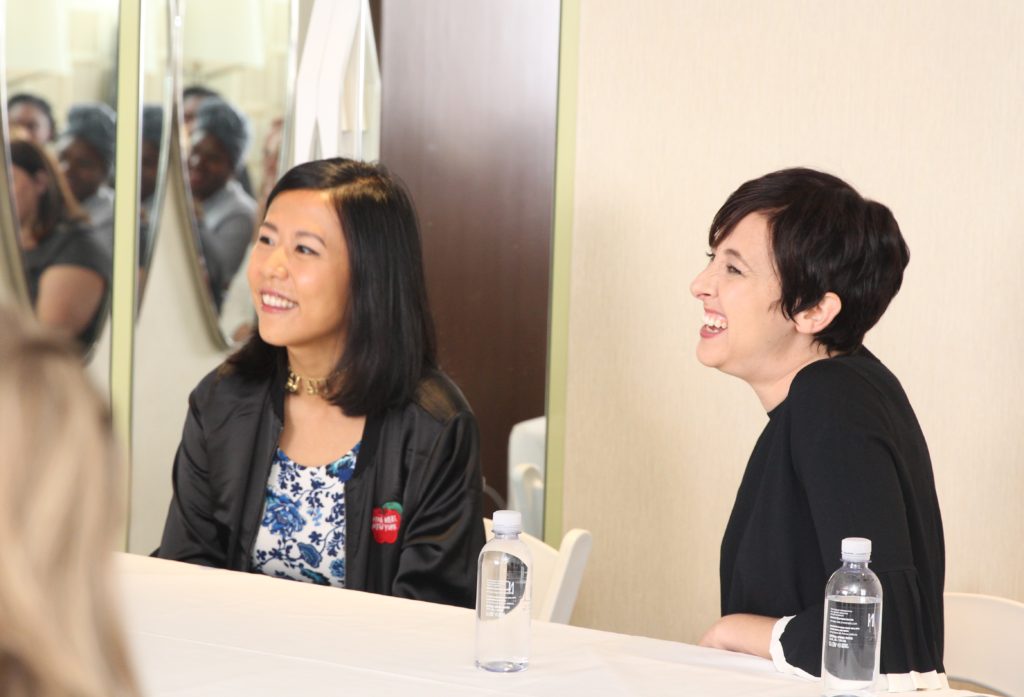 Amazing how she story-boarded part of the Incredibles 2, only to have her short be the opening short for this blockbuster movie! Talking with these ladies was such a delight and I cannot wait for you to see BAO and understand how much work and love went into it.
---
Get ready for an INCREDIBLE TIME!

ABOUT THE MOVIE
Everyone's favorite family of superheroes is back in "Incredibles 2" – but this time Helen (voice of Holly Hunter) is in the spotlight, leaving Bob (voice of Craig T. Nelson) at home with Violet (voice of Sarah Vowell) and Dash (voice of Huck Milner) to navigate the day-to-day heroics of "normal" life. It's a tough transition for everyone, made tougher by the fact that the family is still unaware of baby Jack-Jack's emerging superpowers. When a new villain hatches a brilliant and dangerous plot, the family and Frozone (voice of Samuel L. Jackson) must find a way to work together again—which is easier said than done, even when they're all Incredible.
Voice Cast includes Craig T. Nelson, Holly Hunter, Sarah Vowell, Huck Milner, Samuel L. Jackson, Brad Bird, Bob Odenkirk, Catherine Keener, Jonathan Banks, Sophia Bush and Isabella Rossellini
Here is the OFFICIAL Trailer!
In theaters on June 15th, 2018, stay connected socially with Disney•Pixar's INCREDIBLES 2 for the newest film information and clips
 Facebook |  Twitter | Instagram | Website
---