Frozen with Excitement at My Encounter with Frozone's Samuel L. Jackson #Incredibles2Event
This post may contain affiliate links or I may have received the product free in exchange for my honest review. See full disclosure for more information.
I shared yesterday, how much fun I had in Los Angeles last week. We got to see things I had never experienced before, including my first time visit to Disneyland.  I also got to interview some of the talented voice cast of the new Disney Pixar film coming out this Friday, June 15th – INCREDIBLES 2! Check out yesterday's interview Craig T. Nelson (Mr. Incredible) and Holly Hunter (Elastigirl).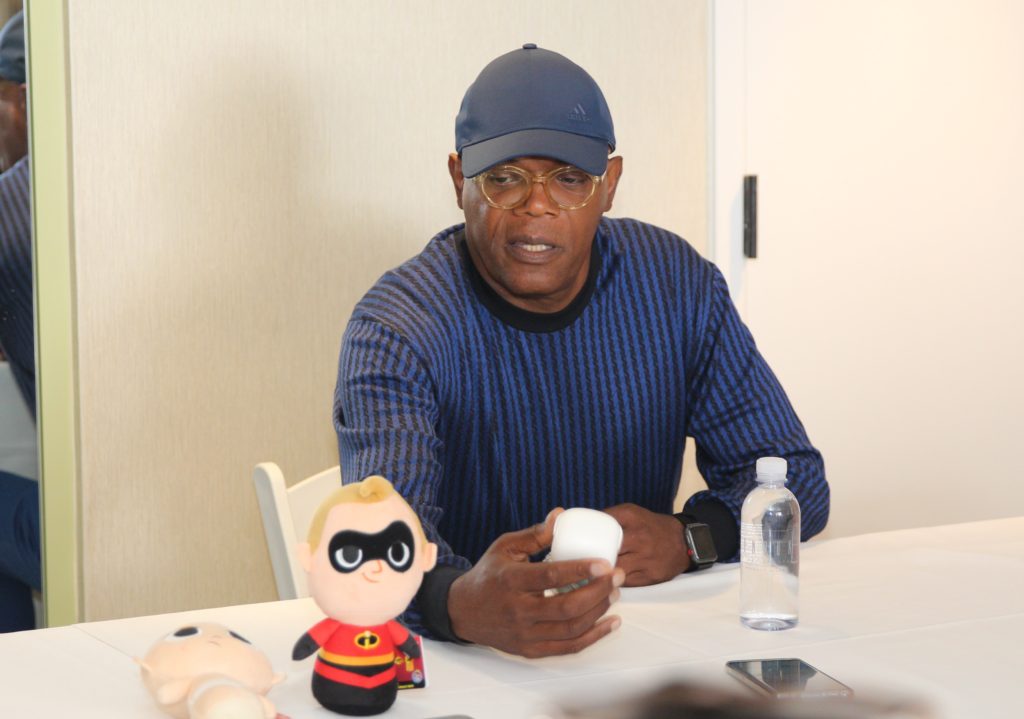 Let's delve right into today's interview and, my personal favorite, Samuel L. Jackson as Frozone! He sauntered into the room as cool and as casual as his character in INCREDIBLES 2Frozone Funko Pop. He noticed his own figure at the table. That opened the dialogue immediately, asking if he collects his own action figures and products from various movies.
Mine. Well that started after- when I did Jurassic Park, they made action figures for everybody but my character.  I was kind of like (WTH look on his face), so after that I kind of insisted.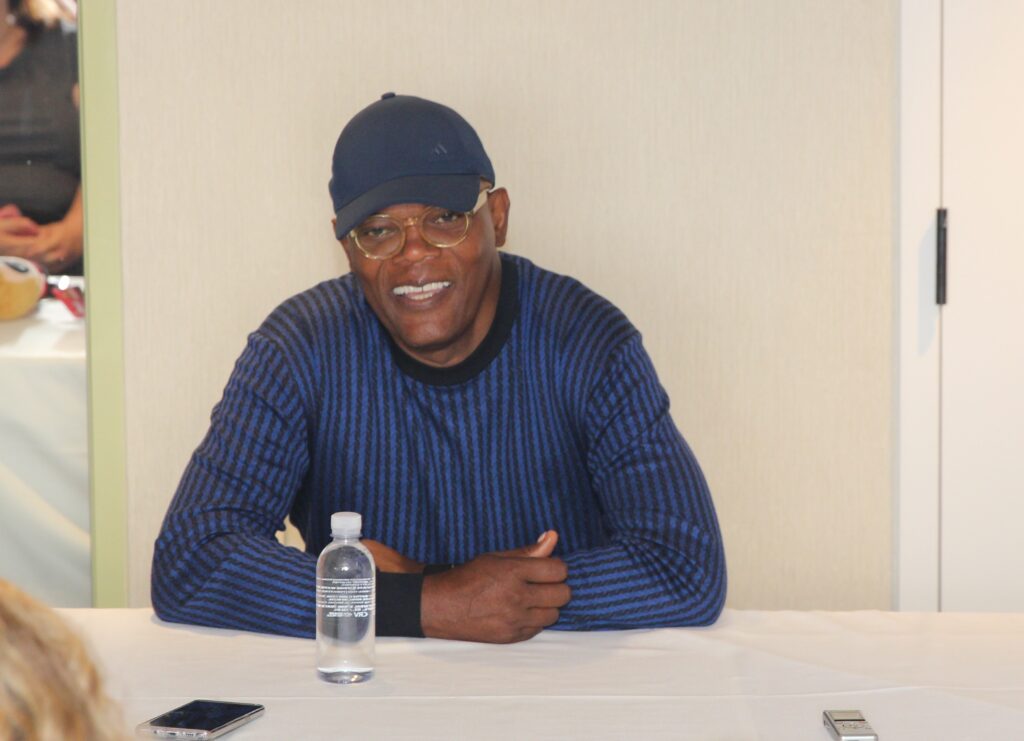 We started in on his thoughts about the sequel and picking up right where they left off in the last movie.
I'm relieved now, I mean that was a lot of pressure. People, my (Twitter) feed is always full of, 'when are they going to make The Incredibles 2', like it was my decision! Now I feel a lot better knowing the pressure has been relieved, they've made it, people can be happy. 

Well you know, it's like I said, people have been asking 'Where where where where! Where is it where is it, where is it, where is it!'because everybody, according to the way the last one ended, everybody just assumed there was going to be another one. 

Then Brad went off and started doing, you know, real people movies, and I don't think they wanted to put it in the hands of anybody else. 

It's also one of those kind of things where the first movie was so perfect, and so awesome, that you got to say to yourself, 'Can we really do something that awesome and just a little bit more awesome the next time so it justifies us doing a sequel?'  I think they accomplished it, you know, I mean the movie is kind of awesome.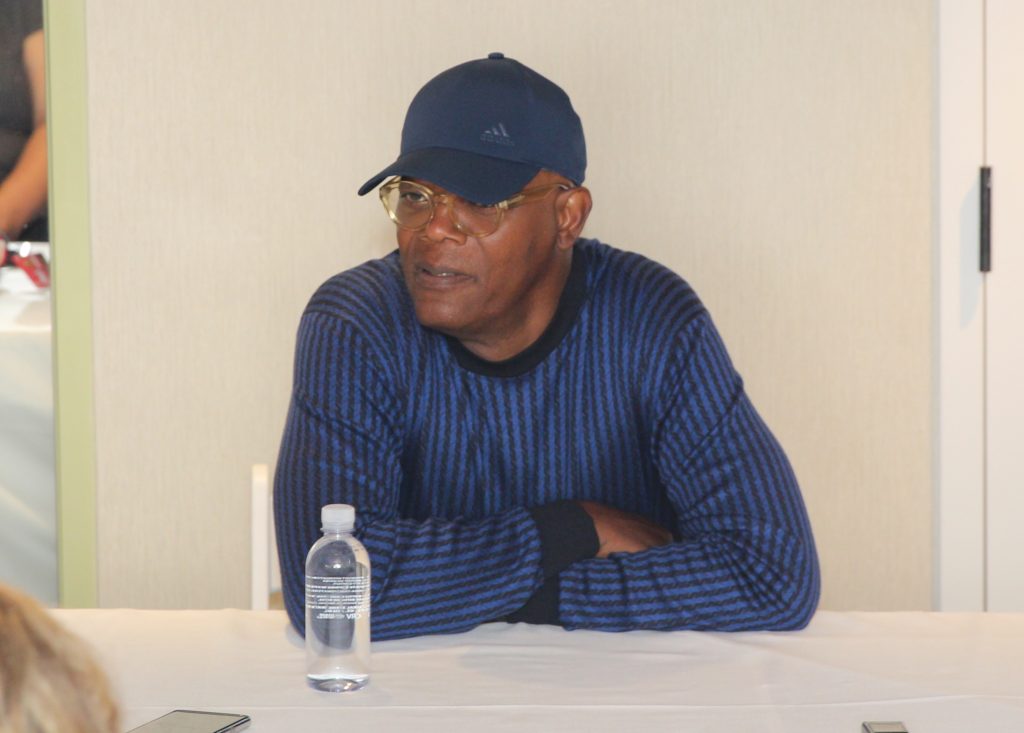 When asked about doing voice over work versus on-screen acting, he has much to tell. He noted that be was in the booth with Director, Brad Bird.
Well it's not stuck in my face, it's there, but Brad is sitting over there in a corner and he's reading stuff, you know, and actually Brad turns out to be pretty good. 

He pretty much tries to imitate everybody's voice when we're doing this stuff, you know, so and he is Edna, he's the best character in the movie. I've only worked once with Craig in the room and that was in the first movie, first time we were in the studio together and I think that's when they decided no we're not going to put these guys together.

But, you know, it's just like doing any other acting job for me.  You know, it's like when I'm in a booth doing a voice over or doing an audio book or doing, you know, a vocal Capital One commercial, just get in there and do it.  
Anyone who has seen Samuel L. Jackson on or off screen knows that he is one cool cat. When asked if he would like to see a spinoff movie of Frozone and his thoughts on Frozone's powers, and what power he would love to have, he was on point with his response.
Oh I always like seeing a movie with myself in it! Anything starring me is a good idea, so yeah. 

Really?  I'd be shooting ice, not fire, I'm not hot like that?  [LAUGHTER]  Oh I see, fire is for the Black Panther guy.  Old guys get to be cool, not hot.  That's a little ageism, I'm feeling a little #MeToo about that. 
We told him with the last name Fury (as Nick Fury in Avengers), he would throw fire, to which he replied:
Yeah-yeah-yeah.  Of course, but it would be like, what is it, dry ice. (It) will burn you when you touch it!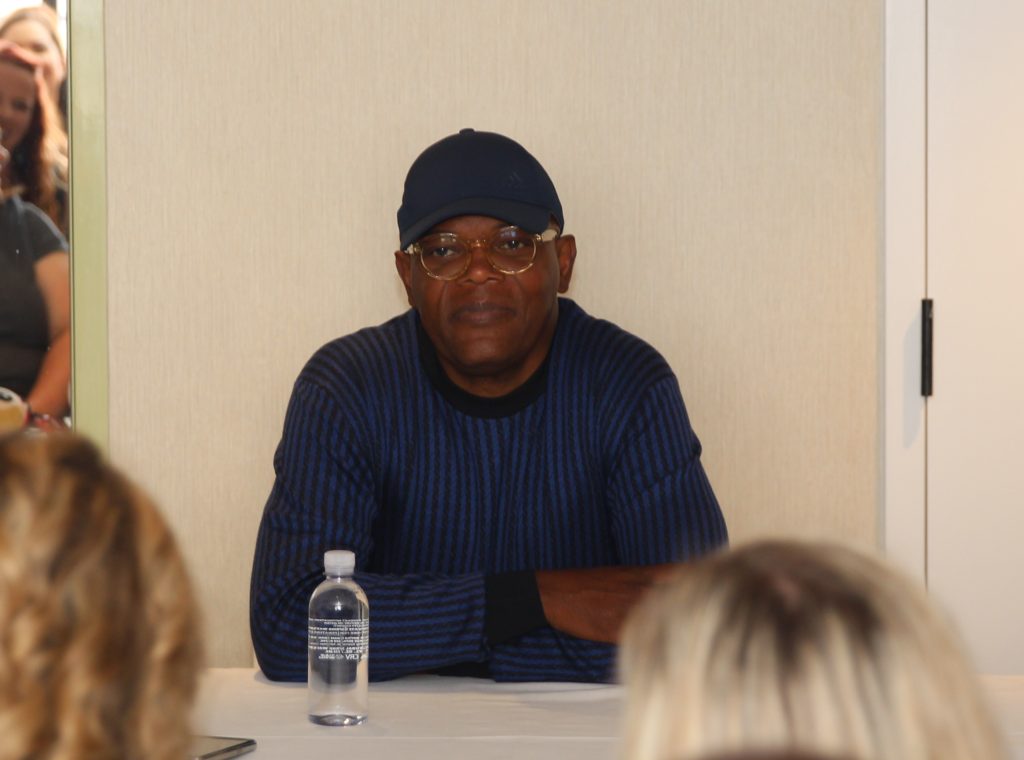 His real life super power? "Earning money for my wife and daughter.  Surviving thirty eight years of marriage yeah, that's the super power."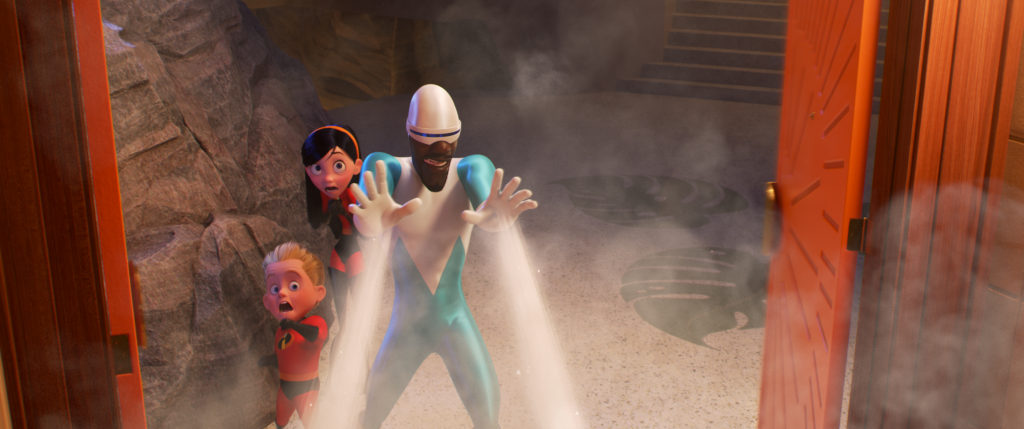 While is character in the movie is amazing, we asked, if could choose to be any character, whom would he choose.
Edna.  Edna is just the dopest, she's just, you know, wise cool dry, unaffected by the world, you know.  The world revolves around her.
Taking a walk down memory lane, using his super powers, we asked what moment in time would he freeze.
For me or for the world?  Hmm for me.  Hmm I need to be pain free and ooh.  You know what, like early seventies, I was in New York 1976 Halloween, when we got to New York City when, you know, we started this marvelous journey that we, you know, were ready to conquer the world and be the best actors on the planet.

And my wife and I thought we were going to be Liz Taylor and Richard Burton. But it was a vibrant time in New York, there were so many of us there.  And it was a great time for work, and comrade-ship and all the people that we met, Morgan (Freeman), Alfre (Woodward), Denzel (Washington), and Phish and Wesley (Snipes), and everybody was there working.  And we all worked together, we ate together, we went to auditions together, we went to the same unemployment office when we weren't working, but, you know, vibrant times and learning times.

Which, you know, cemented some really great friendships and just the challenge of being on stage with those people and wanting to be better, wanting to be good, and making all those things happen. That kind of makes us who we are on screen, for everybody.  We had all that discipline and all that, you know, working together and learning how to be an ensemble and not just out shine everybody who's around you.  Sometimes you can't help it, because the other people aren't so good, but being there and being in that time, that would be great.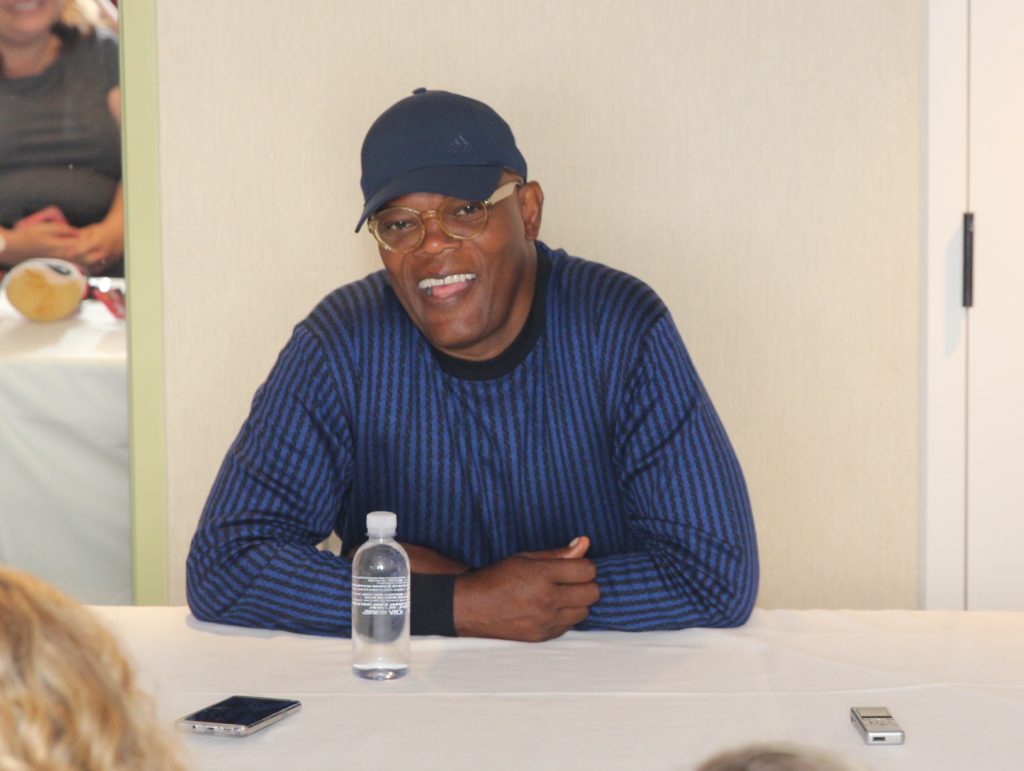 His advice to young actors today – "Do as much theater as you can do. Go to New York.  Challenge yourself.  On stage or off Broadway, on Broadway, work with as many different kinds of actors and directors as you can, learn the craft.  Upstage downstage, stage right, stage left, being dominant, being submissive on stage."
We all know that he has been in many many amazing movies. I asked him what is his personal favorite of all of those movies.
My favorite?  Oh Long Kiss Goodnight.  Yeah a movie that's really an underrated film.  That the studio didn't quite know what to do with because women weren't bad asses in that time.  And they didn't think women wanted to see it- they didn't think men wanted to see women be bad asses at that time, so they didn't know how to market that movie, but it's since gained a really great cult favorite, because I mean Geena is awesome in that movie, she is so awesome, it was great.  But that's it.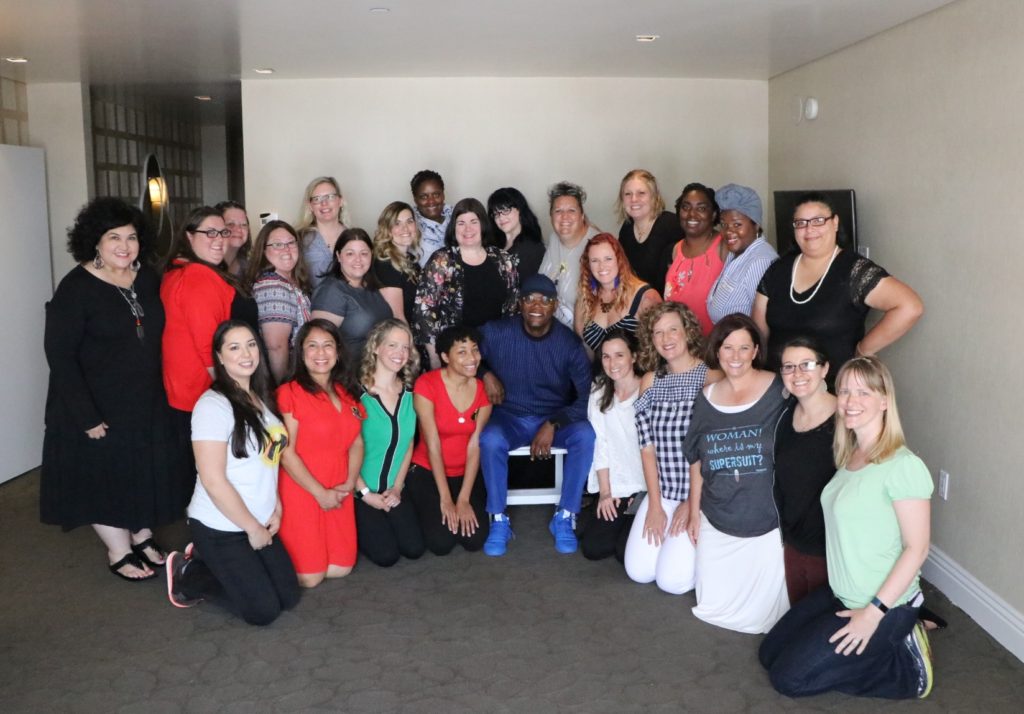 How did this end? BEST INTERVIEW EVER! He came in, started talking as if he was in a room full of old friends, bantered with everyone and shook our hand at the end. I would love to see a Frozone storyline and see where Samuel L. Jackson takes it.
---
Get ready for an INCREDIBLE TIME!

ABOUT THE MOVIE
Everyone's favorite family of superheroes is back in "Incredibles 2" – but this time Helen (voice of Holly Hunter) is in the spotlight, leaving Bob (voice of Craig T. Nelson) at home with Violet (voice of Sarah Vowell) and Dash (voice of Huck Milner) to navigate the day-to-day heroics of "normal" life. It's a tough transition for everyone, made tougher by the fact that the family is still unaware of baby Jack-Jack's emerging superpowers. When a new villain hatches a brilliant and dangerous plot, the family and Frozone (voice of Samuel L. Jackson) must find a way to work together again—which is easier said than done, even when they're all Incredible.
Voice Cast includes Craig T. Nelson, Holly Hunter, Sarah Vowell, Huck Milner, Samuel L. Jackson, Brad Bird, Bob Odenkirk, Catherine Keener, Jonathan Banks, Sophia Bush and Isabella Rossellini
Here is the OFFICIAL Trailer!
In theaters on June 15th, 2018, stay connected socially with Disney•Pixar's INCREDIBLES 2 for the newest film information and clips
 Facebook |  Twitter | Instagram | Website
---