Can you believe it is already February? Well, it is and it seems the year is already ticking away. If you are like me, I have been doing my best to eat healthier and be the healthiest I can be in the new year. However, that does not mean I have been eating boring food. On the contrary! February's Degustabox is proof of that with its array of spicy delights!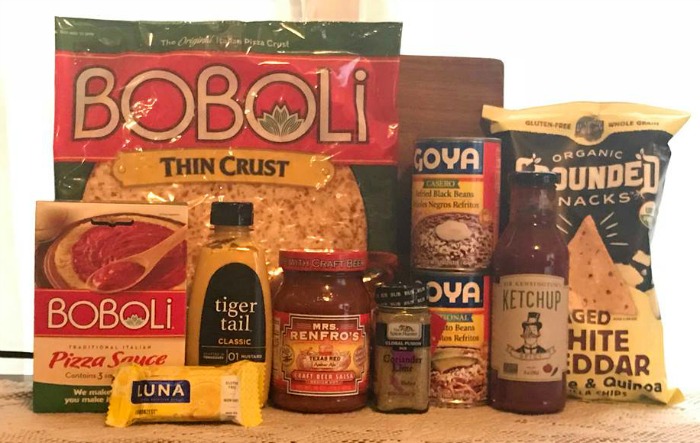 February's Degustabox Held a Spicy Infusion of Delights!
Shake up your taste buds with the amazing flavors and spices in the amazing products of February's Degustabox! It will have your taste buds soaring in delight and your family asking for more!
Goya Black Beans
If you love Mexican dishes then you will love Goya Black Beans! Goya's top quality black beans are cooked and seasoned for easy preparation and can be ready in just minutes!
Goya Refried Pinto Beans
You will certainly love the Goya Refried Pinto Beans! These chunky-smooth, cholesterol-free GOYA Refried Pinto Beans are perfect for a side dish or for dips.
LUNA Bars
When it comes to snacking, reach for LUNA Bars! LUNA Whole Nutrition Bars are crafted to help keep you nourished throughout your busy day and give you the energy to break through. Each bar is a delicious, gluten-free snack that's perfect between meals.
Lundberg Family Farms Aged White Cheddar Chips
If you are a chip lover like I am you will appreciate these delicious chips! Aged White Cheddar chips are a perfectly paired creamy white cheddar with a hint of garlic that will tantalize your taste buds.
Sir Kensington's Spicy Ketchup
Ketchup lovers will love the addition of the spice in Sir Kensington's Spicy Ketchup! It features chipotle peppers, cilantro, lime juice, and hint of coriander and has just the right amount of spice!
Mrs. Renfro's Salsa
Of course, you have to have a tasty salsa like Mrs. Renfro's to eat with your chips! This tasty salsa with Rahr & Sons amber lager delivers a unique and bold flavor. You can use it as a dip, marinade, or chili base. You'll find it's versatile and delicious!
The Spice Hunter
Spice is the secret to amazingly delicious dishes! The Spice Hunter's Coriander Lime Global Fusion Rub adds a fragrant, citrusy flavor that's delicious on chicken, tofu or fish. Spice up your meals with this delicious addition!
Boboli Pizza Crust
While most of my family loves their deep pan pizza, I prefer a thin pizza crust. There is something to be said about thin and crispy! Well, look no further than the Boboli 12-inch ready-made thin pizza crust. It's perfect for everything from entrée pizzas to pizza appetizers, and dessert pizzas.
Boboli Pizza Sauce
Of course, you need a delicious sauce like Boboli Pizza Sauce to complete your pizzas and pizza appetizers. This delicious sauce is flavored with garlic and onion, Italian-style, it's the perfect topping for any 12-inch pizza.
Tiger Tail Mustard
Tiger Tail Mustard is a small batch mustard, crafted in Dyersburg, Tennessee. It is inspired by Tradition and made of only the highest quality ingredients. And, of course, it is packaged with Southern Pride.
February's Degustabox was a taste delight! It held a lot of favorites and several items I had never tried before but now am completely in love with them! I LOVE trying the new products each month and am enjoying the value I get from my Degustabox! I get to try new products and decide if I like them or not BEFORE purchasing at the store!
Are you ready to Sign Up for a Degustabox Subscription?
Sign up for a monthly subscription with Degustabox for only $19.99, which includes delivery. Receive your Degustabox every month filled with goodies (10-15 surprise products, many new to the market)! And, at this price, it is much less than you would pay in stores! It is a great value and a great way to try before you buy! If you decide it isn't for you, that's alright too! There is no commitment necessary. To cancel, just let them know before the 15th of the month. So, what are you waiting for? Go ahead and give Degustabox a try today!