The Amazing Chickpea Sandwich Spread Great Alternative to Peanut Butter Allergies
This post may contain affiliate links or I may have received the product free in exchange for my honest review. See full disclosure for more information.
Do you or your child(ren) have allergies to peanuts? Statistically 1 in 50 children and 1 in 200 adults have a peanut allergy that can cause severe reactions. Let me tell you about an amazing alternative to peanut butter with just as much great flavor – The Amazing Chickpea!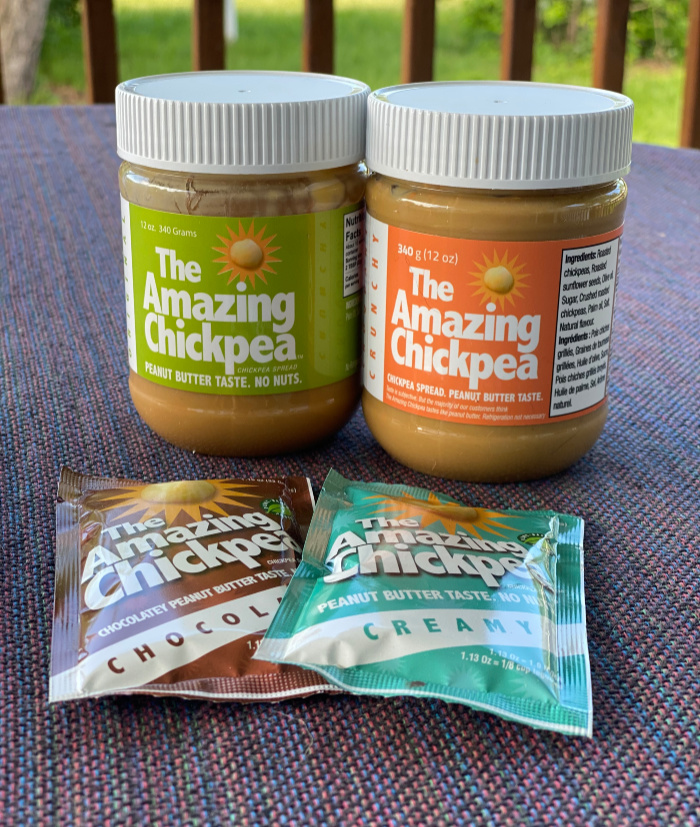 About The Amazing Chickpea
Born in India, Sunil Kumar came to the United States 25 years ago to earn his Masters in computer science degree from Sam Houston State University, Huntsville, Texas. Sunil has worked as an IT professional for several Fortune 500 companies for the past 20+ years. Married to Rashmi, he and his wife have been blessed with three beautiful daughters, and resides in Minneapolis, Minnesota. Enya, his oldest daughter loves peanut butters but she could not offer PBJ sandwich to her friends due to nut allergies, a snack she loves so dearly because of its rich sweet and salty taste.

Having realized the limited options for people who are allergic to nuts, Sunil decided to look for an alternative ways of making protein rich Peanut butter tasting spread without nuts and without compromising the texture and flavor.

Having grown up with chickpeas as a staple in his childhood home and knowing the benefits of the protein-rich, nutty flavor of roasted chickpeas, he imagined that using chickpeas could make a nut-free peanut butter. After over a year and a half, Sunil created The Amazing Chickpea spread, the delicious and nutritious spread that tastes like peanut butter without any nuts!
Move over, peanut butter – the chickpea is here! Free from 8 major allergens, The Amazing Chickpea easily spreads on bread, vegetables, crackers, pita or sandwich creation – whatever inspires your taste buds! The Amazing Chickpea spreads are available in a 12oz. or 16oz. Jar. With only 170 calories and 5g of protein per serving ñ it makes an excellent protein-rich snack during the day. Rich & tasty, The Amazing Chickpea is available in 3 delightful flavors, including Creamy, Crunchy and Choc' A Chic.
Delicious flavor without the worry of an allergic reaction, The Amazing Chickpea spreads are wonderful, delightful and full of rich flavor. It works well as a peanut butter alternative.
Stay connected socially with The Amazing Chickpea to see what other amazing products and flavors they have to offer