Three Bridges Pasta: When Gourmet Meets "Good To Go"
This post may contain affiliate links or I may have received the product free in exchange for my honest review. See full disclosure for more information.
Ah, early spring: the time for segueing your New Year's resolutions into swimsuit season resolutions. In both seasons, I always find myself making goals I struggle to keep. I tell myself I'll stay in and cook more, dropping the guilty convenience of fast food for healthy homemade meals. I end up spending all my time looking up recipes and never even make it to the kitchen! Finding meals that please a crowd—and are quick enough to make on a busy Tuesday night, but healthy enough to fit into our lifestyle goals—sometimes feels next to impossible.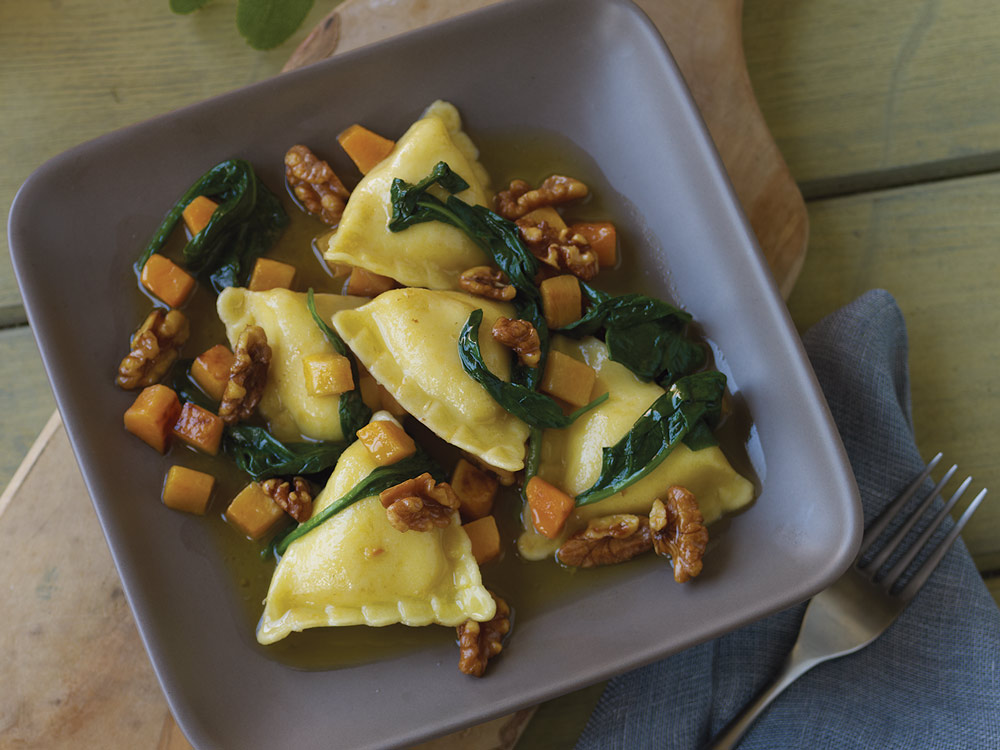 So you can imagine my excitement when I discovered Three Bridges — delicious pastas and sauces made with simple, wholesome ingredients. All their products are free from artificial colors, sweeteners, preservatives, antibiotics, and hormones. It's so refreshing to look at the nutritional information and feel good about what you're feeding your family. And with a huge line of products—everything from butternut squash ravioli to parmesan gnocchi—you can try something new every week!
Here's why Three Bridges' honest, delicious products are different:
>> EASY HOME-COOKED MEALS IN A PINCH
When you only have 20 minutes to get a meal on the table before rushing off to the next activity, it's so tempting to heat up a frozen dinner and call it a day. What I like about Three Bridges is how it combines the convenience of a ready-to-do meals with the thoughtfulness of a home-cooked dinner. You can set the water to boil, throw the pasta in the pot, heat the sauce, and in 25 minutes you've got a gourmet dinner!
>> FOODS THAT FIT YOUR PREFERENCES
One thing I really like about Three Bridges is all the different kinds of pastas. They offer plenty of gluten-free products, and the website lists dozens of recipes categorized by common dietary preferences. It has sections for vegetarian-friendly meals, cheese-lover recipes, protein-packed dinners, and simple one-pot meals for when you're in a time crunch.
>> FEELING GREAT ABOUT WHAT YOU'RE EATING
Pasta shouldn't be a guilty pleasure! Three Bridges cuts out the bad stuff in other processed foods. You can prepare a meal with their Organic Portobello Mushroom Ravioli and have the peace of mind knowing you're not putting any high fructose corn syrup, trans fat, or any artificial flavors into your body—just delicious simple pasta as it should be.
Home cooks can buy Three Bridges products in the refrigerated section, and can visit www.threebridges.com, which features cooking instructions and recipe inspiration for healthy and fun meals such as Grilled Chicken and Mozzarella Ravioli Ratatouille, Organic Linguini with Spring Greens and Lemon, and Organic Spinach and Cheese Tortellini in a Butternut Broth with Crispy Chickpeas and Shiitake Mushrooms.
What you do love about Three Bridges? Let us know in the comments!