Vtech InnoTab® 3S Wi-Fi Learning App Tablet Review
This post may contain affiliate links or I may have received the product free in exchange for my honest review. See full disclosure for more information.
I recently received the chance to review the new Vtech InnoTab® 3S Wi-Fi Learning App Tablet.  This is such an amazing toy.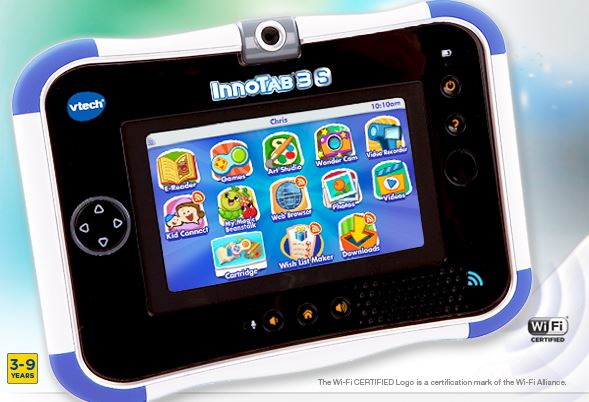 More about the Vtech InnoTab® 3S Learning Tablet:
The InnoTab® 3S features VTech Kid Connect – a ground-breaking communication app that brings families together by allowing kids to be connected with their parents and friends through both tablet-to-mobile and tablet-to-tablet communication – anytime, anywhere
The new 3S comes with a rechargeable battery pack with AC adapter and a kid-safe web browser
The new InnoTab 3S continues to provide access to VTech's Learning Lodge™ app store, plus it comes packed with 20 free apps
Ages 3-9
All for under $100!
Connectivity Changes the Game
Whether at daycare, a neighbor's house or across the country visiting grandparents, VTech Kid Connect is the fast and easy way to help parents stay connected to their kids when apart – anytime, anywhere. Now, preschoolers as young as three years old can emulate their parents and older siblings, allowing them to feel like they are part of the messaging trend but from a kid-safe, kid-friendly tablet. With the InnoTab 3S kids can send text messages and animated stickers to parents' smartphones. In return, parents can send text messages and stickers to their child's InnoTab 3S, opening up an interactive dialogue. Plus, kids can stay connected to their friends and siblings by sending messages safely between two InnoTab 3S tablets. And since all communication is approved by parents, they can rest assured their child is only communicating with people they know and trust, making VTech Kid Connect a true breakthrough in kid-safe family networking.
The kid-safe web browser, allows access to age-appropriate websites vetted by VTech's educational experts. Parents also have the ability to add additional websites, giving them complete control over what sites their child can access. This parental control feature is password protected to ensure kids can't add websites without their parents' permission.
Packed with Content, Value and Creativity
The InnoTab 3S features 4 GB of internal memory (expandable to 32 GB with a micro SD card, sold separately), a D-Pad game control and updated creative camera features. For even more value, a rechargeable battery pack with AC adapter comes bundled with the InnoTab 3S, eliminating the need to buy expensive replacement batteries.  The InnoTab 3S also offers all the features from the Innotab 2S, including a kid-safe Wi-Fi connection, a 2 megapixel 180 degree rotating camera, a 5 inch color touch screen and the Read, Play & Create cartridge and included apps such as the MP3 player and photo album and Wish List Maker. The InnoTab 3S also comes with 20 free apps, including a magical beanstalk growing game; a directional pad game, H2O Go!, that teaches science concepts through an animated drop of water; and a pop-up 3D art studio so kids can explore their creative side. More creativity can be found in the WonderCam app, which lets kids add more than 55 special effects, funny faces and photo frames to their pictures.
Extensive Learning Library at Parents' Fingertips
The Learning Lodge gives parents and children access to purchase hundreds of engaging, age-appropriate games, videos, e-books and music, endorsed by VTech's team of educational experts. By the end of the year, the Learning Lodge will expand from its current library of 350 titles to over 600 titles that teach reading, math, social studies, handwriting, science, problem solving, geography and more. Parents can even track their child's learning progress online. Featured throughout the downloads and software cartridges are popular characters such as Team Umizoomi™, Dora the Explorer™, Thomas & Friends®, Teenage Mutant Ninja Turtles®, Jake & the Never Land Pirates™ and Sesame Street®. New titles for 2013 on the Learning Lodge include Monsters University®, Turbo®, Planes®, Doc McStuffins®, Sofia the First® and more.
InnoTab 3S retails at MSRP $99.99 and is recommended for children 3 to 9 years old.
Keep an eye out for a value-packed Deluxe Apps Package with Premium Kid Connect, including even more enhanced features, allowing kids and parents to send each other personalized voice messages, photos and drawing, in addition to texts and animated stickers.  The Deluxe Apps Package will also include Movie Maker, a creative animation camera game that lets kids create fun stop-motion animations from snapshots.  The Deluxe Apps Package will be available in the fall for purchase through VTech's Learning Loge.
This product is really amazing.  It is more than just a toy, it is a learning tool for kids that enable them to learn in a fun, friendly and exciting manner.  Giving your child the ability to have their own tablet that they can play, learn, take pictures and send messages to you via text is such an exciting thing.  You can also browse kid-safe and parental approved websites together for even more fun and educational opportunities.  I would highly recommend the Vtech InnoTab® 3S Wi-Fi Learning App Tablet  for anyone with young children.
Be sure to stay connected with Vtech to learn on the latest on InnoTab and many other products they have to offer via Facebook | Twitter | Website
The Vtech InnoTab® 3S Wi-Fi Learning App Tablet is available at most major retailers, as well as Amazon.  Get a head start on your holiday shopping and pic up the Vtech InnoTab® 3S Wi-Fi Learning App Tablet for the little one(s) in your life today.
Want the chance to win one of your very own?  Be sure to head over HERE for your chance to win the same Vtech InnoTab® 3S Wi-Fi Learning App Tablet I received for this review.
Disclosure:  I received the Vtech InnoTab® 3S Wi-Fi Learning App Tablet for an honest review.  No compensation was received in exchange for this review.  Regardless, all opinions are all my own.