What's Wrong with Grown-Ups? Family Game
This post may contain affiliate links or I may have received the product free in exchange for my honest review. See full disclosure for more information.
Looking for a new game to try on Family Game Night? Try What's Wrong with Grown-Ups Game from Authentic Agility Games and have everyone laughing while they answer questions.
WHAT'S WRONG WITH GROWN-UPS? is a question most kids would love to ask but are often too busy with video games, social media, and texting friends. Well now these inquisitive, thoughtful kids can get this question and many others answered thanks to What's Wrong With Grown-Ups? a new intergenerational card game from Authentic Agility Games that was created with kids and their crazy questions in mind. Similar to its first two successful card games, What's Wrong With Grown-Ups? consists of 500 thought provoking, entertaining and often provocative questions designed specifically for curious kids and their family and friends.
Whether you want to have deeper conversations with your kids, grandkids, or really want to connect with your students, What's Wrong With Grown-Ups? will spark the conversation and is an ideal gift for a child, a parent, a family member, a teacher, a counselor, or for that someone who has everything.
When you play What's Wrong with Grown-ups?, you get to hear what your kids are thinking and they get the confidence that comes with being heard. It's a win-win! Plus, we donate our game proceeds to organizations that advance education and entrepreneurial initiatives. A win-win-win!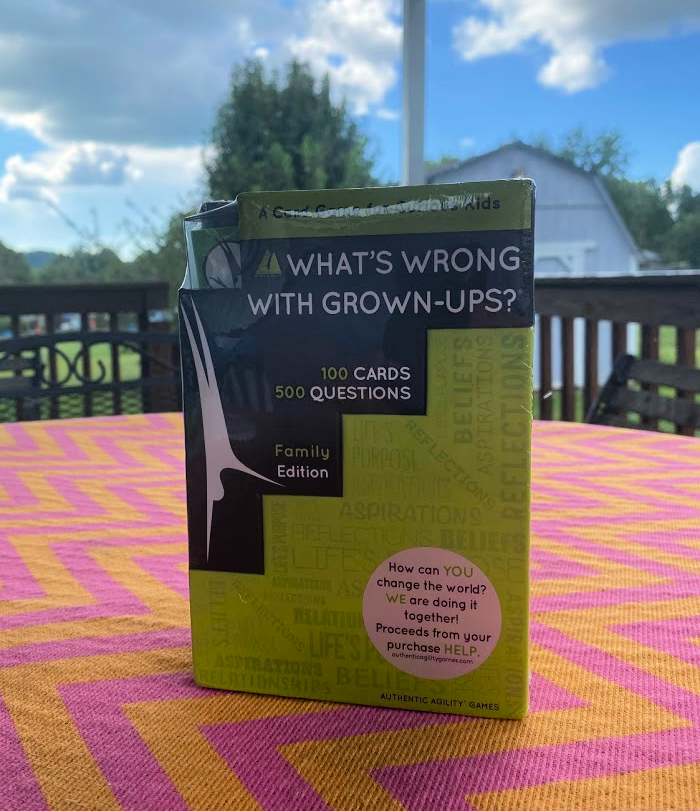 About Authentic Agility Games:
Cathy, the founder of Authentic Agility Games, is no stranger to handstands and is known to do them in some pretty unique places. A handstand is not only a physical challenge but forces you into the present moment. Go try one to see the world from a different perspective!

Following the success of her first two games, How Do You See The World? and Why Can't We All Just Get Along?," Florida-based entrepreneur Cathy Cranberg says that she developed this intergenerational game to stimulate conversations between kids of today, their peers and kids and adults, and as a fun and engaging way to get everyone involved. "We realized important conversations should not be separated due to age or interests, but rather encouraged at all ages".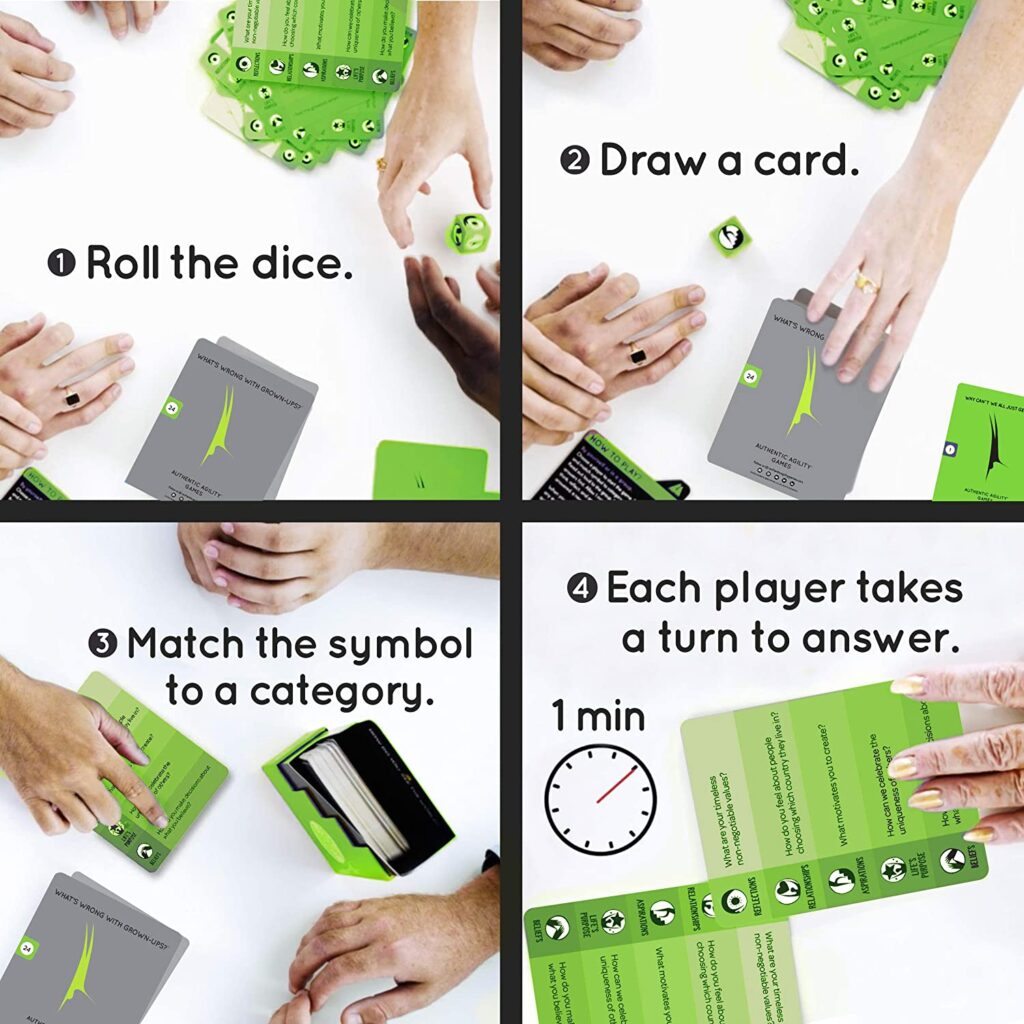 WONDERING WHAT YOUR KID IS THINKING? Now you can find out! Play What's Wrong with Grown-Ups? Get the game, roll the dice, and get to know the kids in your life.

PERFECT FOR PARENTS WHO WANT TO CONNECT WITH THEIR KIDS and kids who want to have a voice, the game is both fun and thought-provoking in the best way. Great for conversation starters or icebreaker games, family game night, and road trips!

500 QUESTIONS, UNLIMITED PLAYERS: This easy-to-play game includes a keepsake box, 1 Dice,100 Question Cards exploring 5 categories each: Play, Connect, Imagine, Challenge, Grow. Play in a group of any size, and look out for the challenges!

OUR NEWEST GAME OFFERS: kids and teens a chance to share their thoughts — on everything from school to their parents to the state of the world — with each other and adults. Create connections, listen, and learn together.

WE ARE CHANGING THE WORLD TOGETHER: Authentic Agility Games donates a portion of proceeds from your purchase to organizations advancing education and entrepreneurship.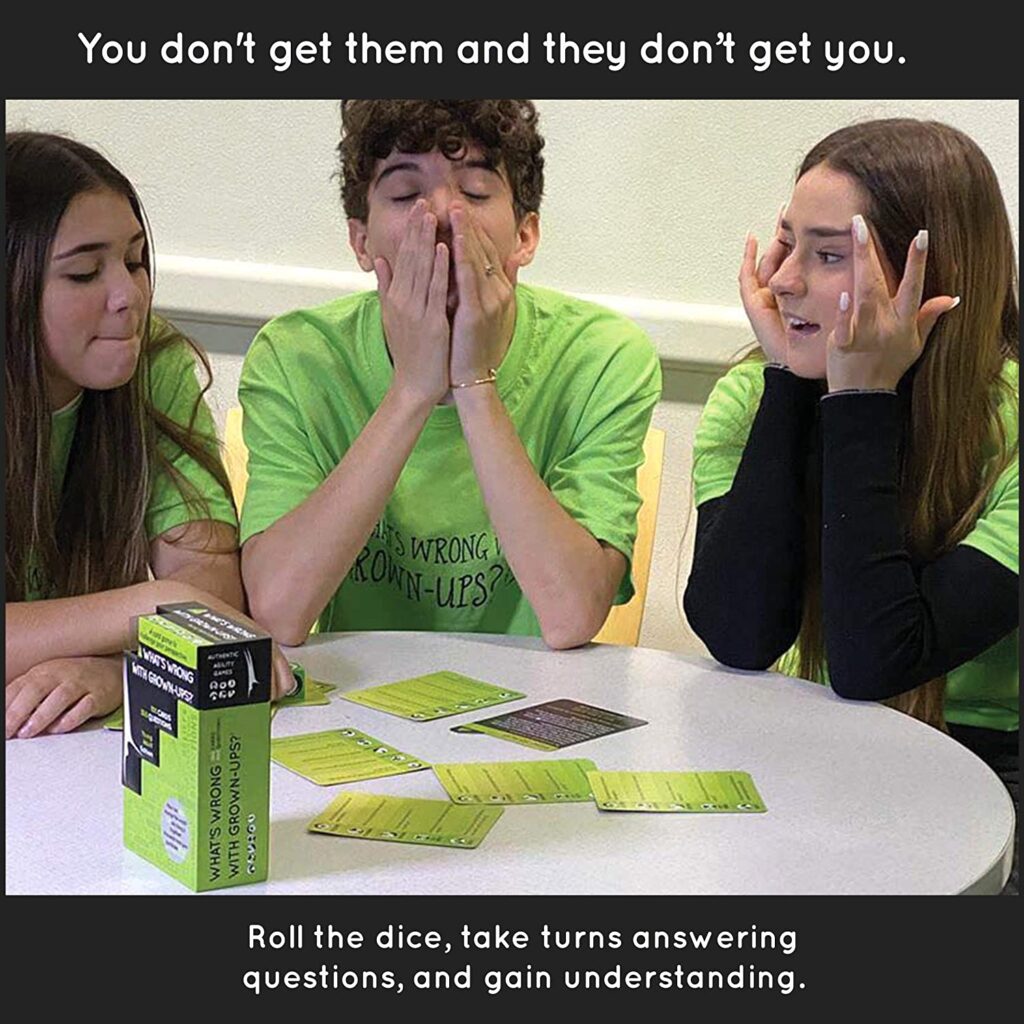 What's Wrong with Grown-Ups? will make you laugh, think, and tell your family and friends what's on your mind. Questions range from silly to serious and cover everything in between! It's the perfect game to play while you're remote learning or stuck at home with your siblings. (Really, it's fun to play anytime, anywhere!)
Includes:
1 die
100 cards
500 questions
1 keepsake box
You can purchase this great game on Amazon, Authentic Agility Games Website, and at Walmart.
Stay socially connected with Authentic Agility Games for all their latest fun products!: