As a pet owner, do you ever wonder what really goes on in their mind? While we are away at work, they are home loyally waiting for us, their owners, their best friends,to arrive back. They great us at the door, barking with excitement to let us know they missed us and jump all over to show us how much they love us.
I, as a dog owner, know there are days that I miss them and wish I could just be away from work, at home and just lounge around with them all day. The new ABC show, Downward Dog, tales of Martin, a mutt who is lovable and loyal to his owner, Nan (Allison Tolman).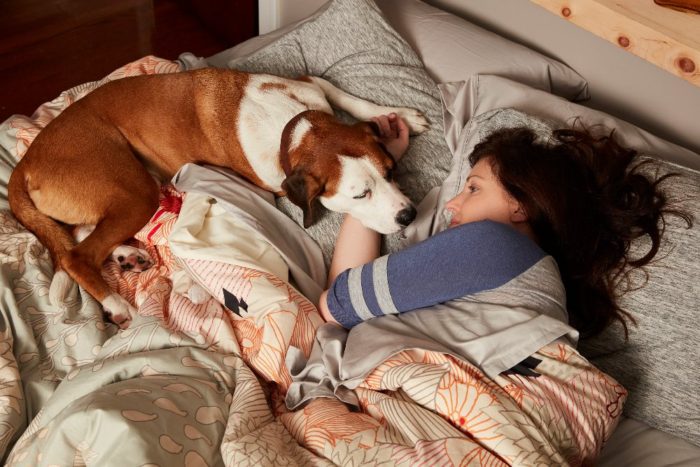 While in L.A. last month, we got a chance to sit down with Allison Tolman (Nan) and Samm Hodges (Voice of Martin the Dog) and discuss the show a bit more. We also got a chance to screen the first two episodes for this season, the first of which will debut tonight on ABC at 9:30 PM (ET). While watching the first episode, I instantly connected! I fell in love within the first 5 minutes. It reminded me so much of how I wonder what my dogs do through the day and what it would be like if they could think like us, talk like us and really interact with us, their owners.
We started with asking they breed that Martin (real name Ned) is. Allison stated that he is a 5 year old hound-mix, but mostly a mutt. They found him in a shelter in Chicago call Paws Chicago. They both noted that Ned had been at the shelter for quite some time and they wanted to incorporate a dog that wasn't "Show-y" like a pure bred.
Samm Hodges: So for his character he's not — he (Martin) thinks he's very important. He thinks he's the most important being in the world, but it's important for us that he's like just a regular old dog.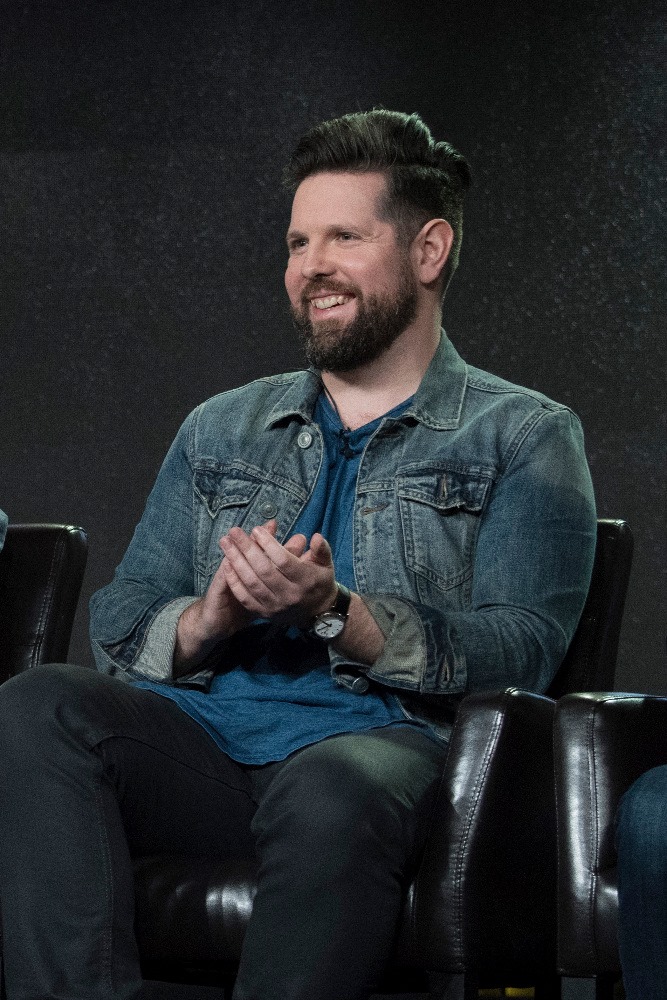 Most everyone in the room agreed it was an instant favorite among us all. We asked a bit more about the development and creation of the show. Interestingly, it all started with web series years ago!
Samm Hodges: Michael Killen and I, we're co-creators of the show, and we were both commercial directors working in Pittsburg and we created this web series four years ago. Now we started working on the web series and, just for fun,  Michael had done a lot of stuff with talking animals (including) the Taco Bell Chihuahua. So, he like was well versed in how to make animals talk and not look like they're just licking peanut butter off of their faces.
How did Samm end up as the voice of Martin?
I was a very unlikely collaborator with him, because my writing has always been way more just very different brands. I kinda looked down on the talking dog things. I was like, 'Oh, that's kind a little more darker tone.' And one day he was like, 'Oh, you just try to write these monologues.' Then I wrote the monologues and wewere trying to cast for the voice and I just did a read not for myself to do it, but just to be like something like this. And then Michael ended up using that read as the dog, and so that's how I kinda got shoehorned into that role.
How Allison Tolman got involved
When I read the script I was like, 'There sure is a talking dog in this. Sure is the star of the show.' Then I saw the shorts and I was like, 'Oh, I get it.' It's like sweet and down to earth and kind of indie. Then I was really into it. So, that's kind of how it came about.

Then they wrote this great script and they had these awesome shorts to kind of back it. So, when they decided that they were gonna try to make it into a television show they had…a lot of interest.
Animal Lovers Everywhere will ADORE this show
Allison Tolman:  I mean I think that this is a really special show, because I don't feel like there's a lot of, if any, TV shows that really focus on this relationship, which a lot of people, their relationship with their pet is significant. For me it's like the most significant relationship in my life.

I've had my cat for 17 years. She's the longest standing relationship of my entire [CHUCKLES] life, and I grew up with her. I've had her since I was 19 years old. So, the like transformative power of like loving an animal and being in charge of this little life, like truly, truly has affected the person that I am, because I grew up with this cat. I was a baby when I got this cat and I think that's what's really special about it is that it's a love story that I think is universal for a lot of people, because a lot of people are pet owners and love their animals, but it's not something that we really focus on. We focus on romantic love or familial love, but nobody really talks about what a profound thing it is to love an animal.
Samm Hodges: I grew up with dogs being my only source of solace. You know, as a kid you go to the dog and, like my dog's name's Smiley. I'm crying to her [CHUCKLES] and was like, 'No one understands but you'. So I think that Martin's character is really based on what a dog's experience is. Dogs experience a lot of emotion, you know, and a lot of like really profound things they can experience. It's less asking what is your dog thinking and more saying like what if your dog had human anxiety and existential angst, you know.
Training a New Dog for the Role of a Lifetime
One of the most awesome side effects, I think, of having this dog who was not a well-trained dog when we started shooting is (he) is very much his own man. It's like being with like a natural talent. There's a lot of Ned in Martin.

He improvises in a way. So even when I don't have a human partner to work with, I have something to work with because he doesn't do the same thing every time. He doesn't do exactly what you want him to do every time. He jumps down off the chair that you put him in and you keep rolling and you see what happens. We had some really fun stuff happen, because he's his own dog. He really is his own man.

(In episode 4 of 8) Allison Tolman: I was holding this hamburger [LAUGHS] and talking and he just went "houuuump" and just put his whole mouth around it. I was like 'I don't know what to do.' I'm kinda lookin' at the trainer like 'Is he gonna — what should happen?' But that made it into the show.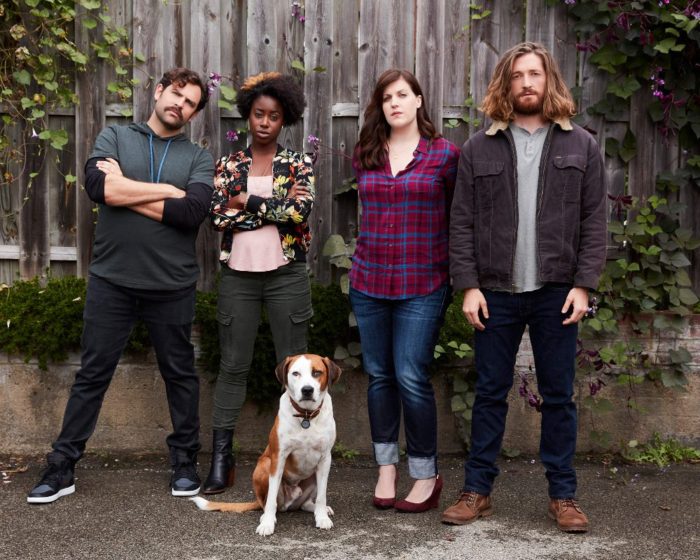 Downward Dog will introduce you to amazing characters, both human and animal! From Pepper the Cat, the ultimate evil that Martin dreads, to Kevin (Barry Rothbart), Nan's boss who is more into himself than anything else going on around him. You will also get to meet Nan's on-again/off-again boyfriend Jason (Lucas Neff), whom Martin initially hates. Finally, you will adore Jenn (Kirby Howell-Baptiste), Nan's British co-worker who is full of sass and charm.
I adored spending time with Allison and Samm and it was really a great show. I am glad I got to know more about the creative process and inside tidbits of the show and cannot wait for the first episode. If you love comedy, love animals and have imagined what it would be like if your loving pets could talk, this is your show!
Downward Dog, a new ABC comedy that follows the day-to-day life of Nan, as told by her increasingly lonely and philosophical dog, Martin. It will air on ABC on Tuesday nights at 8:00 PM (ET), while making its debut airing tonight at 9:30 PM (ET).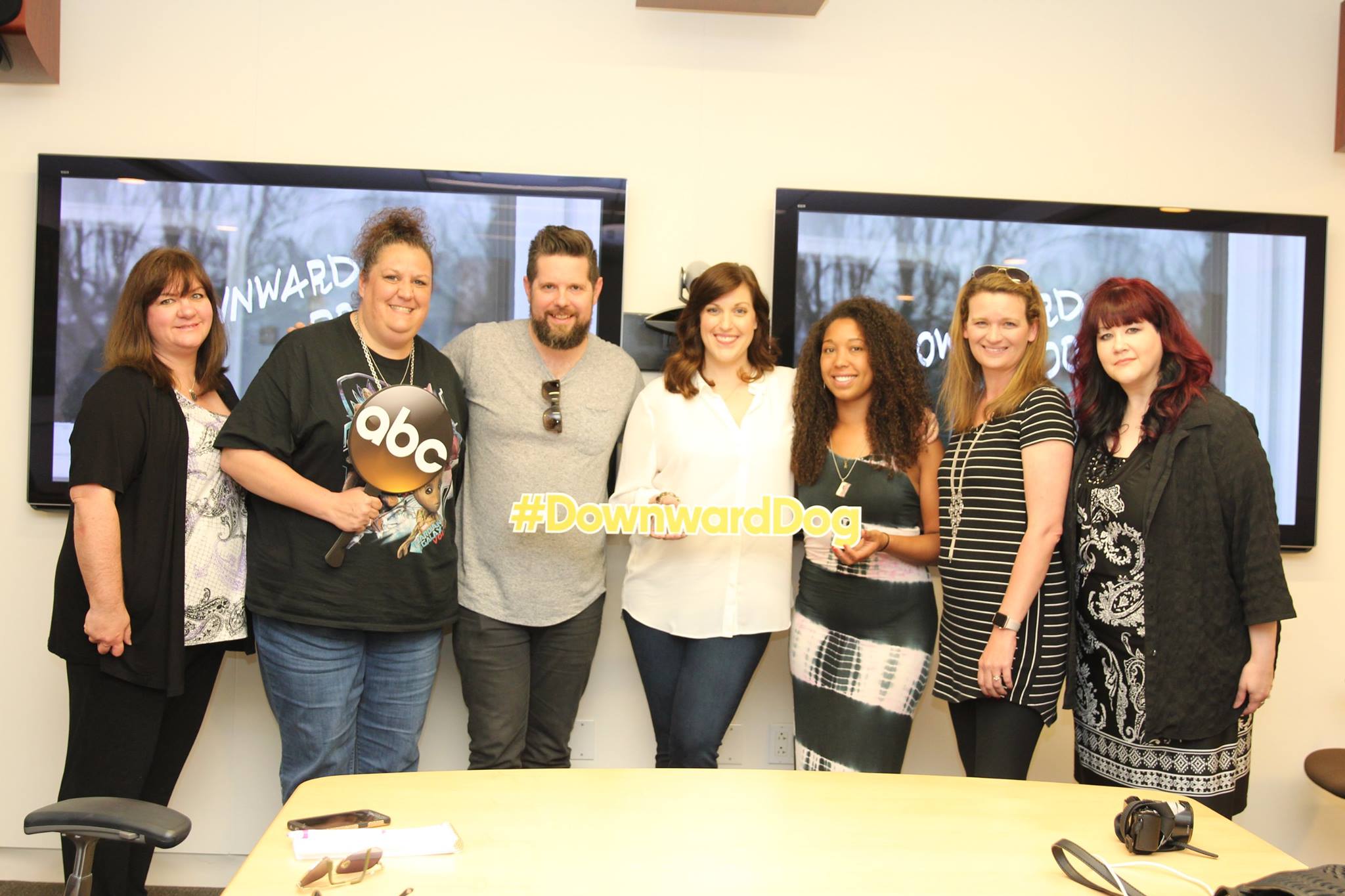 Here is a sneak peek of all the fun and enjoyment you will see with Martin and Nan:
Be sure to follow Allison Tolman (Nan) on social media
Be sure to follow Samm Hodges (Voice of Martin the Dog) on social media
*(Interview Photos by Louise Bishop. Downward Dog Cast/Crew photos by ABC/Craig Sjodin).