5 Best End of Season Volleyball Gift Ideas
This post may contain affiliate links or I may have received the product free in exchange for my honest review. See full disclosure for more information.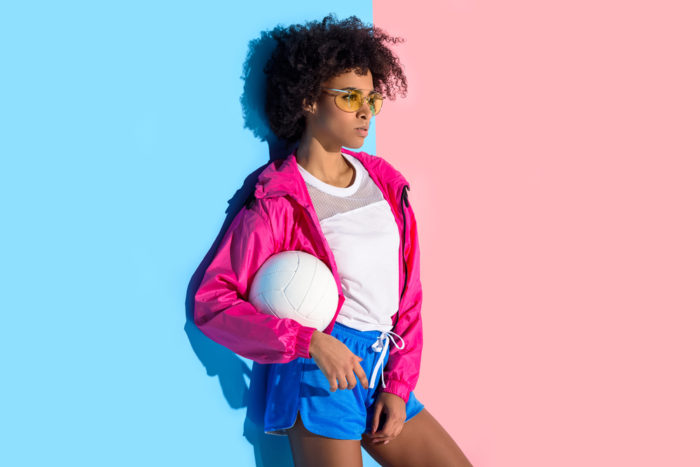 The volleyball season is coming to an end, so of course, you want to make your favorite volleyball players feel special with an end-of-season gift. These gifts are great for end-of-season banquets or parties and can be given to the entire team as a way to remember this year's volleyball season. These are also great as coach's gifts, if you want to make the #1 volleyball coach in your life feel extra-special. Or perhaps, you want to treat your favorite volleyball player to his or her own volleyball-themed gift.
You may even want to encourage your friends to start training themselves. What better way to do that than with their own set of volleyball shoes? A gift that can surely help kickstart a new, adventurous hobby. Whether you want gifts for the whole team, or for one special person, you can't go wrong with these end-of-season volleyball gift ideas.
Mini Volleyballs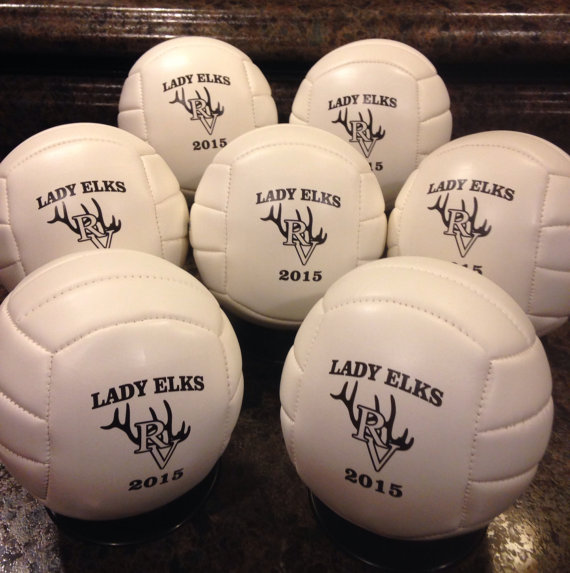 These little volleyballs may not be regulation sized, but that doesn't mean they aren't one of the best gift ideas for volleyball players. These cute customized volleyballs make great memorabilia for the whole team. They are about 6 inches wide and can be customized with the year, the team's name, and the team's logo. Every team member will display their volleyball proudly, and they'll forever be able to show off that they were a member of that great team. These make great senior gifts, as the graduating senior can bring theirs to college and show it off in their dorm room.
Necklaces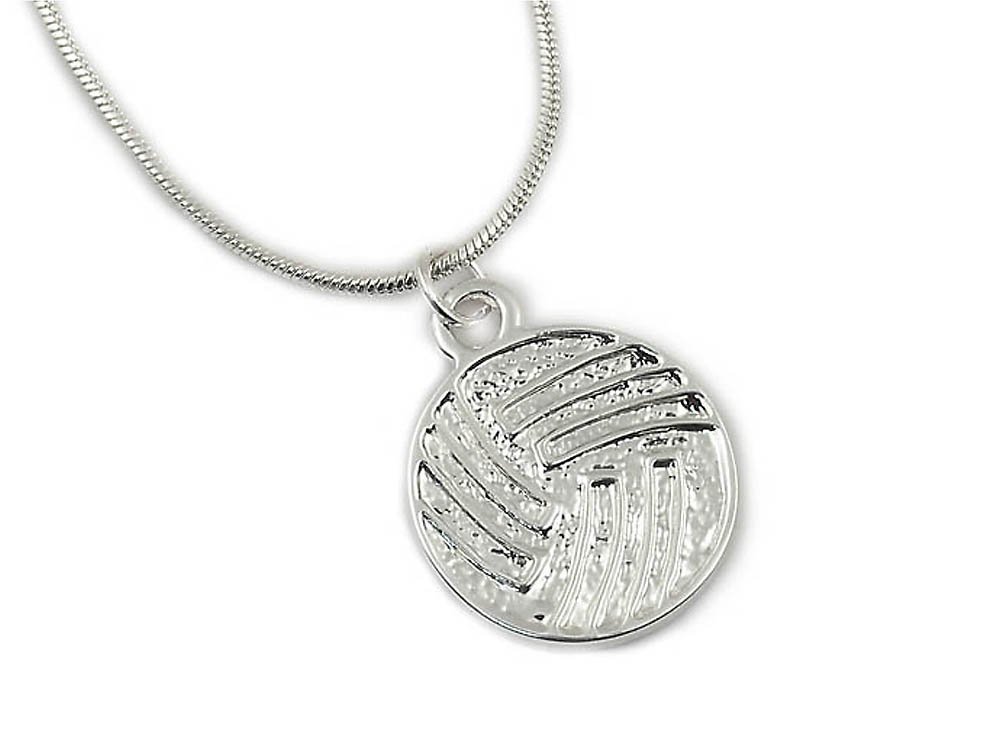 These necklaces are a stylish fashion statement that your volleyball players will wear everywhere. They feature a small pendant in the shape of a volleyball, which will serve to remind them of all the wonderful times they've had during that season. These make an excellent gift both for a team player, as well as for a volleyball coach.
Portable Tumbler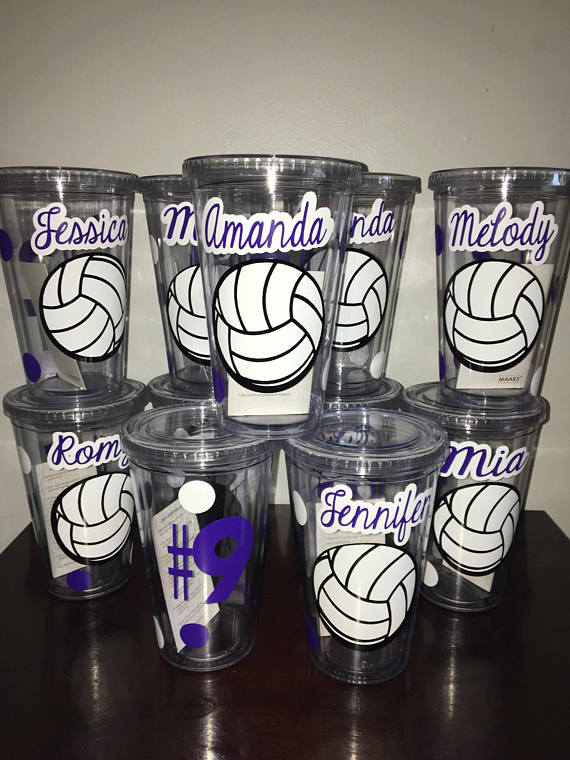 These trendy portable acrylic cups are like water bottles, but more stylish. Get them customized with the team members' names and numbers, with a large image of a volleyball on front, so they can truly feel like part of a team every time they take a sip. These 16 oz tumblers are double-walled and insulate cold and hot liquids, so they're great for staying hydrated or enjoying their favorite drink at school, work, or home. These are great gift ideas for the whole team. Order one with your favorite volleyball player's name on it.
Throw Pillows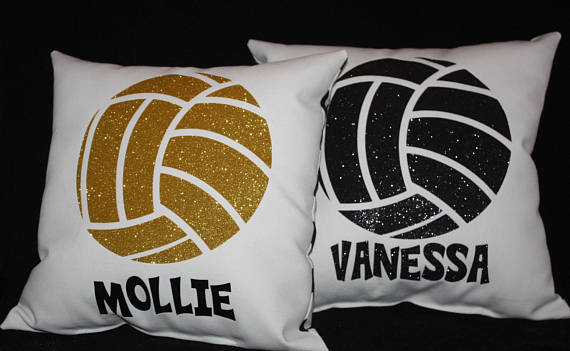 Another great gift idea is something your favorite volleyball players can have around the house: a throw pillow. These are a cute decoration for a volleyball player's room, and also a sweet reminder of her time with that amazing team. The pillows can be ordered in a range of colors and styles.
They include a large, non-flaking glittery volleyball, with the player's name underneath it; in addition, the back of the pillow is customizable with your choice of three different fashionable patterns. These make great team gifts, senior gifts, or even coaches' gifts.
Sweatshirts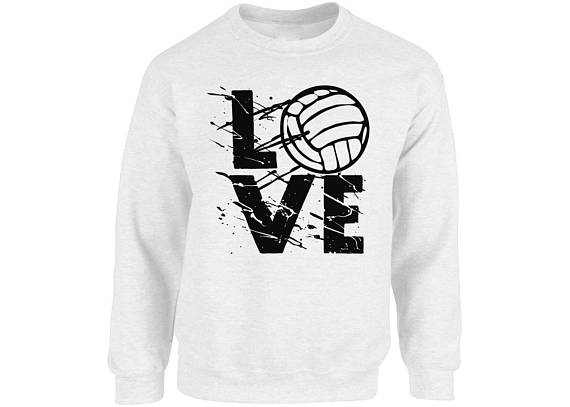 What better way to wear your pride in the off-season than with a volleyball sweatshirt? Let your favorite volleyball players show off how much they love their sport with these one-of-a-ind volleyball love sweatshirts. These come with a silkscreen design of the word "LOVE" with a volleyball as the "O". They're comfy, unisex, and come in fifteen different colors, so you're sure to find one that matches your team perfectly! These work as an end-of-season gift either for the whole team, or for one special volleyball lover in your life.
As you can see, it's not hard to find volleyball-themed gift ideas, especially ones that are perfectly suited for the closing of the volleyball season. Give these out at banquets, parties, or final matches; the volleyball players in your life are sure to love these unique gifts and treasure them for years to come. Which one of these gifts was your favorite? Do you have any other volleyball-themed gift suggestions that you've tried? What kind of gift would the volleyball player in your life love to have? Give us your suggestions in the comments below!