Abiie's Huggs Contour Baby Carrier is the Best Seat for Parents on the Go!
This post may contain affiliate links or I may have received the product free in exchange for my honest review. See full disclosure for more information.
Let's face! Today's parents are on the go. You can't really help but to be! I guess we always have been, but these days and times, life is more hectic than it use to be. If you are lucky enough to have a sweet little one, you know that shopping trips, or even simply walks, can have a drain on your back and make for a fussy infant! Abiie has an all new Huggs Countour Baby Carrier that you will fall in love with! It is AMAZING for parents on the go!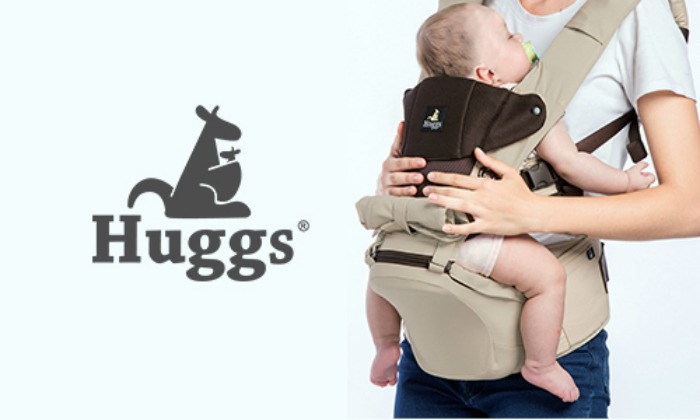 Haven't heard of Abiie? Let's take a moment and let me introduce you.
Abiie is a Texas-based company that strives to provide attractive, solution-based, and eco-friendly products that parents and children will love. Its team of highly skilled engineers are passionately focused on enhancing the lives of families by creating practical solutions to daily-life challenges involving children, and using their creativity with technology to design easy-to-use, safe and comfortable parenting products.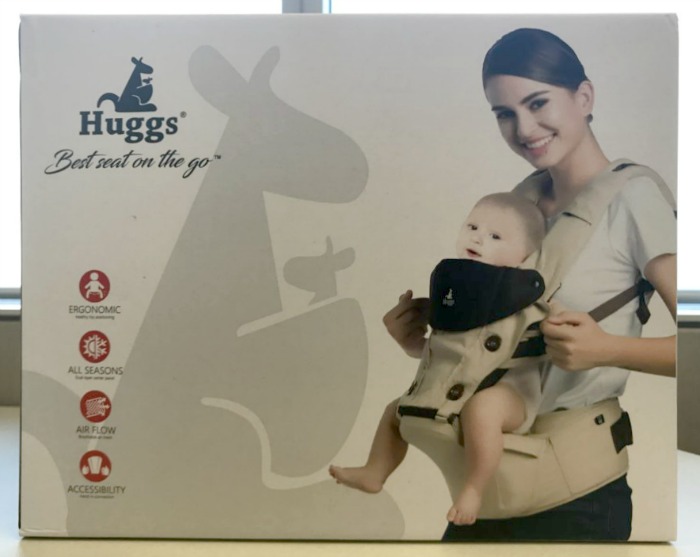 Abiie's NEW Huggs Contour is made for all-day comfort, versatility, and support. Most importantly, it ensures a healthy sitting position for your infant!
Other types of carriers may lack being able to provide a healthy sitting positioning for our infants when they sit for extended periods of time. Not so with the Huggs Contour Baby Carrier! The Huggs is made to prevent hip dysplasia – a medical term for instability or looseness of the hip joint. Hip Dysplasia affects thousands of children each year and can range from mild instability to complete dislocation.
The Huggs Contour Baby Carrier was developed with the assistance of medical professionals, parents, and children. Huggs Contour and its creators are properly changing the way your baby is being carried. Explore all of the groundbreaking features the Abiie's Huggs Contour offers: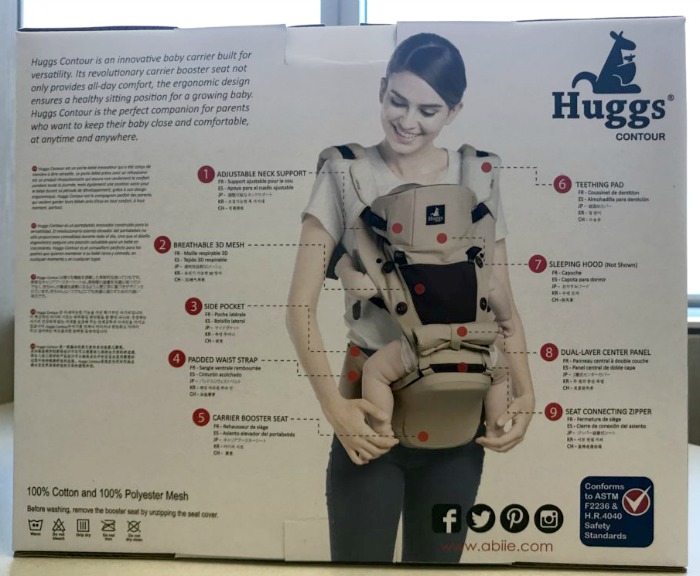 Hip Seat Technology
There is nothing more important than enjoying the happiness of your child while cradling with you. The carrier booster seat provides all-day comfort, AND keeps your baby ergonomically seated in a healthy hip position.
Dual-layer Center Panel
The outer layer of the center panel can easily fold up for warmth and fold down, exposing breathable 3D mesh for fresh air, and also stays dry, keeping your baby comfortable at all times, be it a cool windy evening or a hot summer day.
Hands-in Connection
Quick releasing of the side buttons allows parents to place a hand inside the center panel, and offers parents an efficient, hands-on proximity to their newborn.
Weight Distribution
The padded shoulder straps help evenly distribute your baby's weight in combination with the waistband to maximize parent comfort by alleviating pressure on the wearer's back and shoulders.
Huggs Contour is an innovative baby carrier built for versatility. Its revolutionary carrier booster seat not only provides all-day comfort, the ergonomic design ensures a healthy sitting position (frog-leg or M-position) for a growing baby.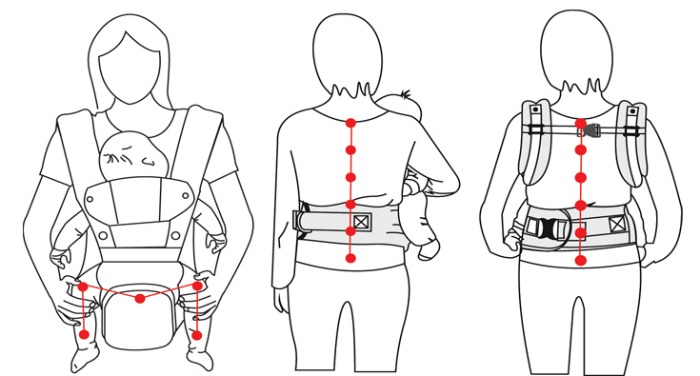 Huggs Contour is lightweight, yet rugged! It delivers the very best ergonomics in every carrying mode, for both the parent and child. It is the perfect companion for parents who want to keep their baby close and comfortable, at anytime and anywhere.

Huggs Contour Baby Carrier has Six Carrying Modes!
There is no need to worry if your infant is comfortable. The Huggs Contour delivers the very best comfort in every carrying mode!
Hip Carry Modes: You can use the hip seat alone by detaching it from the main body of the carrier.
Front-Inward (3-36 months)
Front-Outward (6-36 months)
Full Carry Modes:
Front-Inward (3-36 months)
Front-Outward (6-36 months)
Back Carry (6-48 months)
Crisscross Carry (6-36 months)
If you are searching for a new baby carrier, you can find the Huggs Contour Baby Carrier on Abiie or on Amazon in Grey or Khaki. Get yours today and enjoy your time out with your baby!
Connect socially with Abiie