Back to School Lunch Box & Snack Ideas
This post may contain affiliate links or I may have received the product free in exchange for my honest review. See full disclosure for more information.
It feels like summer has just arrived, but as you know, Back to School is just around the corner! Moms and Dads will be scrambling to tackle those school supply lists and get some new clothes for that summer growth spurt that just happened!
But what about lunches and snacks?
Kids don't like eating the same old PB & J sandwich (if they can even bring peanut butter to school) or that apple you packed is sure to end up on a teacher's desk somewhere!
You want to give them some healthy options that they will love…and you don't even have to tell them the are healthy!
So, whether your little one is heading off to kindergarten or the big one is off to college, we have some great snack and lunch ideas for every age kid (even the really big ones…we are talking to you mom & dad!)
We have pulled together a list of healthy lunch & snack ideas for any stories, round-ups or reviews you are working on.
gnubees
AGES 2-7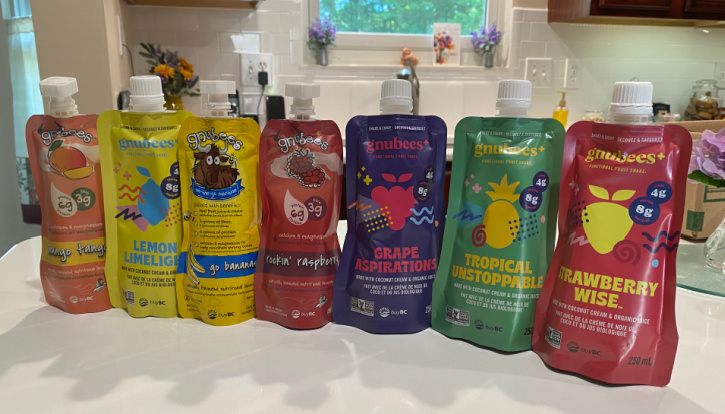 Kids love how tasty it is! Parents love how convenient & packed with nutrition it is! Gnubees is a nutritional snack that is convenient & environmentally friendly, that makes good-for-you…well… taste good!
Fuel your active family with a nutritious beverage.

Made with real fruit juice in a variety of family approved flavors.

6grams of Protein

3grams of fiber, calcium and magnesium
gnubees + (plus)
AGES 9+ (That means Adult Kids, too!)
gnubees PLUS more!
We aged up gnubees for a fresh twist that satisfies our cravings and be that nutritious snack shake we are looking for.
New fun flavors inspired by our favorites like: tropical punch, strawberry milkshakes and lemon-lime cheesecake
250ml functional fruit shake:

8 grams of grass fed whey protein

4 grams of soluble fiber

30% of daily recommended Vitamin C & D

and now lactose free 🙂
For more information, please visit: https://www.gnusante.com/ To purchase, go to: https://www.gnusante.com/collections/gnubees Or find us on Amazon and specialty retailers.
---
That's Mine Dressings & Sauces
From the people who brought Elda's Kitchen sauces comes That's Mine, especially for kids!
Make healthy eating fun! If you're tired of arguing over eating, our personalized, fun-sized condiments are the perfect solution.

No more food fighting. No more fighting over what foods your child will eat.

Worry less. As a parent, you have enough

to

worry about. You don't have

to

worry about what ingredients are used in our dressing and dipping sauces.
Encouraging your child to eat vegetables can feel like a never ending battle. You want them to get the right amount of nutrients but is it worth the fight?
We created THAT'S MINE because we know what it feels like! We wanted something made just for kids to make snack time fun, exciting and personalized. These dressings will have your kids saying 'That's Mine' over any salad or vegetable!
As parents ourselves, we realize the pressure to try and find balanced solutions to your kids' eating habits. When our kids feel pressured into eating something they [think] that they do not like, it can make mealtime a struggle. But with items that are personalized and fun, the struggle does not have to be quite so real.
That's Mine comes in 6 yummy flavors
Organic Cherry Balsamic
Organic Italian

Organic Ketchup

Organic Lemon-Lime

Organic Mixed Berry

Organic Ranch
This yummy dressing product line is all about kids. In fact, the logo was created by one of the owner's granddaughters.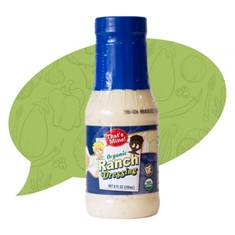 After more than 100 years combined in the business helping other brands launch their dressing lines, we realized that there was nothing on the shelf specifically focused on getting our children and grandchildren to eat healthier, especially salads and veggies.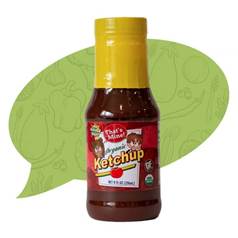 That's Mine is a family endeavor. One made for families by a family just like yours. We wanted to help solve the problem of kids not receiving enough nutrients. In fact, intake recommendations based on the Dietary Guidelines for Americans call for a minimum of 1 to 1.5 cups of fruit and 1 to 1.5 cups of vegetables daily for children 2 to 8 years old.
I don't know about you but we have a hard time getting our kids to eat a single piece of broccoli on its own. A good dipping sauce can help. Sauces are what we know best so we felt like that could be a part of the solution.
While trying to come up with a name for our product line, one of the owner's made an off-handed comment about his grandchildren always saying "that's mine!" You know how those arguments extend… "No, it's mine!" Anyways, not to bring up family spats, we thought – what if children could say that about fruits and vegetables.
We want to invite you in and hope to help your children start saying 'that's mine' about healthy food options. For more information and recipe ideas, please visit: https://thatsminekids.com/
---
Festive Chickpeas
Festive Chickpeas have ZERO preservatives, are non-GMO, soy-free, gluten-free and are 100% vegan to accommodate every snacker's lifestyle. Aside from being plentiful with protein and nutritious, they're exploding with flavor. Each pocket-sized bag is abundant in fiber, iron and potassium, has 10 grams of protein and no trans fats. The crispy chickpeas are dusted with ocean-fresh sea salt – making them an easy and equally satiating alternative to potato chips.
Think you'll still miss out on your favorite sour cream and onion indulgence? Think again! Festive Chickpeas are celebrating snack time one step further with new fun flavors, including Sour Cream and Onion, Sweet & Smoky BBQ and Ranch – because who wants to live without such tangy, savory flavor in their life?
FESTIVE IS THE FIRST TO "UNHUSK" THE CHICKPEA GIVING IT A BUTTERY, FRESH CRUNCHYY TASTE!
Festive Foods is introducing chickpeas to a new generation of people making it crunchy, crispy full of protein and fiber; satisfying flavor. To learn more visit www.FeelFestive.com or @FestiveChickpeas
---
AlcoEats Funny Nuts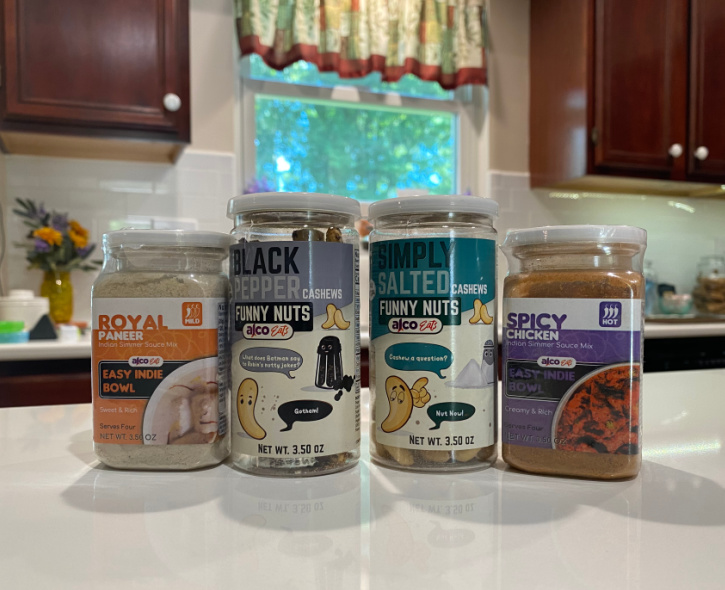 These uniquely flavored cashews pack a punch when it comes to taste!
Peri Peri, Taco, Ranch, Cheddar….you will definitely have a favorite…or maybe two or three! We dare you to STOP eating them!
From sweet to savory, flavorful to spicy, these cashews have flavors for every craving you have! Like your cashews plain…we've got you covered, too!
These cashews are farmed in the landscape of India and are peppered with natural flavors for a healthy and tasty source of energy. Made with 100% natural ingredients, designated Halal, Paleo friendly Tastier, Healthier, Better. The reason's simple: We stay pure. And coming this Fall…SWEET CASHEWS!
Have a sweet tooth…these sweet cashews will have you coming back for more every time!
Chocolate Espresso, White Chocolate and Cinnamon & Sugar…you will definitely have a hard time choosing a favorite! For more information, please visit: https://alcoeats.com/collections/cashews
AlcoEats Easy Indie Bowls
Every AlcoEats Easy Indie Bowl comes in a 3.5-ounce jar that fits perfectly among your spice rack. Inside, you'll find specially mixed recipe ingredients that, when added to a handful of ingredients and simmered, become a gorgeous plate of your favorite Indian dish. And you thought takeout was simple!
Made with only the purest ingredients and no unwanted additives, AlcoEats is perfect for those who want to savor a nourishing meal without the time or fuss, who are interested in expanding their palate to try more traditional Southeast Asian recipes and for those seeking healthy dinners bursting with flavor. Whether you're vegetarian or enjoy eating chicken, AlcoEats Easy Indie Bowls has something for your lifestyle.
The "no cook curry" option is just what you need to make traditional Indian food right in your own kitchen in no time at all. It's easy and doesn't require a lot of time or ingredients…just add your favorite protein and you are ready to go in minutes. These season jars are also great to add flavor to your favorite recipes, sprinkle on veggie or season meats. There are countless ways to use them!
And with Back to School around the corner, East Indie Bowls are fantastic for Back to College to stock up on for your dorm and late night study sessions!
Skip the takeout and save time and money with AlcoEats Easy Indie Bowls. And now, through August, AlcoEats Indie Bowls are Buy 1, Get 1 FREE! Find them in the International aisle at your local Sprouts.
Available on Amazon.com, AlcoEats has two lines of sauces. All are vegetarian (some are vegan), dairy-free, keto and paleo friendly, soy-free, gluten-free and non-GMO.
To learn more about the brand, visit AlcoEats.com, Instagram or Facebook.
---
XO Baking Co.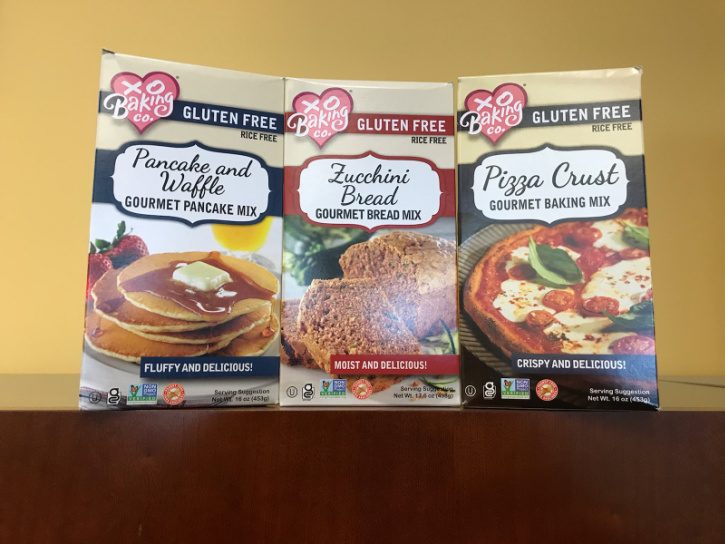 Created by a chef and baker with Celiac disease, XO Baking Co's light, fluffy all-purpose flour and mixes are made with a unique blend of cassava and organic coconut flour, without the common bean or rice
Too good to be gluten-free? That's what everyone thinks when they try XO Baking Co., the brand dedicated to making the best tasting allergen-free baking mixes on the market.
For people who cannot eat gluten, either for a sensitivity, personal choice or Celiac diagnosis, it can be trying to indulge in luscious, rich desserts that capture the flavor and texture of dishes where wheat-based flour is still an option. Not anymore! Reach for XO Baking Co., a brand with the ONLY gluten-free flour made from a blend of cassava and organic coconut flour without other commonly used ingredients like bean and rice. Creating an unparalleled light, fluffy texture and taste, XO's flour and pre-made mixes will transcend taste buds to the old days – only better, cleaner and healthier!
XO Baking Co. provides quick and easy mixes for restaurant-worthy cakes (from carrot to chocolate), moist banana breads, fluffy cinnamon rolls (the dough of which is also amazing for pizza), rich fudge brownies, buttery pound cakes, crisp and chewy chocolate chip cookies, blondies, a non-GMO cornbread and much more.
XO Baking Co. also sells its signature gluten-free "all-purpose flour," the recipe of which inspired founder and chef and baker Lindsey Braham to create easy desserts with the supreme flavor and perfect texture of regular desserts.
Fun fact: Our mixes are made in a peanut free factory!!
However, for those who are able to eat and enjoy peanuts and peanut butter, there are endless creations you can whip up!
Need some recipe ideas for kids this summer? They have got TONS!
Everything from cookies and breads to chipwhiches, cakes and even pizza!…they have got you covered! Check out all their amazing recipes HERE.
XO Baking Co's products are available online on the website, Amazon and at retail stores throughout the U.S. and Canada. Through her recipe development for boxed mixes and online resources for great gluten-free recipes for customers to try, Braham's mission to make exceptional desserts limitless for those with dietary limitations continues to grow.
To learn more about XO Baking Co. and try their incredible boxed mixes and recipes, visit them online and follow along on Instagram and Facebook.
---
BACK TO COLLEGE DORM ESSENTIALS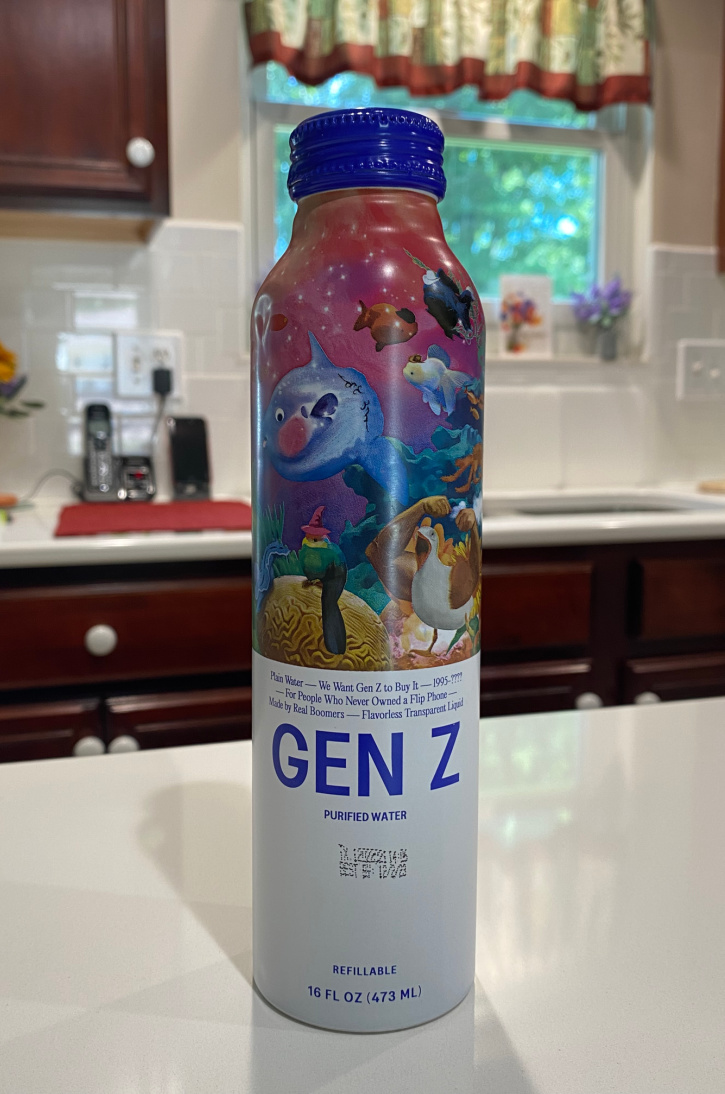 WATER FOR A GENERATION…GEN Z!
Great for on-the-go…and the planet…comes in a refillable aluminum bottle…with free water! 😊
We all know there are dozens of bottled water companies to choose from and on a hot day, most people will grab the first one in front of them…but if you had a choice…wouldn't you want a water that does more for the planet…and speaks to you on a personal level?
Gen Z sells beautifully designed reusable aluminum bottles speaking to a generation all about saving the planet….and the best part…it comes with FREE flavorless, transparent liquid!
At GEN Z, we believe happiness is a human right – and being able to drink water sustainably is a big part of everyone's well-being. That's why GEN Z is committed to ditching the wasteful, harmful plastic and using reusable, infinitely recyclable aluminum bottles instead. And we get it, one measly (albeit wonderful and good-humored) water company can't solve all the plastic problems of the world – so the company is keeping its mission simple and realistic: to be the better option for all the folks out there who, together, can. The folks behind GEN Z (including a team of Zoomers themselves) believe that flavorless, transparent liquid should be packaged in sustainable aluminum bottles that can be resealed, refilled, and recycled – keeping water plain and simple for generations to come.
While we could easily fill up a few pages on the pitfalls of plastic, we'll save you the time and energy. It's becoming common knowledge how harmful plastic can be for Mother Earth, her landfills, and the critters (the critters GEN Z loves so much, it devoted the bottle designs to them)!
Recent studies show only 5% of plastic actually gets recycled. But GEN Z isn't about sad facts. It's about happy ones (remember, the whole happiness thing) and luckily, there's already a super simple option available to eliminate bottling water in single use plastic, switching to aluminum; To name a few of the advantages:
Well, aluminum is the third most ABUNDANT element on earth, which is kind of amazing right?

It is infinitely recyclable without any loss of quality

to

the material.
75% of aluminum ever produced is still in use

to

It's typically recycled and

back

on the shelf in as few as 60 days.
So, what do you get with GEN Z? It's straightforward, really…
You get the flavorless transparent liquid your body needs

to

You get an aluminum vessel, from body

to

cap, that you can refill but not feel terrible about leaving behind somewhere (it'll make it

to

a recycling bin and

back

to

the shelves for many, many lives

to

come).
Oh, and you'll get a good laugh – because what's a water break with some quirky critters

to

stare at and ironic quips

to

read right off your bottle?!
The Zoomers who are already obsessed with GEN Z – the water, not themselves – know water is just water. Perhaps they like the weird jokes, the colors and critters or the sustainable aluminum construction. Whatever the case, we like to think GEN Z has a little something for everyone.
To learn more about GEN Z's #FlavorlessTransparentLiquid, visit them on TikTok, Instagram, Twitter or its extremely on brand website.