Beat the Heat this following Summer by Implementing these Strategies to Keep Your Bedroom Refreshingly Cool!
This post may contain affiliate links or I may have received the product free in exchange for my honest review. See full disclosure for more information.
Summer is ahead, and it's time to get your bedroom ready for the hot weather. Temperatures can soar during this season, making it uncomfortable to sleep in a too-warm room. Fortunately, you can use some simple tricks to make your bedroom cooler and more comfortable—without breaking the bank or needing expensive air conditioning systems. This article will take a look at some of the best ways to make your bedroom cooler so you can enjoy restful nights all summer long.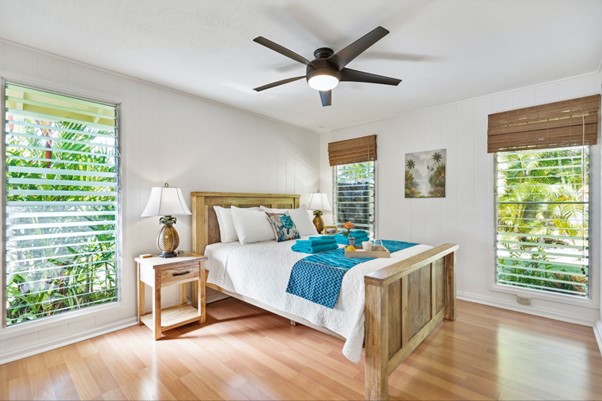 Ceiling Fans
Ceiling fans are one of the most cost-effective ways to keep your bedroom cool during the summer months. They work by creating a wind chill effect, making you feel cooler even if the air temperature is high. In addition, you can adjust the speed of your fan using its remote or wall control, allowing you to customize the amount of cooling you need. Ceiling fans are especially beneficial in rooms with vaulted ceilings since they can help distribute air much more evenly throughout the space.
Light Colored Bedding
Another simple trick for keeping your bedroom cool during summer is to switch out your bedding for lighter colors. Darker fabrics absorb heat while light-colored ones reflect it away from your body, so try to choose bedding made from light materials such as cotton or linen. You should also avoid using thick comforters or heavy blankets if possible—these can trap heat and make it even harder to stay cool while you sleep.
Mattress with Cooling Features
If you're looking for a long-term solution to staying cool during the summer, investing in a mattress with cooling features is a good investment. Several mattress models are designed with special gel layers or cooling fabrics that help regulate your body temperature while you sleep. For example, the Puffy Lux mattress features a memory foam layer infused with cooling features, so you can sleep soundly and wake up refreshed even when temperatures are high. Here you can read about the Puffy Lux review to help you make an informed decision.
House Plants
Houseplants are not only beautiful additions to your bedroom décor, but they can also help make the room cooler. Plants release moisture into the air when transpiring, a process known as evaporative cooling, which helps reduce air temperature. They also absorb sunlight and transform it into energy, helping to keep your bedroom shaded and cool even during peak hours of the day.
Window Treatments
Windows can let a lot of unwanted heat into your room, especially during summer. Use blackout curtains or heavy drapes to block out direct sunlight and keep your bedroom cooler. For an even more effective solution, install reflective window films which help deflect the sun's rays before they can enter your room.
Making your bedroom cooler this summer doesn't have to involve expensive air conditioning systems or costly renovations. Instead, with just a few simple tricks, such as installing ceiling fans, switching up your bedding materials, investing in a mattress with cooling features, adding house plants, and using window treatments, you can enjoy restful nights all season long—even when temperatures climb higher than usual.