Celebrate National Coconut Day September 2nd with Great Coconut Products
This post may contain affiliate links or I may have received the product free in exchange for my honest review. See full disclosure for more information.
Do you love all things coconut? Saturday, September 2nd is National Coconut Day and here are some of our favorite products that we like to celebrate with.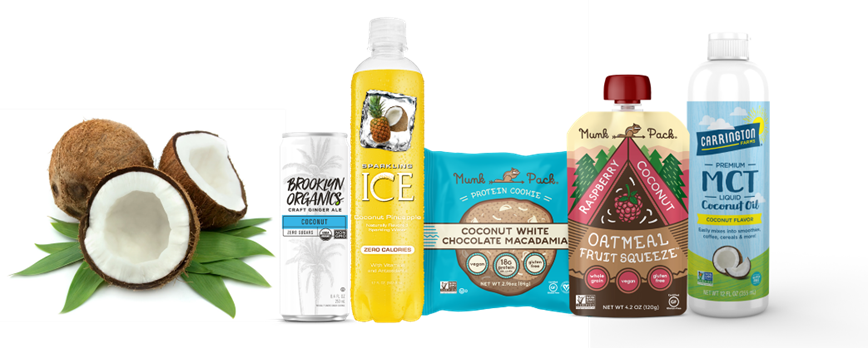 Coconut Drinks
Brooklyn Organics Coconut Craft Ginger Ale is perfect for those looking for the light flavor of coconut, but also a bold fizz. USDA Organic-certified and gently sweetened with plant-based Stevia, Brooklyn Organics is made with ingredients that are good for you and for the planet.
An excellent soda alternative, Sparkling Ice Coconut Pineapple is slightly carbonated with B-Vitamins, Vitamin D and antioxidants. This light and refreshing beverage contains Zero Calories, Zero Carbs, is Gluten Free, and Sodium Free. Great to enjoy in your favorite cocktails or as a refreshing snack!
Coconut Foods
Munk Pack produces convenient on-the-go nutrition made with high quality real ingredients. Munk Pack features the sweet taste of coconut in both product lines with a Raspberry Coconut Oatmeal Fruit Squeeze, and a Coconut White Chocolate Macadamia Protein Cookie, offering consumers two delicious options to enjoy the tropical flavor of coconut.
Coconut Oils
There's no better way to celebrate World Coconut Day than with Carrington Farms, specifically with its NEW Premium MCT Oil made from Organic Coconuts. Unlike conventional coconut oil, this premium MCT coconut oil remains in a convenient liquid form that can be used for cooking, sautéing, and baking. It contains over 93% Medium Chain Triglycerides (MCTs) and is easily digestible.